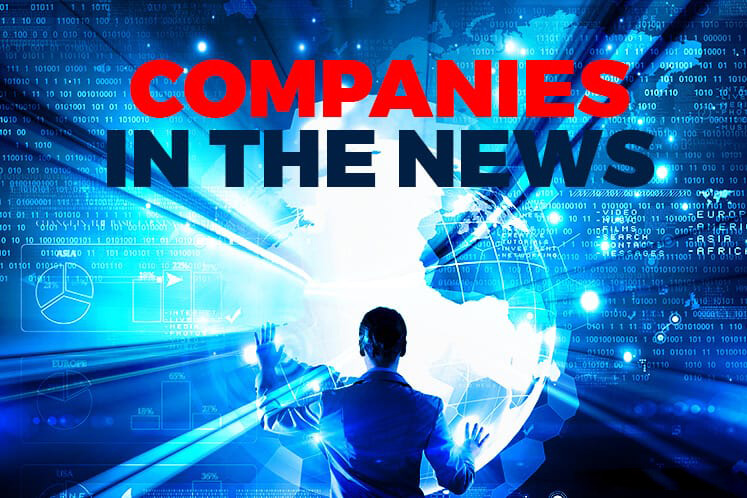 KUALA LUMPUR (May 4): Based on corporate announcements and news flow today, companies in focus on Monday (May 7) may include the following: Genting Bhd, Dagang NeXchange Bhd, Ahmad Zaki Resources Bhd, Ralco Corp Bhd, Protasco Bhd, Malaysia Marine And Heavy Engineering Holdings Bhd, AirAsia X Bhd, Fraser & Neave Holdings Bhd, Notion VTec Bhd, Serba Dinamik Holdings Bhd, Axiata Group Bhd and Alam Maritim Resources Bhd.
Genting Bhd's 95%-owned indirect subsidiary Genting Oil & Gas Ltd (GOGL) has received approval from Indonesia's Ministry of Energy and Mineral Resources for a first phase plan of development for the Asap, Merah and Kido structures (POD 1) in West Papua, Indonesia.
These structures are within the concession area for the Kasuri Block, which was awarded to GOGL's unit Genting Oil Kasuri Pte Ltd (GOKPL) following a production-sharing contract (PSC) signed in May 2008 between GOKPL and BP MIGAS — the Indonesian oil and gas regulator.
The concession period for GOKPL for the Kasuri PSC ends in 2038.
Dagang NeXchange Bhd's (DNeX) subsidiary has won a sub-contract to provide a touch-and-go electronic wallet service for local and foreign vehicles entering the country.
DNeX said 51%-owned DNeX RFID Sdn Bhd was awarded the job by the main contractor, TCSens Sdn Bhd.
It did not specify the value of the sub-contract, but said the project could generate annual revenue ranging from RM19 million to RM21 million, with an estimated project margin of 35% in the first three years.
Ahmad Zaki Resources Bhd (AZRB) said today its 51%-owned subsidiary Matrix Reservoir Sdn Bhd has obtained a loan facility of RM100 million from Affin Bank Bhd.
AZRB said the loan facility is to supplement the capital expenditure and working capital of Matrix Reservoir in relation to its operations at Tok Bali Supply Base in Kelantan.
Ralco Corp Bhd has proposed to raise up to RM3.27 million via a private placement to independent investor(s) to be identified later.
The proceeds raised will be used to purchase equipment and machineries.
Ralco said the proposed private placement will involve the issuance of up to 6.23 million new shares, representing not more than 10% of its issued shares.
Protasco Bhd will commence work on Phase 4 of the civil servants' headquarters in Putrajaya, which entails the construction of 1,681 residential units, in the third quarter of the year.
Phase 4 is part of the Perumahan Penjawat Awam 1Malaysia (PPA1M) project and will be developed at an estimated gross development value of RM356 million on 11.2 acres of land in Precinct 19. It is expected to be completed in 36 months.
Phase 4 is a joint-venture development project between Protasco's wholly-owned subsidiary Protasco Development Sdn Bhd, and Kop Mantap Bhd — a wholly-owned subsidiary of Koperasi Polis Diraja Malaysia Bhd.
Malaysia Marine And Heavy Engineering Holdings Bhd (MHB) reported a RM25.27 million net loss in its first quarter ended March 31, 2018 (1QFY18) versus a net loss of RM16.61 million a year earlier. The oil and gas support services provider said it registered lower revenue from its heavy engineering and ship repair businesses.
The group's revenue fell to RM188.28 million in 1QFY18 from RM235.84 million a year ago.
AirAsia X Bhd (AAX) has signed a maintenance, repair and overhaul (MRO) agreement with Safran Landing Systems Singapore for 24 Airbus A330 aircraft.  
The contract covers complete overhaul and repair services for 24 landing gears of Airbus A330 aircraft. The first scheduled services will be provided by Safran Landing Systems MRO, located in Singapore.  
The newly-signed contract will commence from 2018 till 2025, bringing Safran's total contracted aircraft with AirAsia Group to 56.
Fraser & Neave Holdings Bhd (F&N) is planning to spend "significantly more" than RM25 million over the next 18 months to fully debottleneck operations at its dairy plant in Pulau Indah.
F&N chief executive officer Lim Yew Hoe said the debottlenecking will be carried out in phases, adding that some of the group's plans are currently awaiting approval from the board of directors.
Lim said any further expansion is likely to utilise the additional land at its Pulau Indah plant.
Notion VTec Bhd has received RM30 million from its insurers as part settlement of a RM50 million claim for a fire that broke out in its main manufacturing plant in Klang, Selangor on Oct 20 last year.
It said the payment was made to its wholly-owned subsidiary Notion Venture Sdn Bhd, adding that the balance of RM20 million will be paid at a subsequent date.
Serba Dinamik Holdings Bhd has secured a US$20 million Islamic finance facility via its wholly-owned unit, to be used as general working capital.
The unit, Serba Dinamik International Ltd, signed the agreement for the facility with Mizuho Bank (M) Bhd today. The facility is renewable on an annual basis, said Serba Dinamik group managing director and chief executive officer Datuk Dr Mohd Abdul Karim Abdullah at the signing ceremony.
Axiata Group Bhd's 63%-owned unit edotco Group Sdn Bhd is taking up an 80% stake in Tanjung Digital Sdn Bhd (TDSB), which has obtained the right to build telecommunication infrastructure in Kedah, for RM140 million.
Axiata said the acquisition will be funded via internal funds, of which about RM25 million shall be for the sale shares, and RM115 million for the redemption of funding facility in Tanjung Digital Sdn Bhd (TDSB).
It said the acquisition will allow edotco to expand its presence in Kedah with a sizeable portfolio of about 225 towers.
Alam Maritim Resources Bhd's auditors Messrs Ernst & Young have highlighted a material uncertainty in respect of the group's financial statements for the financial year ended Dec 31, 2017 (FY17) that may jeopardise the group's ability to continue as a going concern.
The auditor pointed out the material uncertainty arises from, among others, the group and the company incurring a loss for the year of RM145.38 million and RM1.97 million respectively.
The auditors also highlighted two key audit matters, namely an impairment of the group's vessels and equipment, and the impairment of investment in associates and joint ventures which were affected by the subdued conditions in the oil and gas (O&G) industry.
"Due to the continued depressed O&G industry, the group has recorded a decline in revenue for the current financial year, thereby indicating that the carrying amount of the vessels and equipment may be impaired," said the auditors.