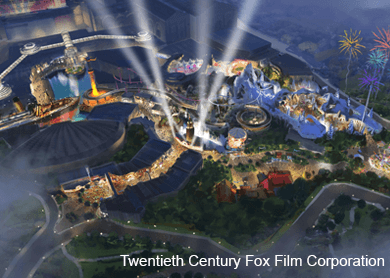 PAHANG (Dec 4): Genting Malaysia Bhd expects to complete by 2016 the world's first Twentieth Century Fox World theme park at a cost of  about RM1 billion.
Along with it, the public will also see the completion of a new hotel and cable car station within the next two years.
"One of the projects that will see completion in the first half of next year is an additional 1,268 rooms at the First World Hotel," said Genting Malaysia president and chief operating officer Datuk Seri Lee Choong Yan.
"Other projects that will be opened by 2016 are The Sky Avenue and Sky Plaza shopping malls, a new cable car station and the Twentieth Century Fox World Theme Park," he said at the introduction of Resort World Genting's brand ambassador and official launch of Horizon 50.
Genting Malaysia has appointed Tan Sri Michelle Yeoh as its new brand ambassador to enhance the brand globally as the resort enters a new era of transformation.
Genting Malaysia is currently embarking on its RM5 billion Genting Integrated Tourism Plan (GITP) to strengthen its position as a major tourism hub regionally and globally.
The 10-year master plan will see the development, expansion, enhancement and refurbishment of hotels, theme park and infrastructure at Resorts World Genting. It will be conducted in two phases.
With the transformation plan, Genting Malaysia aims to attract  some 26 million local and foreign tourists in 2018, increasing to 30 million by 2020.
Currently, Genting Highlands received 20 million visitors a year with foreign tourists accounting for about 30%-40% of the total number.
"The tourism sector has emerged as one of the major income drivers of the country," said Lee, adding that the sector was the second largest growth industry in the country.
"By embarking on this, we expect it could boost the country's economy by attracting higher tourist arrrivals as well as creating thousands of job opportunities," Lee said.
"Our goal is to develop a mall with distinctive and energetic retail environments that create a great sense of excitement and differentiated experiences for local and foreign tourists alike," said Lee.
In addition, Lee also introduced a new attraction dubbed Horizon 50.  The RM4 million attraction showcases the birth and growth of Genting Highlands.
Panasonic Malaysia, which partners Genting in the attraction, will provide high definition projectors, fly-through videos, visual boards, video walls and LED television screens, he added.
Lee hoped Horizon 50 would attract 5 million visitors in the next two years.