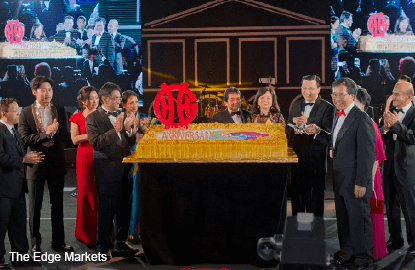 KUALA LUMPUR: Genting Bhd's  economic contribution today is not only confined to Malaysian shores, said its chairman and chief executive Tan Sri Lim Kok Thay, adding that Resorts World Birmingham will soon be the United Kingdom's first integrated resort.
"In South Korea, the company is also developing Resorts World Jeju that will offer a world-class integrated resort, which is inclusive of serviced apartments and residential villas. And this year, Genting has also broken ground to build Resorts World Las Vegas," he said in a statement yesterday.
The group on Aug 15 and 16 hosted a gala at Resorts World Genting in Genting Highlands, Pahang, to celebrate its golden jubilee, attended by a Who's Who list of 600 distinguished guests from Malaysia and abroad.
Themed "Forging Ahead", the festivities were a toast to life's finest pursuits through cuisine, music and fine collections.
In his speech, Kok Thay attributed Genting's achievements to his late father and the group's founder, Tan Sri Lim Goh Tong's vision and ideas.
"It is he who has firmly shaped Genting's corporate DNA and laid a strong foundation for the Genting and Resorts World brand to gain its worldwide recognition," said Kok Thay.
He added that Genting has grown from a modest beginning with a 200-room hotel in Genting Highlands to a global player operating diversified businesses in more than 10 countries across three continents; and has created employment for more than 60,000 workers around the world.
In addition to the leisure and hospitality business, its businesses include plantations, property development, biotechnology, oil and gas, power generation and leisure cruising.
Kok Thay also revealed that other "firsts" achievements in the next few years would include Resorts World Genting's significant contribution in Malaysia's economic development and rejuvenating its tourism industry via the Genting Integrated Tourism Plan.
In 2016, Resorts World Genting will see the opening of the world's first Twentieth Century Fox World Theme Park.
This article first appeared in digitaledge Daily, on August 19, 2015.