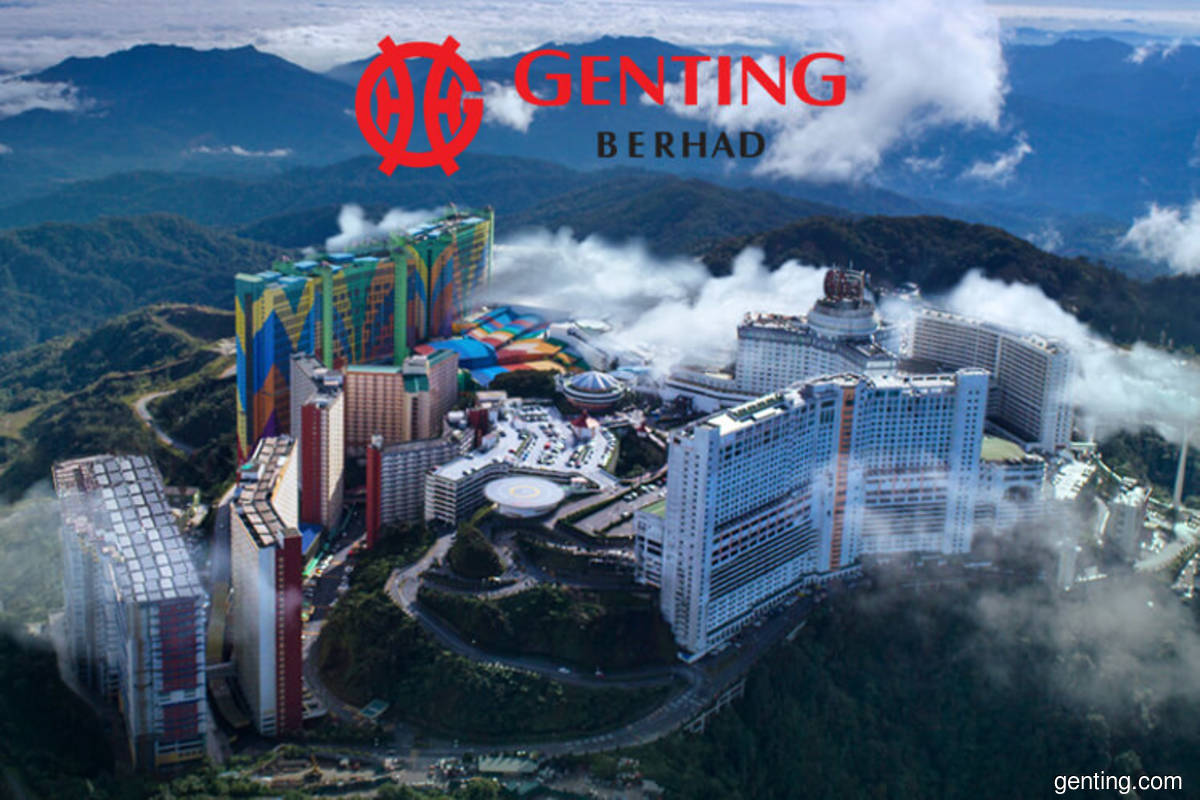 KUALA LUMPUR (Aug 7): Genting Bhd's share price pared gains after spiking as much as 18 sen or 4.86% to RM3.88 in Bursa Malaysia morning trading today on apparent bargain hunting and as investors appeared to have priced in the worst and look ahead to a recovery in the casino and hotel operator's business, which is contending with the impact of the global Covid-19 pandemic.
At a glance, Genting Bhd's share-price spike today was deemed unusual considering that its 52.663%-owned subsidiary Genting Singapore Ltd yesterday reported its worst quarterly performance since the opening of its Singapore Integrated Resorts.
At Bursa's 12.30pm break today, Genting Bhd's share price pared gains to RM3.77, valuing the group at some RM14.52 billion. The stock saw 2.4 million shares traded.
Yesterday, Genting Singapore said in separate filings with the Singapore bourse that net loss stood at S$163.31 million (about RM499.22 million.) for the second quarter ended June 30, 2020 (2QFY20) compared with a net profit of S$168.41 million a year earlier.
For the cumulative six months ended June 30, 2020 (1HFY20), Genting Singapore said net loss was S$116.68 million versus a net profit of S$373.88 million a year earlier.
"For 2QFY20, the group's revenue plunged by 94% as a result of the devastating effect of the Covid-19 global pandemic. The group closed the quarter with a net loss of S$163.3 million, the worst quarterly performance since the opening of our Singapore Integrated Resorts.
"Notwithstanding the strong headwinds and the severe impact on the group's financial results for the 1HFY20, the group remains steadfast and pragmatic in our approach to navigate through this period of disruption and will emerge stronger once the dust from the pandemic has settled. To weather through and ride out this crisis, the group will necessitate preservation of our resources," Genting Singapore said.
In Malaysia today, TA Securities Holdings Bhd analyst Tan Kam Meng, who covers Genting Bhd, wrote in a note that TA had cut its earnings forecast and target price for Genting Bhd.
"We cut Genting Bhd's FY20 earnings to a loss of RM142.5 million (from RM198.3 million previously). We also slash FY21-22 earnings by 31.5% and 25.7%. We adopt a more conservative approach in our earnings estimates, assuming that Singapore's international borders will remain closed for the rest of 2020 for leisure traveling.
"Valuation-wise, we cut Genting Bhd's SOP (sum-of-the-parts) valuation to RM4.90/share (from RM5.88/share previously). However, we reiterate our 'buy' recommendation on the stock before Covid-19 vaccines become available," Tam said.
Meanwhile, Kenanga Investment Bank Bhd analyst Teh Kian Yeong wrote in a note today that Kenanga is maintaining, for now, its Genting Bhd share call and target price besides its earnings estimates, pending the release of Genting Bhd's 2QFY20 results later this month.
Teh said Kenanga has an "outperform" call on Genting Bhd with a target price of RM6.
"Given the virus disruption to the tourism industry, we expect substantial earnings cut in the coming weeks post Genting Bhd's earnings release. Risks to our call on Genting Bhd include weak business volume and poorer luck factor," Teh said.