This article first appeared in Digital Edge, The Edge Malaysia Weekly, on February 14, 2022 - February 20, 2022.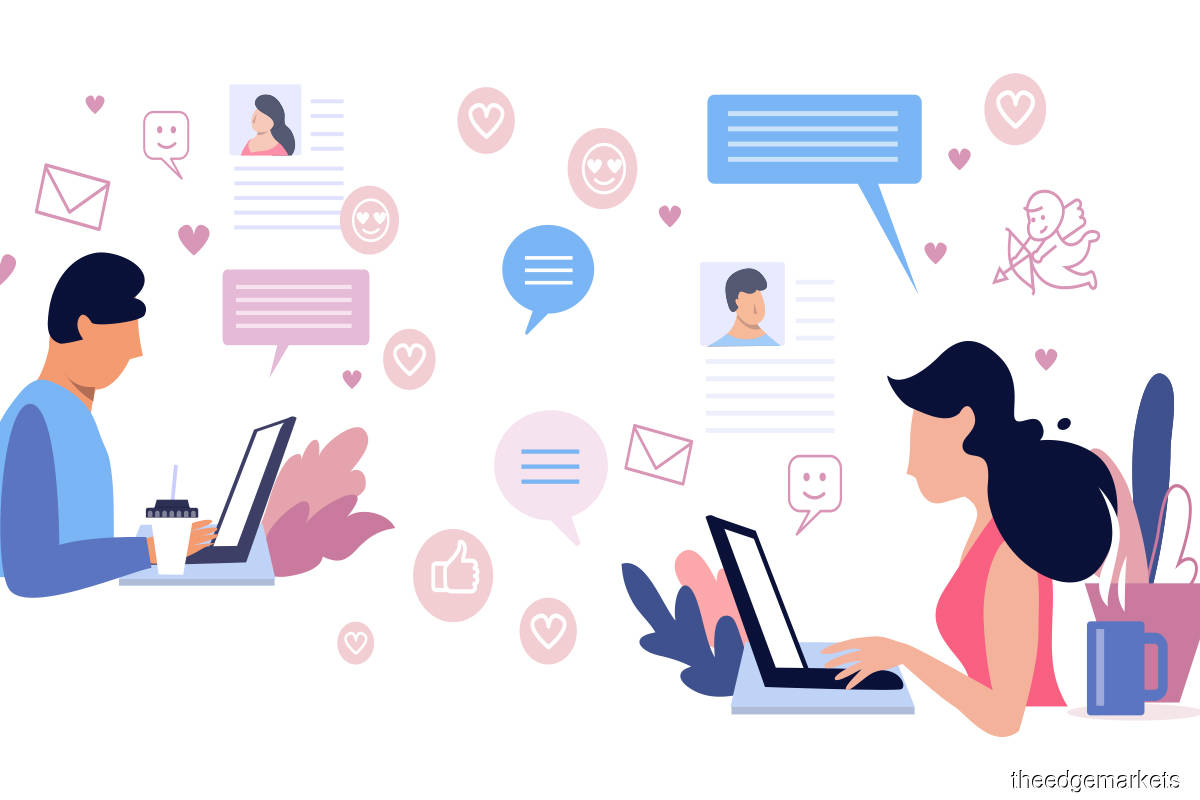 At 24, I was ready for love. I had a steady job, I was independent and wanted to share my life with another person.
Unfortunately, I was not very good at tapping into my resources. As a heterosexual woman in a pre-pandemic world, I should have had endless choices — yet, no one I met could be considered a potential candidate for a committed and lasting relationship.
Some months later, a colleague told me about Tinder. I knew about Tinder before she mentioned it but I did not think it was available in Malaysia. So, I gave it a go.
To those unfamiliar with the dating app, Tinder basically allows you to swipe right if you like the person you see on the screen or left if the match is not to your liking. Should the both of you swipe right for each other, congratulations, it is a match! You can now start messaging each other to see if you are compatible and arrange for a physical date if you click.
Of course, Tinder has its weaknesses. The main one is that it is very superficial. We judge a person based on the few photos they display as well as whatever scarce information they include in their profiles, if at all.
Much to my dismay, I got bored within a year of using the app. The conversations always revolved around what we did for a living or where we lived or what we did in our spare time — thank goodness the weather didn't make it into the conversations.
Imagine having to go through such exchanges with 50 people! This endeavour is never going to work, I told myself, feeling quite disheartened. At that point in time, Tinder was good at giving its users quantity, not quality.
After two years of going on and off the app, a colleague — whom I had become close friends with over the years — divulged that he had found a promising life partner on Tinder. Encouraged by his success, he encouraged me to try again, but with more effort this time.
And so, I hatched a plan. If the conversation with a candidate went well within 10 minutes of texting, I pledged to immediately ask him out on a physical date. This way, I could quickly determine if there was any chemistry between us.
Was it more tiring than texting each other? Definitely. But it was also much more fun to meet new people physically and have meaningful conversations about their passions and quirky traits.
Of course, the experience was still rather taxing — and in hindsight, quite risky — but at least it was not boring.
After three years and 10 first dates later, in 2018, I met someone interesting enough to warrant a second date with and a third and … now we have been married for over a year.
I finally met the one I wanted to share my life with, which is why despite the drawbacks of online dating, I am a proponent of these apps.
For someone like me who has little time to organically meet new people, these apps are amazing technological innovations. Of course, most of the work in deciding to enter a relationship is done outside of the app, but getting help in shortlisting candidates from the get-go was a life-changing experience for me, quite literally.
Needless to say, online dating is not new — countless people have met on chat sites and even online games, but dating apps like Tinder, Coffee Meets Bagel and Bumble help individuals to specifically find people to date, not just to expand their social network.
If you are single and ready to mingle, consider this a sign to try these apps out for yourself!