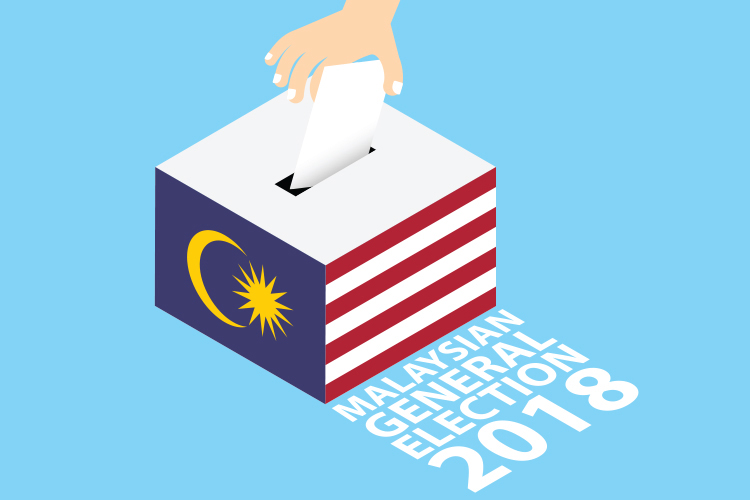 KUALA LUMPUR (April 26): Almost 8% of Malay votes may swing to the opposition in the 14th general election (GE14), the latest survey by opinion pollster Merdeka Center shows.
The survey indicated that Malay sentiment against the ruling coalition is likely to cause a 7.9% swing in the May 9 polls, Merdeka Center programme director Ibrahim Suffian said at a seminar on the election outlook tonight.
"Yes (there will be a Malay tsunami), but (it will be) diffused across state and contesting parties. Each state has its own unique dynamic reflective of local political history, contemporary condition and developments, and relative strength of the local political actor," he said.
Presenting the survey results, Ibrahim said BN will see the biggest drop in support in Johor, falling 20.9 percentage points (ppts) to 60.9% of Malay votes in GE14, compared with 81.8% in the 2013 general election (GE13).
This is followed by Selangor, falling 17.2 ppts to 41.3%, from 58.5% in the GE13.
In Perak, Ibrahim said, Malay support for BN was likely to fall 8.9 ppts to 54.4%, from 62.9% in GE13.
In Kedah, where former Prime Minister Tun Dr Mahathir Mohamad is contesting, Ibrahim said Malay support for BN will fall by just 1.1 ppts to 53.4%.
In Kelantan, however, the survey found that Malay support for BN is like to increase by 8.4 ppts to 54% from 45.6% in GE13, while in Terengganu it will rise by 4.5 ppts to 56%.
The survey was conducted among 1,206 voters across all states of peninsular Malaysia, Sabah and Sarawak through telephone interviews between April 3 and 9.
Respondents were selected through random stratified sampling by ethnicity, age, gender and Parliamentary constituency, Ibrahim said.
Although the survey showed that BN has lost some Malay support, Ibrahim said this disadvantage has been mitigated by splits among the opposition parties.
"Despite going it alone, PAS continues to hold on to core Malay supporters. Due to the split in Malay opposition votes, the Pakatan Harapan and PAS face an uphill challenge to win seats as the BN block of voters is fairly solid," he said.
"The split in opposition votes appears to prompt some undecided voters to go back to BN in some states as they are loyal to none of the parties, but may be more pragmatic in their choices or want to be inspired by (BN) leaders. BN will prevail despite a lower vote share," he said.