This article first appeared in The Edge Malaysia Weekly, on May 21, 2018 - May 27, 2018.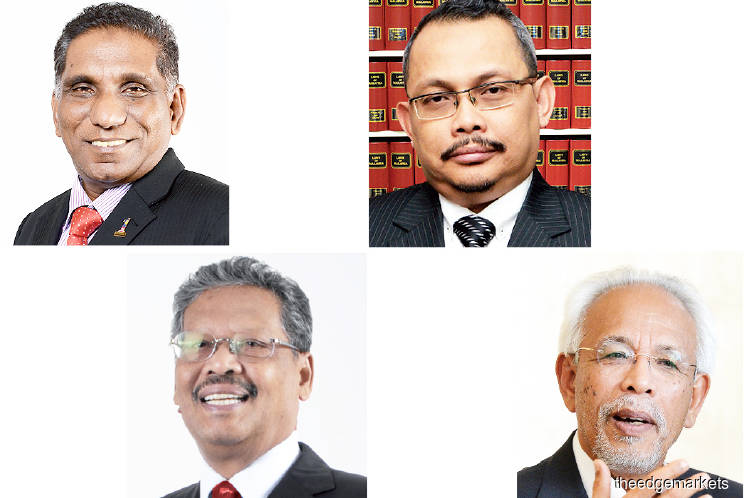 SOON after being sworn in as prime minister for the second time, Tun Dr Mahathir Mohamad bluntly said on May 10 that some heads will roll as he cleans up the government.
In the new premier's crosshairs are those who were "aiding and abetting the previous kleptocratic leadership". And he did not dawdle. On May 14, the first working day after the historic May 9 polls, a number of prominent figures either resigned on their own, were transferred or were told to go on leave.
The clear commonality so far is that the high-profile casualties are in one way or another linked to the 1Malaysia Development Bhd (1MDB) scandal and the 2015 probe into the matter that was shelved.
Separately, the prime minister had also said 17,000 "political appointees" under the previous government would see their contracts terminated.
The Performance Management and Delivery Unit (Pemandu), helmed by former minister Datuk Seri Idris Jala, was also instructed to vacate its premises in the Prime Minister's Department.
1. Tan Sri Mohd Irwan Serigar Abdullah
Among the first casualties was Tan Sri Mohd Irwan Serigar Abdullah, who was appointed Treasury secretary-general in 2011.
Note that in the previous government, the Ministry of Finance (MoF) portfolio was held by the prime minister, Datuk Seri Najib Razak.
Chief Secretary to the Government Tan Sri Dr Ali Hamsa announced that Mohd Irwan's contract had been shortened from March 6, 2019, to June 14, 2018.
Mohd Irwan has been transferred to the Public Service Department and barred from acting in any capacity for MoF.
Note that Mohd Irwan was the chairman of 1MDB after the troubled company's board resigned en masse in May 2016.
By virtue of his position at the Treasury, Mohd Irwan also oversaw many key projects, including the East Coast Rail Link, Bandar Malaysia development and TRX City.
2. Tan Sri Mohamed Apandi Ali
Attorney-General (AG) Tan Sri Mohamed Apandi Ali showed up for work on May 14, despite Mahathir already indicating that he had no confidence in him. The prime minister immediately instructed him to go on leave while Solicitor-General Datuk Engku Nor Faizah Engku Atek took over his duties temporarily.
Recall that Apandi took over as AG from Tan Sri Gani Patail, whose service was terminated on July 28, 2015. Gani told a local newspaper a year later that the termination was by order of the government.
Last Tuesday, Mahathir confirmed long-standing reports that Gani had been preparing to press charges against Najib when he was terminated as AG. At the time, Gani was leading a task force investigating the 1MDB scandal.
The task force comprised Gani as the AG; the then Bank Negara Malaysia governor Tan Sri Zeti Akhtar Aziz; Tan Sri Khalid Abu Bakar, at the time inspector general of police; and Tan Sri Abu Kassim Mohamed, who was then the chief commissioner of the Malaysian Anti-Corruption Commission (MACC).
It is worth noting that on May 13, Khalid told the media that he was willing to cooperate if investigated by the new government as part of the renewed spotlight on 1MDB.
After Apandi took over, he ended the investigations and cleared Najib, saying he was satisfied that there were no criminal elements involved.
3. Tan Sri Dzulkifli Ahmad
Less than two years into his role as MACC chief commissioner, Tan Sri Dzulkifli Ahmad tendered his resignation to Ali Hamsa on the early morning of May 14.
He was appointed to the role from Aug 1, 2016, replacing Abu Kassim, who had been leading the commission's 1MDB investigation.
Abu Kassim had stepped down as chief commissioner after requesting his contract be terminated early, according to a past statement by MACC. His contract was supposed to expire on Dec 4, 2018.
He stepped down after some senior officials at MACC also retired or were transferred out amid intensifying action in the 1MDB probe back then.
In August 2015, two senior officials — Datuk Bahri Mohamad Zin (special operations) and Datuk Rohaizad Yaakob (strategic communications division) — were transferred to the Public Service Department but the transfer was revoked following a public outcry.
Another notable departure in 2016 was Abu Kassim's then deputy, Datuk Seri Shukri Abdull, who went into mandatory retirement in October 2013.
Last Thursday, the prime minister announced that Shukri is the new MACC chief commissioner.
4. Tan Sri Shahrir Abdul Samad
Having lost his bid to be re-elected as the member of parliament for Johor Baru, Tan Sri Shahrir Abdul Samad tendered his resignation as the Federal Land Development Authority (FELDA) chairman on May 14.
In a statement, he said it was the right thing to do as he was appointed by the previous government.
Shahrir was appointed to the role on Jan 6, 2017, taking over from Tan Sri Mohd Isa Abdul Samad. It is a key appointment as FELDA settlements make up 54 parliamentary constituencies, mostly controlled by the Barisan Nasional coalition at the time.
In an interview with The Edge a month after his appointment, he said the mandate planned to revamp and restructure the government agency, which had received much attention for the wrong reasons.
Among others, FELDA was reportedly offering an extravagant premium to acquire a 37% stake in Indonesian planter PT Eagle High Plantations.
The MACC had also arrested five FELDA officials on graft allegations. Meanwhile, Felda Global Ventures Holdings Bhd — in which FELDA is the largest shareholder with 20% — has seen about RM10 billion of its market value wiped out since listing on Bursa Malaysia in July 2012.
Save by subscribing to us for your print and/or digital copy.
P/S: The Edge is also available on Apple's AppStore and Androids' Google Play.