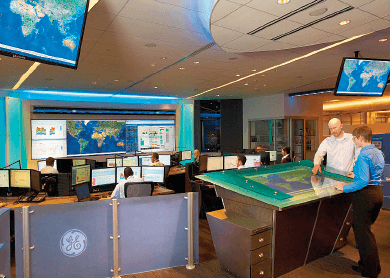 GENERAL ELECTRIC Power & Water is keen to apply its latest HA gas turbine technology to Track 4A, the country's newest power project that is being developed by Tenaga Nasional Bhd and SIPP Energy Sdn Bhd.
"In the project [in Pasir Gudang], you [the investors] are looking at the most efficient product [gas turbine] that is going to provide the best economic value," its president of global sales in power generation services, Josephy J Anis, told reporters in Atlanta, Georgia, last week. "We are watching very closely to introduce our technology to Malaysia."
The firm's latest turbine technology could save the global power generation industry about US$30 billion in capital expenditure with fuel savings amounting to about US$8 billion a year, according to GE Power & Water, a wholly-owned subsidiary of General Electric.
As at end-April, the company had secured 16 orders for its HA gas turbines with "HA technology selection" increasing to 53 last month from 45 at the end of last year.
Technology selection is one of the first steps in developing a new power plant. If the power plant is constructed and commissioned, it will use GE gas turbines. Following technology selection, a developer proceeds with securing financing, permits and so forth.
"From an engineering standpoint, the design [of a HA gas turbine] can last 20 to 25 years," Anis said, adding that the life cycle of a turbine is a crucial element a client will look at. "In essence, all our customers want their [power generation] assets and services to operate efficiently. We want to drive the efficiency of those assets."
Every two to three years, a power plant operator will do a minor inspection of its turbines and every six to seven years, it has to go through a major overhaul, said Anis.
The ability to provide efficiency upgrades has an impact on the operational expenses of a power plant, he added. "This interaction that we have with the industrial internet, bringing technology and software together, and how that impacts our customers' outcome, could improve the bottom line."
GE has developed a "Predicts" platform that allows power generation assets to be connected to cloud computing, Anis pointed out. "Applications have been built to sit on the platform that would allow customers to improve operational excellence within the [power generation] assets."
On what generates demand for GE's latest gas turbine technology, he said population growth was the driver of power generation, which is the case the world over. Nonetheless, he pointed out that each government had a different strategy on fuel efficiency, producing different needs at different times. "We are talking [about] projections of hundreds of gigawatts [of electricity] that are needed over the next 10 years."
Apart from its monitoring and diagnostics (M&D) centre in Atlanta (see accompanying story), GE Power & Water operates a US$200 million site in Greenville that employs more than 3,000 and encompasses 413 acres with 1,550,000 sq ft of manufacturing space that houses the world's largest gas turbine plant.
Monte Atwell, the company's general manager for power generation life cycle product management, opined that a huge differentiator for GE Power & Water was its combustion laboratory in Greenville that allowed gas turbines to operate on a variety of fuels, including gases with a wide range of heating values, like steel mill gases, syngas, lean methane fuels, natural gas, higher order hydrocarbons and high hydrogen fuels.
"People would want to use what fuel they have and if they have a product that can make use of that fuel, [then] they have an advantage," said Atwell in a separate interview in Greenville, South Carolina.
Commenting on the HA technology, he said, "Our competitors are moving fast and our customers are expecting us to move fast too. We can no longer [afford to] take five years to develop a machine."
He highlighted that the advanced manufacturing technologies, which can produce high temperature materials and advanced composites through 3D printing and laser printing, give GE Power & Water a lot of freedom in designing intricate features and manufacturing cost effectively.
It is worth noting that the M&D centre in Atlanta has the ability to locate problems in power plants the world over before the customers realise it, he remarked.
The HA, which, according to GE Power & Water, is the world's largest high-efficiency turbine, was introduced last year. Its latest models comprise the 9HA.02 at 510mw and the 9HA.01 at 397mw with an air-cooled feature.
In fact, GE Power & Water finished testing its 9HA.01 at its 42,000 sq ft facility in Greenville on March 31, after running a three-month validation test.
Andrew J Lammas, vice-president of engineering power generation, said the next machine, the 9HA.02, will go into the test stand on July 1. "A very successful first test speaks very well for the second test because of the similarity of the technologies," he added.
Interestingly, GE Power & Water has a plan to try a combination with solar heat, which would allow energy to fuse with the fuel before it goes into the gas turbine. But Lammas noted that this would depend on the project site and on what capability it has.
On the just-finished test of the 9HA.01 model, he said five terabytes of data were collected during the process. The 9HA.01 model has nearly 5,000 sensors and the instruments collect data on all aspects of operation and components of the gas turbine during validation testing with more than 8,000 data streams captured continuously during testing. The gas turbine can generate over 500,000 horsepower and has more than 61% combined cycle efficiency.
To position itself well against other turbine manufacturers, GE Power & Water prides itself on having an unmatched ability to transfer intellect and technology across industries and around the world as the advanced technology, materials, software, and analytics are shared between industries.
For over a century, GE has invested in the R&D of gas and steam turbine, generator and control technology. It has an installed base of more than 10,000 gas and steam turbines generating units that represent over a million megawatts of installed capacity in more than 120 countries.
This article first appeared in The Edge Malaysia Weekly, on May 11 - 17, 2015.