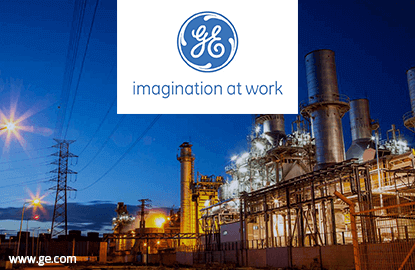 KUALA LUMPUR (June 20): US conglomerate General Electrics Co (GE) and French state-owned Électricité de France SA (EDF)'s power plant in Bouchain, France, has won Guinness World Records (GWR)'s recognition as powering the world's most efficient combined-cycle power plant, based on an achieved efficiency rate of up to 62.22%.
Combining power generating technology and digital integration, the plant, with a generating capability of more than 605 MW, is equipped with GE's HA turbine, which will create the equivalent power needed to supply more than 680,000 homes, GE said in a statement on Friday (June 17).
In addition, the HA compressor flows air at a rate that could pump up the Goodyear blimp in 10 seconds, and the tip of the last blade in the 9HA.01 moves at 1,200 mph/1,931 kph, which is 1.5 times the speed of sound.
The plant also demonstrates GE's digital power plant capabilities that unlocks power which was previously inaccessible, and digital control system, using real-time data to deliver better plant outcomes with stable and efficient operations.
It also provides valuable predictive insights for higher reliability and optimisation, GE said.
GE Power president and chief executive officer Steve Bolze said the group was making history with the power plant for the future and was thrilled by GWR's recognition.
Apart from achieving efficiency levels, GE's HA gas turbine delivers more flexibility than before and is capable of reaching full power in less than 30 minutes.
"This helps pave the way for greater use of renewable energy by allowing partners to respond quickly to fluctuations in grid demand, integrate renewables onto the grid and adapt quickly to weather changes," it said.
EDF chief executive officer Jean-Bernard Levy said by commissioning the new generation thermal plant, EDF demonstrates its technology to make its French thermal power plants more energy efficient while supporting the energy transition.