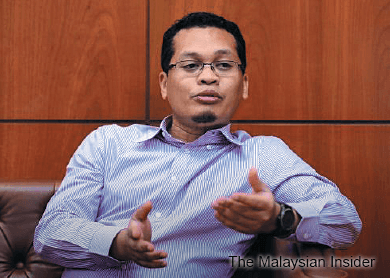 PUTRAJAYA: Attorney-General Tan Sri Abdul Gani Patail has denied abusing his power in prosecuting PKR Youth chief Nik Nazmi Nik Ahmad (pic) twice despite his acquittal by the Court of Appeal for organising a public rally two years ago.
"As public prosecutor, the defendant (Gani) had the discretion under the Federal Constitution and the Criminal Procedure Code to institute or drop charges," Gani said in his defence documents sighted by The Malaysian Insider.
Gani further said the prosecution charged Nik Nazmi again in a Sessions Court in May last year to preserve the integrity of its appeal in the Federal Court.
However, Nik Nazmi in reply to Gani's defence said the prosecution could have waited for the outcome of the appeal instead of framing a fresh charge on the same offence.
The Federal Court on May 8 this year struck off the A-G's appeal against Nik Nazmi's acquittal by the appellate court last year.
In a landmark decision on April 25, 2014, the Court of Appeal declared Section 9(5) of the Peaceful Assembly Act unconstitutional as an organiser could not be punished for failing to give a 10-day notice to the police.
Nik Nazmi filed the suit for malicious prosecution and abuse of power by the A-G on March 31 and also named the government as party to his action.
The Selangor executive councillor is claiming an unspecified amount of damages and other relief deemed fit by the court.
He said Gani's act of charging him the second time and to appeal against the first charge was tantamount to malicious prosecution and done in bad faith.
The Seri Setia assemblyman said Gani also committed the tort of misfeasance in public office.
Lawyer Syahredzan Johan, who appeared for Nik Nazmi during case management last week, said High Court senior assistant registrar Pavani Kasi asked parties to return on June 18 for further directives. Federal Counsel A Kasthuri represented Gani. — The Malaysian Insider
This article first appeared in The Edge Financial Daily, on June 10, 2015.