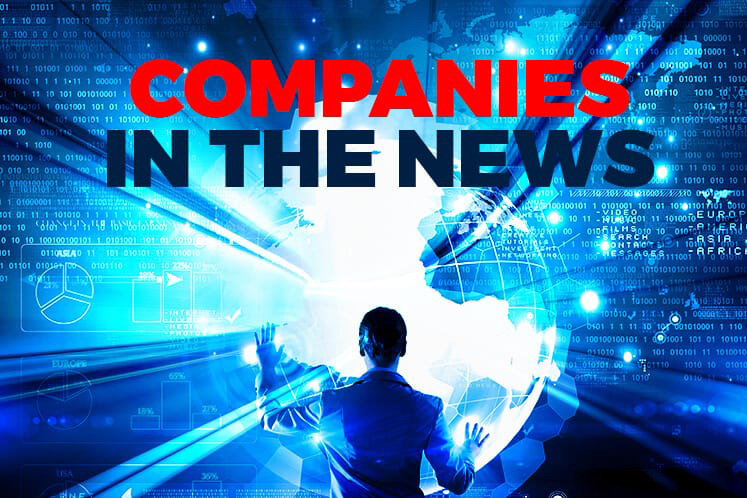 KUALA LUMPUR (Sept 27): Based on corporate announcements and news flow today, companies that may be in focus on Monday (Sept 30) may include the following: Gamuda Bhd, Salcon Bhd, Green Packet Bhd, Sapura Energy Bhd, IOI Corp Bhd, Sarawak Consolidated Industries Bhd, Yee Lee Corp Bhd and Hiap Teck Venture Bhd.
Gamuda Bhd returned to the black in the fourth quarter ended July 31, 2019 with a net profit of RM184.95 million, versus a net loss of RM103.64 million a year ago.
The loss previously was due to the inclusion of a one-off loss arising from the disposal of its 40%-owned associate Syarikat Pengeluar Air Selangor Holdings Bhd (Splash) and a one-off discount on its 80%-owned subsidiary Gamuda Water Sdn Bhd's trade receivables.
Revenue rose 23.7% to RM1.5 billion from RM1.21 billion previously.
For the full financial year, the group's net profit grew 33.2% to RM706.11 million from RM530.18 million in the previous year, while revenue rose 8.3% to RM4.57 billion from RM4.22 billion.
Salcon Bhd's wholly-owned Salcon Engineering Bhd secured an RM50.85 million sub-contract from China Geo Engineering Corporation for a water supply construction project in Sri Lanka, to carry out mechanical and electrical work for the Valachchenai Water Supply Project.
The project will be for 36 months from the date of commencement and has no option for renewal. The commencement date has yet to be determined.
Singapore-based private equity firm Kendall Court, via its wholly-owned Summit Synergy Ltd, has emerged as a substantial shareholder of Green Packet Bhd with a 7.19% equity stake in the company, after having acquired 65 million shares at 70 sen per share.
Sapura Energy Bhd's net loss for the second quarter ended July 31, 2019 narrowed to RM116.31 million from RM126.06 million last year on the back of an 87% jump in revenue to RM1.93 billion from RM1.03 billion.
For the six-month period, the group's net loss narrowed to RM225.41 million from RM261.79 million last year, while revenue rose to RM3.56 billion from RM1.88 billion.
Sapura Energy has also secured three new contracts and two contract extensions worth a combined value of approximately RM774 million in Malaysia, Brunei and Thailand for engineering and construction, and drilling works, from Petronas Carigali Sdn Bhd, Brunei Shell Petroleum Company Sdn Bhd as well as PTT Exploration and Production Public Company Ltd respectively.
IOI Corp Bhd is planning to use part of the proceeds from its divestment of a 70% stake in its specialty oils and fat business IOI Loders Croklaan to acquire more oil palm plantations.
The group is especially interested in purchasing plantations close to its existing ones in Sabah and Kalimantan, Indonesia, as part of its move to invest further into its upstream business.
Sarawak Consolidated Industries Bhd's largest shareholder, Datuk Mohd Abdul Karim Abdullah, has been made the group's non-executive and non-independent chairman effective Oct 1, replacing the current chairman Tan Sri Dr Hamid Bugo, who is resigning due to "personal commitments".
Executive director Rewi Hamid Bugo, 46, will also be resigning from the board effective Oct 1
Yee Lee Corp Bhd's subsidiaries Canpac Sdn Bhd and Yee Lee Trading Co Sdn Bhd are acquiring 9.62 hectares of land in Ulu Selangor for RM25.9 million from Panaheights Development Sdn Bhd for the construction of an aerosol can factory and a regional distribution centre for future expansion.
Hiap Teck Venture Bhd has reported a net profit of RM29.56 million for its 4Q ended July 31, 2019, versus a net loss of RM19.98 million last year, thanks to share in profits from a joint venture. Revenue declined 4.75% to RM309.88 million from RM325.32 million.
The group declared a first and final dividend of 0.5 sen for FY19.
Full-year net profit declined 9.46% to RM25.3 million, from RM27.95 million in the previous year, despite revenue growing 5.21% to RM1.19 billion from RM1.13 billion.