This article first appeared in The Edge Financial Daily, on September 24, 2018.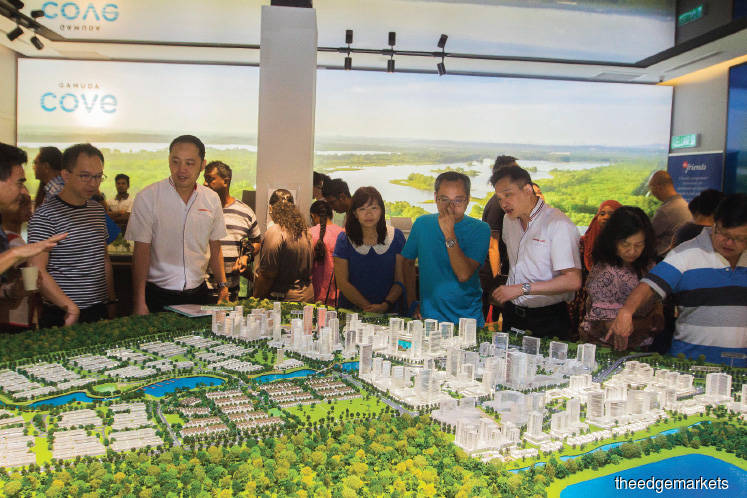 SUBANG JAYA: Gamuda Bhd yesterday opened the doors to its Gamuda Cove Experience Gallery in Taipan USJ for visitors to preview its latest 1,530-acre (619.17ha) development master plan near Cyberjaya, the Gamuda Cove.
Dubbed "Nature Sanctuary, Future City", Gamuda Cove's master plan focuses on self-sustainability, good connectivity and green-living within a dynamic urban setting. With a gross development value of RM20 billion, the leasehold township is located in southern Klang Valley along the Elite Highway, opposite Cyberjaya.
More than half of the limited units up for sale during the opening launch have been sold. Early birds received 7% rebate for every Gamuda Cove unit purchased.  
Gamuda Cove will be divided into a few districts comprising landed and non-landed residential areas, a central business district, a leisure and entertainment area, a knowledge and information corridor, a wellness oasis, a 60-acre Central Park, and an art, culture and tourism village.
The Central Park, which features lakes surrounded by indigenous flora and fauna, is bordered by the adjacent Paya Indah wetlands. The park is also near the gazetted Kuala Langat forest reserve.
Gamuda Bhd chief executive officer Ngan Chee Meng said the focus of the development is to incorporate the surrounding nature into the township to enrich the community's lifestyle.
"Gamuda Cove is like a city centre in a nature sanctuary; you are in the middle of a forest reserve and wetlands, but you have 360 acres or about 36 million sq ft of commercial space to serve you," he said.  
"Aside from Central Park, Gamuda Cove will also feature the 50-acre Discovery Park that is set amid real nature to offer exciting and unique experiences through three recreational zones, namely The Adventure Park with a wide-open space to host extreme activities, The Sports Park with international standard sports facilities and the Hangout Village for community to enjoy unique dining experiences," Ngan added.
In line with the existing biodiversity of the area and preservation initiatives that Gamuda is taking, the developer sent in consultants and non-governmental organisations to assess the area before site clearing to record the species of flora and fauna there, and the concentration of its inhabitants.
"When we started the earthworks for this project, it was important for us to keep a few things in mind, for instance not disrupting the groundwater level, and that whenever we needed to remove trees, [we are] to replant them with native plants. It was all very carefully done. The wetlands remained untouched," Ngan explained.
The first residential phase of Gamuda Cove is targeted for launch in November this year, with expected completion in 2021. The first phase will offer four types of linked homes at an indicative price that starts from RM680,000. Meanwhile, the Gamuda Cove Discovery Park and Gamuda Cove Theme Park will be open to public in 2019 and 2022, respectively.
The township will also feature affordable housing units under the Rumah Selangorku scheme.
The development will be constructed using Gamuda's Industrialised Building System (GIBS) that ensures faster delivery and better quality homes with stronger structure, better resistance to fire and rot, and improved sound and heat insulation as the products are fully tested and SIRIM-certified with every component of the development produced in the factory.
"With the help of GIBS, we actually gain a lot of flexibility in designing a more practical layout, more creative facade, better quality, and faster delivery — it gives the buyers so many benefits," Ngan added.