This article first appeared in City & Country, The Edge Malaysia Weekly, on April 15, 2019 - April 21, 2019.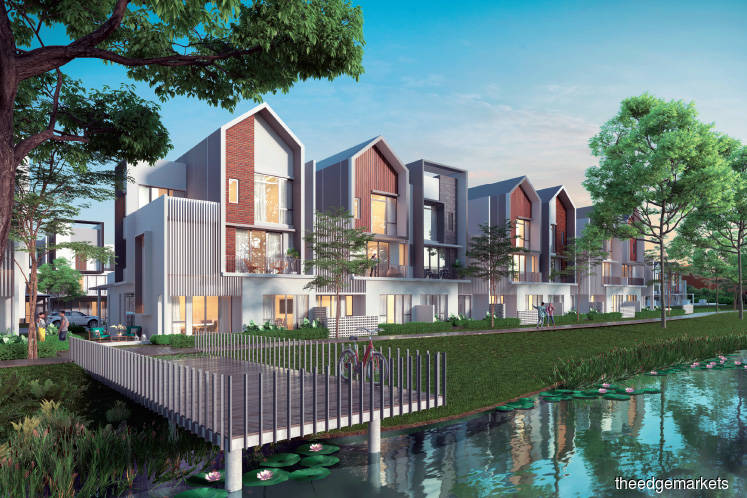 An artist impression of Luxura, the upcoming launch in twentyfive.7
Gamuda Land, the property arm of Gamuda Bhd, is launching the first 100 units of Luxura next month. The RM588 million, strata-titled Luxura is the second phase of twentyfive.7, a 257-acre township in Telok Panglima Garang, Selangor. Occupying 36.52 acres of leasehold land, it will have 315 units of 2 and 3-storey link villas.
According to twentyfive.7 general manager Chu Wai Lune, the gated and guarded community will be divided into three sub-phases. The first comprises 100 units, with the remaining two sub-phases to be launched at a later date.
"We originally planned to launch Luxura in 2021 but because of strong demand, we decided to bring it forward," he says.
There will be five house types with two layouts — 4+1 bedrooms with 4 bathrooms and 5+1 bedrooms with 5 bathrooms. Land areas are 26ft x 70ft and 28ft x 70ft with built-ups from 2,605 to 3,466 sq ft. Selling prices start from RM1.2 million.
Chu says Luxura is an improved version of Lucent Residences, the township's first phase of landed homes.
"The first improvement is the kitchen. All units in Luxura will have a double loading kitchen, meaning there will be kitchen cabinets on both sides," he says. "And we have made the ground floor toilet more elderly friendly. It will be large enough to accommodate a wheelchair and there will be a ramp for easy access. In addition there will be a support bar, panic button and a foldable seat in the shower area."
There will be a ramp in the car porch to allow wheelchair-bound people to easily access the main door. All units will come with a solar water heater, home alarm system, water filter and air conditioning.
Luxura will offer 30 Hero products and the selling price will start from RM1.8 million. Chu says Hero products are limited units that will have a few unique features. One will be the signature multi-façade rows, where each house will have a different look. "Usually, when you look at a row of houses, the façades are the same but Hero products will have different ones."
In addition, purchasers will be able to customise the interiors. "The laminated floor patterns, the colours … we will allow buyers the option of customisation."
The developer plans to create a mobile application where purchasers can see a 3D version of the house and pick and choose their options. "It is better that they choose now and we build it for them rather than they come back later and hack and do their own renovations," Chu says.
Luxura will have 16 units with triple-volume ceilings. "We call this the light house because the design allows 75% of natural lighting to enter the house. These units will be launched later," he says.
Updates on twentyfive.7
Located south of Gamuda's award-winning township, Kota Kemuning, the RM4.2 billion twentyfive.7 was launched in 2017.
Lucent Residences, Phase 1, comprises 181 superlink homes and 98 semi-detached houses. It is currently 80% sold and will be completed the middle of next year.
The Amber Residence, the township's first high-rise development, comprises 596 serviced apartments and 32 retail shops. Launched last year, it is 40% sold and is slated to be completed in 2021.
Chu says the developer's main priority is the community, and this is why Gamuda decided to build Quayside Mall with key tenants that include MBO cinemas, Jaya Grocer and Mr DIY. "Residents do not have to leave the township to shop. They can just go to the mall nearby."
The 504,539 sq ft mall, which will be managed Gamuda, will have a net lettable area of 328,153 sq ft (excluding kiosks) and will comprise 107 retail lots and 19 kiosks. It will be completed the middle of next year, around the same time as Lucent Residences.
About 50% of the retail space has been taken up and Chu hopes that the time it opens its doors it will be 75%.
The developer has also created a place-making space called Buzz.ar, which is already open. The pet-friendly Buzz.ar is next to the lake and has a 600m loop for jogging or cycling. People can bring their pets and have a stroll. Waste disposal bags are available.
There are four shops, three of which are tenanted — Heritage Nyonya Cuisine Restaurant, Marc et Farid Patisserie and pet care centre FURIIstyle. The developer will retain the remaining unit to host community events, says Chu. He plans to put in a ping pong table for residents to use for free. An open space offers picnic tables and chairs and fairy lights will be strung soon. Opposite will be the Moonlight Cinema, an outdoor movie theatre where live football matches as well as movies  will be screened, Chu says.
And the children have not been forgotten. A splash pad with ground nozzles will be installed soon in the play area, which features a games corner, which has giant Jenga and a giant chess board.
Next month, Gamuda is installing Aurora Rhythms, a musical water fountain, at the lake. It is similar to the Lake Symphony show at KLCC.
The football field, which is operated the Football Talent Academy, was completed last month. Those aged 8 to 16 years old can enrol for training sessions with the academy. Social and champion football leagues will be organised for the public and the field is open for public usage on a rental basis via the academy.
After the launch of Luxura, the developer is planning to launch a serviced apartment project. "It does not have an official name yet, but we may call it the Quayside Residences. We are planning to build a link bridge from the serviced apartments to the mall," says Chu.
The unique selling point for twentyfive.7, he says, is the vibrancy. "We have planned twentyfive.7 for people to work, live and eat here. Everything you do, you can do it within twentyfive.7. We call it twentyfive.7 because you only have 24 hours in a day but here, we give you one hour more, seven days a week."