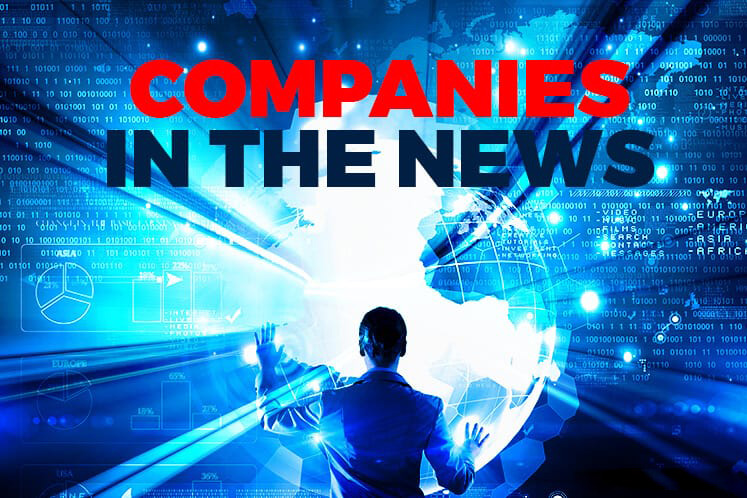 KUALA LUMPUR (Aug 3): Based on corporate announcements and news flow today, stocks in focus on Monday (Aug 6) may include: Gamuda Bhd, Kumpulan Perangsang Selangor Bhd, Bumi Armada Bhd, SLP Resources Bhd, Frontken Corp Bhd, Axiata Bhd, Anzo Holdings Bhd, Lay Hong Bhd, Amanah Harta Tanah PNB, Parlo Bhd, Nylex (Malaysia) Bhd, Ancom Bhd, YTL Power International Bhd, UEM Sunrise Bhd and T7 Global Bhd.
Gamuda Bhd and Kumpulan Perangsang Selangor Bhd (KPS) are set to resume trading after Pengurusan Air Selangor Sdn Bhd offered RM2.55 billion cash to take over Syarikat Pengeluar Air Sungai Selangor Sdn Bhd (Splash) today.
The offer price is a 28% discount to Splash's net book value of RM3.54 billion as at June 30, 2018 and the consideration will be fulfilled over nine years, Selangor Menteri Besar Amirudin Shari said.
Bumi Armada Bhd has bagged a US$285 million (RM1.16 billion) contract from Vietnam's petroleum producer Hoang Long Joint Operating Co (HLJOC) for the charter of its floating production storage and offloading (FPSO) vessel, Armada TGT 1.
The charter period is from Aug 27, 2018 to Nov 14, 2024.
Bumi Armada said the FPSO has been chartered to operate in the Te Giac Triang field (TGT field) offshore Vietnam under a seven-year firm bare boat charter contract dated Sept 1, 2009, which will expire on Aug 26.
SLP Resources Bhd's net profit for the second quarter ended June 30, 2018 (2QFY18) quadrupled to RM10.51 million from RM2.56 million a year ago, mainly due to higher export sales of flexible plastic packaging within the region, and better profit margin.
The earnings jump was also helped by a translation gain of RM3.92 million recorded from converting the earnings of its foreign subsidiaries into ringgit.
Quarterly revenue rose 3% to RM44.37 million in 2QFY18 from RM43.23 million in 2QFY17.
The group also declared a first interim dividend of 1.5 sen per share for the financial year ending Dec 31, 2018, payable on Oct 5.
Tan Sri Azman Mokhtar has stepped down as chairman of Axiata Bhd, following his recent resignation as the managing director of sovereign wealth fund Khazanah Nasional Bhd, which owns a 37.3% stake in the telecommunication group.  
Separately, Bloomberg cited sources as saying that Axiata's Indonesia arm, PT XL Axiata is in talks to acquire a stake in Indonesian internet provider PT Link Net of about 40%, which would be worth about US$356 million, based on Thursday's closing price.
 
Ng Wai Pin, the chairman and chief executive officer of Frontken Corp Bhd, has emerged as the largest shareholder of the semiconductor cleaning firm after an indirect acquisition of 290.99 million shares or a 27.77% stake at a total of RM113 million.
The acquisition was made via Dazzle Clean Ltd, an indirect, wholly-owned unit of Singapore-based private equity firm Dymon Asia in which Ng is a substantial shareholder.
With two blocks traded at 39 sen per share and 38 sen per share respectively, the stake was purchased at a RM51.4 million or 31.27% discount to the closing value of the shares, that is a total RM164.4 million.
Anzo Holdings Bhd is in the midst of identifying a new external auditor, as its current auditor Messrs UHY's term of office will end after 21 days from July 31.
UHY had served as Anzo's auditor for less than five months since Feb 21 this year. It had expressed its intention to resign as auditor of the company due to the change of financial year of Anzo Group, which was not part of the auditor's plan.
As a result, the auditor has no spare staff and resources to complete the audit for the respective periods.
Lay Hong Bhd is allocating RM13 million or about 50% of the proceeds from the disposal of its land in Ijok, Selangor, to build a broiler grand parent stock farm in Raub, Pahang next year.
The balance of the proceeds from the RM27.6 million sale will be used to pare down existing borrowings, which totalled RM230.52 million as at March 31, 2018.
"The estimated interest saving per year on this reduction [on borrowings] is approximately RM1.12 million," Lay Hong said.
Datuk Johan Ariffin has been redesignated as independent and non-executive chairman of real estate investment trust Amanah Harta Tanah PNB (AHP) from director previously.
Johan, 59, takes over from Tan Sri Abdul Wahid Omar, 54, who stepped down from the position on July 11.
"The change in boardroom relates to the manager of AHP, Pelaburan Hartanah Nasional Bhd," AHP said.
Parlo Bhd's significant shareholder Thirty Keystone Sdn Bhd will settle the group's RM1.26 million profit shortfall by releasing its 11.47 million or a 3.15% stake to Malaysian Trustee Board for the latter to sell the shares to satisfy the shortfall.
"The parties have mutually agreed that the valuation date will be Aug 2 and based on the (then) closing price of 11 sen per Parlo share," the tour firm said.
Thirty Keystone's share release will lower its stake in Parlo to 10.04%. It will remain the group's second largest shareholder.
 
Nylex (Malaysia) Bhd executive chairman Tan Sri Mohamed Al Amin Abdul Majid has resigned, citing other commitments.
Ancom Bhd, the holding company of Nylex with a 14.91% stake, also announced the resignation of Mohamed Al Amin as its non-independent and non-executive director.
Sembcorp Industries Ltd and Keppel Corp are among parties planning to study bids for Hyflux Ltd's biggest asset, according to Bloomberg, citing people with knowledge of the matter, in a sale that's key to helping the cash-strapped company get back on its feet.
Hyflux's Tuaspring project, which includes Southeast Asia's biggest desalination plant, has also drawn interest from Malaysian generator YTL Power International Bhd, the report said. The asset had a book value of S$1.47 billion at the end of March, according to Hyflux exchange filings.
UEM Sunrise Bhd said it is on track to achieving its RM1.2 billion sales target for the financial year 2018, having achieved between 60% and 70% of the sales target to date.
Managing director and chief executive officer Anwar Syahrin Abdul Ajib said sales picked up in the first half of the year on positive sentiments, even on the back of market uncertainty in the run-up to the general election in May.
Oil and gas (O&G) service provider T7 Global Bhd has teamed up with Hong Kong-based DIV Diving Engineering Co Ltd and Singapore's Cornerstone Offshore Pte Ltd to carry out underwater subsea engineering services for the O&G industry in Malaysia.
In a bourse filing today, T7 Global said its wholly-owned subsidiary T7 Marine Sdn Bhd has entered into a shareholder agreement with the two companies to jointly form a special purpose vehicle (SPV) for the proposed business.
T7 Marine will hold a 55% stake in the SPV, while DIV Diving will own 30% and Cornerstone the remaining 15%.