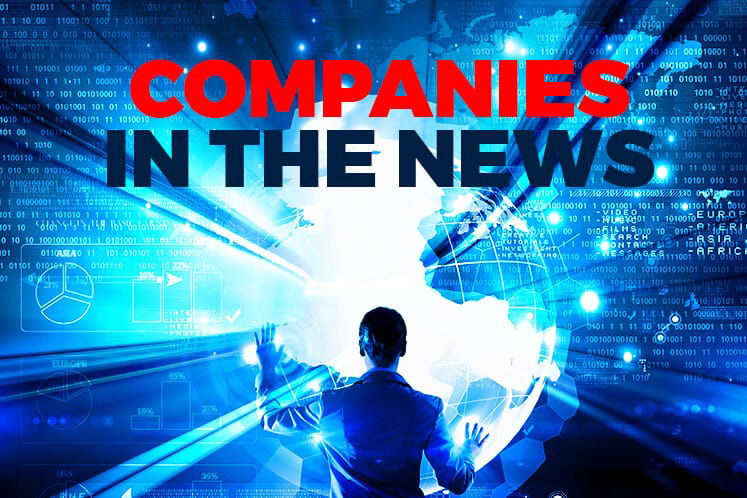 KUALA LUMPUR (July 20): Based on corporate announcements and news flow, companies that may be in focus on Monday (July 23) include the following: Gamuda Bhd, Iskandar Waterfront City Bhd, BIMB Holdings Bhd, Salcon Bhd, Cabnet Holdings Bhd, Sunway Construction Group Bhd, Sunway Real Estate Investment Trust and Media Chinese International Ltd.
 
Gamuda Bhd's 40% associate Syarikat Pengeluar Air Selangor Holdings Sdn Bhd (Splash) has withdrawn its claims against Syarikat Bekalan Air Selangor Sdn Bhd (Syabas) in order to facilitate negotiations on the disposal of Splash with the State government of Selangor. Syabas, too, has discontinued its counter-claim against Splash.
On April 9, Gamuda had commenced legal proceedings against Syabas for the recovery of RM4.22 billion outstanding receivables owing by Syabas to Splash together with interest and costs. Then on April 26, Syabas filed its defence and counter claim.
 
Splash which is the concession holder of the Sungai Selangor Water Supply Scheme Phase 1 and 3 is awaiting the offer from the Selangor State government on the takeover of its water assets and operations.
 
Iskandar Waterfront City Bhd (IWCity) announced that its parent firm, Iskandar Waterfront Holdings Sdn Bhd (IWH), has not submitted a fresh bid for projects related to the development of Bandar Malaysia, whose gross devlopment value was previously estimated to be RM160 billion.
Recently, special officer to the Finance Minister Tony Pua Kiam Wee had disclosed the government's request for tender proposals for the development of Bandar Malaysia, following the termination of an earlier agreement with IWC and its partner, had not yielded any suitors.
 
BIMB Holdings Bhd's (BIMB) chief executive officer Khairul Kamarudin has resigned with immediate effect due to personal reasons. He has concurrently relinquished his position as the CEO of Bank Islam Malaysia Bhd, a wholly-owned subsidiary of BIMB.
 
At the bank level, the board has appointed Mohd Muazzam Mohamed as acting CEO, and will form a board executive committee to oversee the day-to-day operations of the company.
 
Mohd Muazzam joined the bank on May 11, 2015 as its chief financial officer bringing with him 22 years of experience in the field of audit, finance and consulting. He is also a director on the board of several companies within the BIMB group as well as Bank Islam group.
 
Salcon Bhd's indirect 60%-owned subsidiary Envitech Sdn Bhd has bagged a contract worth RM9.95 million from Seriemas Development Sdn Bhd to construct a sewage treatment plant in Kuala Langat, Selangor.
 
The project is to be completed within 15 months, on Oct 23, 2019, and has no option for renewal.
 
The project is expected to contribute positively towards the group's earnings and net assets for the financial year ending Dec 31, 2018 (FY18) and FY19.
 
Cabnet Holdings Bhd's wholly-owned subsidiary Cabnet Systems (M) Sdn Bhd has won a RM12.22 million contract, from Country Garden Pacificview Sdn Bhd, for the provision of extra low voltage works for nine 40-storey blocks of serviced apartments (4,033 units) located in Forest City, Mukim Tanjung Kupang, Johor.
 
The contract, scheduled to be completed by April 3, 2019, is expected to contribute positively to the group's earnings and net assets per share from financial years ending Dec 31, 2018, to 2019.
 
Sunway Construction Group Bhd (SunCon) and Sunway REIT Management Sdn Bhd have mutually agreed to revise the provisional contract sum of an ongoing project — Sunway Carnival Mall — in Penang from RM274 million to RM286 million due to additional scope of works.
 
The additional scope of works involves enhancing the design of the external façade of the building, civil and infrastructure works and other related works and services.
 
SunCon's wholly-owned subsidiary Sunway Construction Sdn Bhd (SCSB), as the project delivery partner, received the supplemental letter of award today from SA Architects Sdn Bhd on behalf of Sunway REIT Management Sdn Bhd, which acts as the manager for Sunway Real Estate Investment Trust (Sunway REIT).
 
In February, SCSB was appointed the project delivery partner for the expansion of a nine-storey commercial development to the existing Sunway Carnival Mall in Penang. It is tasked with planning and building the development within 32 months from March.
 
Media Chinese International Ltd's indirect wholly-owned subsidiary Media2U Company Ltd has entered into agreements to dispose of its equity interests in its two companies — Beijing OMG Advertising Company Ltd and Beijing Time Resources Technology Consulting Ltd (Beijing TRT) — that run magazine operations in mainland China, to a third party, who is an employee of Beijing OMG Advertising
 
Media Chinese has a 73.01% stake in Hong Kong Stock Exchange-listed One Media Group Ltd, whose indirect wholly-owned subsidiary is Media2U Company.  
 
The group said Beijing OMG Advertising and Beijing TRT have been loss making for the past three years and they will be sold to the purchaser at a consideration equal to the aggregate value of their net tangible assets, which were not disclosed in the announcement.
 
The disposal will streamline One Media's corporate structure and is also in line with its revised business strategy in the mainland China market.