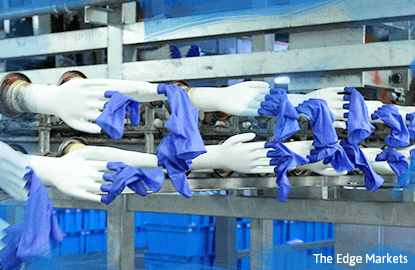 KUALA LUMPUR (Feb 4): Rubber glove-related stocks fell in the mid-morning trades today as the ringgit strengthened against the greenback as a rally in Brent crude brightened the outlook for oil exporting Malaysia.
"I think the fall in share prices of rubber gloves related stocks is mainly due to the stronger ringgit," said an analyst from a local brokerage firm, adding that the stock prices for rubber gloves stocks are moving in the opposite direction against the ringgit.
"Investors are worried that their earnings may be impacted and hence (are) selling the stocks," he pointed out.
At 11.31am, the ringgit climbed 1.69% versus the US dollar to quote 4.1470 as compared with yesterday's closing of 4.2185.
The internationally traded Brent Crude Index gained 0.77% to US$35.31 per barrel.
According to Bloomberg data, the ringgit gained the most in Asia as a rally in Brent crude brightened the outlook for the oil exporter, which cut its budget assumption for the commodity last week following an 18-month decline.
It has appreciated 3.2% this year, trailing only the Hungarian forint among 24 developing-nation exchange rates, the report added.
Across Bursa Malaysia, Kossan Rubber Industries Bhd fell as much as 34 sen or 4.6% to a low of RM7.07 before regaining its lost ground to RM7.08 as at 11.23am, making it the second largest loser across the bourse.
Trading volume stood at 874,600 shares. The current price gives it a market value of RM4.55 billion.
It was followed by Top Glove Corp Bhd, which dropped 24 sen or 4.11% to RM5.60 after 5.6 million shares changed hands, valuing it at RM7.31 billion.
Its warrants TopGlove-C3 also slipped 28.5 sen or 57.58% to 21 sen a piece.
Hartalega Holdings Bhd slid 22 sen or 4.07% to RM5.19 per share with 1.08 million shares traded, giving it a market capitalisation of RM8.87 billion.