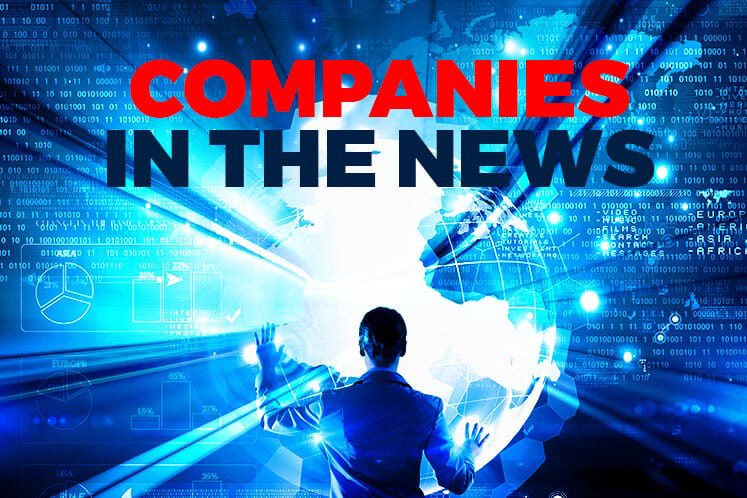 KUALA LUMPUR (Oct 25): Based on corporate announcements and news flow today, companies in focus on Tuesday (Oct 29) may include: Gagasan Nadi Cergas Bhd, Unisem (M) Bhd, Sarawak Consolidated Industries Bhd, Ekovest Bhd, PLS Plantations Bhd, Berjaya Media Bhd, Greenyield Bhd, Luster Industries Bhd, IOI Corp Bhd and Asia Media Group Bhd.
Gagasan Nadi Cergas Bhd, which made its debut on the ACE Market of Bursa Malaysia in January this year, said it will be suspending the trading of its shares on Tuesday, pending a material announcement.
Unisem (M) Bhd incurred a net loss of RM3.21 million for the third quarter ended Sept 30, 2019 (3QFY19) — its first quarterly loss since 2013 — versus a net profit of RM35.15 million a year ago, due to expenses arising from the closure of its Batam unit, PT Unisem. The group also faced lower sales volume, which dragged its revenue down 10.8% to RM316.32 million, from RM354.71 million a year ago.
Notwithstanding the weaker results, the group recommended a second interim dividend of two sen, same as 3QFY18's, to be paid on Jan 10 next year, with the ex-date falling on Dec 20.
Due to these same reasons, its nine-month (9MFY19) net profit shrank by 76% to RM17.31 million from RM72.34 million in 9MFY18, while revenue dropped 8.6% to RM931.37 million from RM1.02 billion.
Sarawak Consolidated Industries Bhd has bagged five engineering, procurement, construction and commissioning (EPCC) contracts worth RM175.4 million. Three contracts worth US$27.99 million (approximately RM117.2 million) are based in Indonesia, Qatar and Oman, while another two, worth RM58.2 million, are based in Malaysia.
Ekovest Bhd's 30.44%-owned associate company, PLS Plantations Bhd, has proposed to raise up to RM1.05 billion via a renounceable rights issue with free warrants to expand its durian plantation business.
The company plans to undertake the rights issue involving up to 1.05 billion new redeemable preference shares in PLS at an illustrative issue price of RM1 per RPS on a two-for-one basis. It also proposed to issue 175.35 million new free warrants, on the basis of one warrant for every two ordinary shares.
In a separate exchange filing, Ekovest, controlled by businessman Tan Sri Lim Kang Hoo, said it has provided an irrevocable undertaking to subscribe in full all of its rights entitled under the proposed rights issue by PLS, which means it will be injecting at least RM213 million into its associate company.
Berjaya Media Bhd has failed to find a white knight to regularise its financials, which means the trading of its securities will be suspended starting from Nov 5. The group, which publishes theSun newspaper, said it could subsequently be delisted on Nov 7, unless an appeal against the delisting is submitted before the date of suspension.
Greenyield Bhd, which is principally engaged in the manufacturing of agricultural and horticultural products, wants to diversify into rubber plantations, which it anticipates may contribute to at least a quarter of its net profit in the future. The group said the diversification will help reduce its reliance on its current core business as well as improve its earnings and shareholder value.
Luster Industries Bhd is buying a 51% stake for RM17.85 million in a local private company — Jade Classic Sdn Bhd — that is jointly developing a plot of land in Sepang, Selangor, into a mixed development with an estimated gross development value or GDV of RM900 million.
The project is estimated to be able to generate a gross profit of about RM190 million, and Luster expects to recover the return to investment from Phase 1 of the project, which has an estimated GDV of RM230 million and a gross profit of about RM57 million. The land, Luster said, can also be charged for bank borrowing.
IOI Corp Bhd says there will be minimal impact to the group if India decides to ban the import of Malaysia palm oil to the country, as the south Asian nation is not a direct customer of the group.
"IOI does not export any volume directly to India, but indirectly, there may be a small percentage, because we sell to some big traders and they may sell to india, so the effect may be minimal," IOI Corp managing director and chief executive officer Datuk Lee Yeow Chor told reporters today.
Asia Media Group Bhd says there is a significant variation between its audited and unaudited financial results for the financial year ended Dec 31, 2018 (FY18), following the discovery of impairment losses and provisions for litigation claims amounting to RM22.9 million that were not accounted for by the previous management.
The variation resulted in Asia Media's FY18 net loss widening to RM26.51 million from RM3.14 million reported previously, on the back of revenue of RM13.43 million.
Asia Media also revealed that it has triggered the Practice Note 17 criteria as its shareholders' equity on a consolidated basis of less than RM40 million is now 25% or less of its issued capital.
Suspended since May 9, the stock will resume trading on Tuesday following the release of its Annual Report 2018 and FY18 financial statements today.