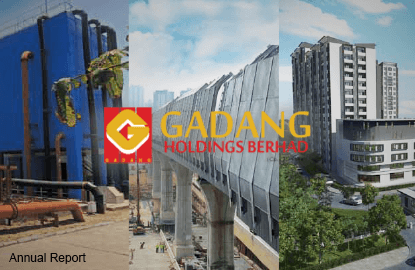 KUALA LUMPUR (Nov 3): Gadang Holdings Bhd said it is currently bidding for RM5.2 billion worth of projects, including several packages of the Mass Rapid Transit 2 (MRT2) and the new Light Rail Transit 3 (LRT3) projects, to replenish its orderbook.
"For FY17, we are still positive in terms of our financials," said Gadang executive director Kok Pei Ling. "As you know the construction sector is still good, with all the contracts and awards being rolled out. Hopefully we can retain last year's performance and hopefully do better, if we can secure more contracts."
"Currently our tenderbook is about RM5.2 billion, but that figure does not include future projects that we foresee will be called for tenders later on," she added.
As at the end of the first quarter ended Aug 31, 2016, the group's orderbook stood at RM603.7 million.
Gadang construction division manging director Khew Check Kiet said the projects the group is currently tendering for includes several packages for MRT2, namely package V204, for the portion near Desa Waterpark and V207 at Universiti Putra Malaysia, Serdang.
He added that the group is also bidding for package V206 and had just received an invitation to tender for package V205.
"MRT projects are usually quite huge. They can easily be worth more than RM500 million. We expect package V204 to be announced sometime this month. The tender for Package V207 just closed, so it would take about three months to be evaluated.
"We are confident to secure at least one," he said.
Khew added that Gadang was also shortlisted for LRT3, with tenders expected to be called sometime in the first quarter of 2017. However, the packages for the RM9 billion line have not been announced yet, he said.
Meanwhile, the group is also bidding for the Cyberjaya hospital project and is expecting two more packages to be announced for the West Coast Expressway. It is also eyeing contracts for the RM55 billion East Coast Rail Line project.
However, Khew said the group was not successful in securing contracts for the Sungai Besi-Ulu Kelang (SUKE) and the Damansara-Shah Alam (DASH) expressway projects, which it was eyeing earlier this year.