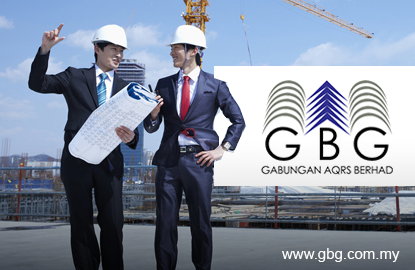 KUALA LUMPUR (May 6): After the sudden surge to a nine-month high yesterday, shares and warrants of Gabungan AQRS Bhd took a dive today on profit-taking.
The construction outfit and property developer's shares were traded four sen or 4% lower at 96 sen at 3:59pm, with 4.08 million shares done. Gabungan AQRS's counter hit an intra-day high of RM1.03 as Bursa Malaysia opened for trading, but shortly fell to as low as 94.5 sen.
At 4:01pm, its warrant, GBGAQRS-WA, fell by a bigger quantum of 11.32% to 23.5 sen. The warrant was the 12th most actively traded entity on Bursa.
Both of these Gabungan AQRS securities were thinly traded up to yesterday, with the prices increasing as it got closer to market close. At closing bell, the shares jumped 11.11% to its intra-day high of RM1, a level not seen since Aug 6, 2015's intraday high of RM1.02. A total of 3.7 million shares were traded.
GBGAQRS-WA, meanwhile, added 7.5 sen or 39.47% to close at 26.5 sen yesterday, with its intraday high at 27.5 sen. The derivative's trading volume stood at 24 million.
Gabungan AQRS later told Bursa Malaysia that its subsidiary Gabungan Strategik Sdn Bhd had signed a joint venture agreement with Monolight IBS Building System Sdn Bhd to build a PR1MA housing project in Pahang. The construction contract is valued at RM424.23 million. The project will be built on a 182,000 sq m tract of land in Kuala Kuantan. Monolight will hold a 51% stake in the JV.