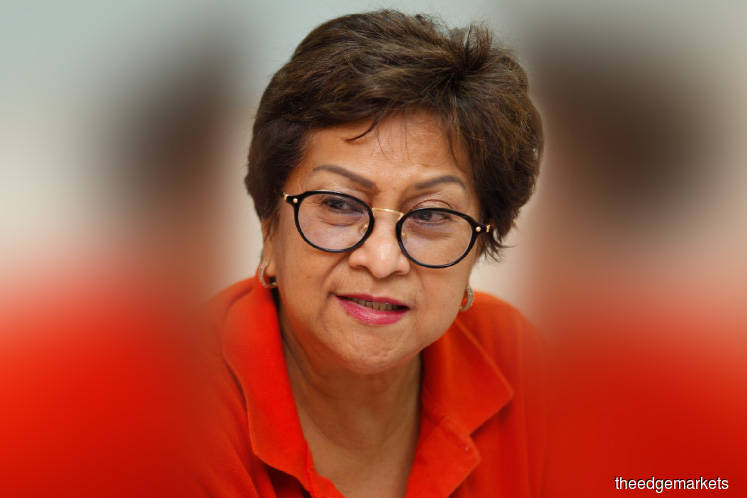 KUALA LUMPUR (Dec 9): G25, a grouping of Malaysian elite intellectuals, is urging the government to disclose a full transparent report on 1Malaysia Development Bhd (1MDB) case, as an effort under clean government reforms.
In its report titled "Invigorating Economic Confidence in Malaysia", G25 said such disclosure should contain reasonable explanations about the planned management and proposed credible direction towards meeting 1MDB's financial commitments and ultimately achieve its corporate objectives.
"One of the most important steps is to have closure of the 1MDB issue. Even if the authorities do not intend to prosecute for any wrong doing as recommended by the Investigation Task Force, it will quell all concerns if the government were to release a full comprehensive transparent report on the official status of 1MDB, particularly on its financial position," it said. 
"This report should, where appropriate be consistent with and reflect the findings and court documents already in the public domain in the US, Switzerland, Singapore, etc and the actions taken by authorities in these countries," it added.
At the launch of the report here today, G25 member Datuk Latifah Merican Cheong said Malaysia's weakening governance is threatening the country's upside growth potential.
"Therefore, we need to get an absolute confidence for Malaysia being a right choice of place for investment, we really need to get our governance structure corrected and restore the kind of confidence Malaysia used to have before. Why is this so important now? Because other countries are doing this way ahead of us," she said.
"In the past, when we move on the industrialisation plan, we were successful because the Latin America was in a debt crisis, while the Central Europe were still governed by the Russian Federation. Now, all these countries are now on their own, and driving forward their reform agenda, so the competition is much more severe, when everybody wants a place to invest, where there is good governance and clean government, which makes doing business much easier," she added.
Now, Latifah said when a young Malaysian entrepreneur draws a contract with foreign investor, most likely the foreign investor would prefer the contract to be based on Singapore contract laws.
Even both legislations are exactly the same, or almost word-for-word. This is because the foreign investor trust the Singapore Court, judges and judicial system. So these are the fundamental issues that sort of eroded and we need to bring it back," she said.
In the report by G25, the group said the full report on 1MSB will demonstrate that government views improper financial activities as a serious infringement of the fiduciary obligations of government officials.
"Going forward, the government will ensure that current regulations are strengthened to prevent a recurrence of such activities. Closure can put to rest lingering concerns on the transactions and more so on the losses and contingent liabilities to the federal government," it said. 
"Currently, it is reported that RM42 billion in debt has been incurred by 1MDB with representations that these liabilities are covered by holdings of financial and real assets on its books. The auditing of 1MDB accounts are outstanding and in dispute. Moreover, reporting of its financial status have not been readily made available. However, there are concerns that contingent liabilities to be borne by government could amount to as high as 15% of the GDP, presumably this includes 1MDB borrowings. Without a closure report on 1MDB, analysts, rating agencies and other interested parties will continue to make all kinds of estimates which can be detrimental to investor confidence," it added.
Fundamentally, G25 said the 1MDB event has highlighted the severe lack of governance and accountability in government investment agencies. 
"The closure report can address how governance is being improved and how 1MDB as a government agency will be subject to accountability like all government companies," the group said.
Meanwhile, Latifah said the report also cover economic issues that are pertinent for the government to address.
"It is important to recognise that the country has done well, economic growth has been relatively strong, but there are weaknesses in the fundamental issues that could create longer term problems for the country and that should be addressed because some of these weakenings, you can't see until we hit the bottom," she said.
One of it is helping the bottom 40% (B40) during an environment of increasing cost of living.
"Rising prices is a phenomenon that will happen when a country is improving, getting more developed, because people are getting better quality goods, but what is important is that the population is able to manage the rising prices, that means, as economy grows, wages must also increase together with productivity, so the average man is able to have higher disposable income, that is a measure of a sound economic growth," she explained.
"But that is not happening in Malaysia, people are feeling that disposable income are declining especially for B40, why is it that they cannot adjust to the wage increases, a lot of things that have not been implemented, for example we continue to pay high excise import duty for cars, reducing that duty will actually increased disposable income," she pointed out.
Also, Latifah said policies to help the B40 must be outcome driven.
"While helping them, we must also monitor them to ensure they can graduate from the poverty trap," she said.
On the government fiscal policy, Latifah said the declining development expenditure ratio under the federal government budget is a concern.
"In the case of fiscal, we have been deficit for many years, if a country is in deficit while private sectors are growing, and there is still fiscal expansion, by right growth should be very high, so there is something happening that is not right, some of the issues are development aspect of the fiscal position, the share of development expenditure has been declining consistently, and development expenditure is the expenditure that actually creates future growth, build up capacity," she explained.
"So there is a need to rebalance between operating expenditure and fiscal, which means that operating expenditure has been expanding so rapidly, and taking the large core of revenue, so that we need to borrow more for our development expenditure, therefore the benefit of development expenditure gets eroded by the cost of the borrowings from a balance sheet perspective," she added.
Latifah also said while the country has been doing well in terms of consolidating the fiscal deficit, it is important that cutbacks do not happen at crucial sectors like education and healthcare.
"It is how the cutback was done, have the cutbacks been done in the manner that is going to support growth, or has it been done more ad hoc, that it actually detrimental to build up capacity? Large cutbacks in education and health are not good, because it constraint future capacity, and later when the economy is on the growth path, we won't have the people and the conditions to promote growth," she warned.
On Malaysian tax system, Latifah said the country has a tax system of an emerging industrialised country, as there are a lot of incentives to promote certain sectors for industrialisation.
"But we have already industrialised for so long, we are now moving into the technological age, and digital economy is coming, so the tax structure should be totally be relooked at, to be aligned to an economy that has passed the industrialisation age, an economy that is service oriented," she said.
"We should do a public sector review of the tax system, get the public to be involved in the review, and get an independent review by the IMF and the World Bank, so that the biasness can be taken care of," she suggested.
The G25's report also made other recommendations in restoring investment confidence in the country like lowering government participation in the private business sector, improving foreign labour policies, and separation of powers within the government institutions.