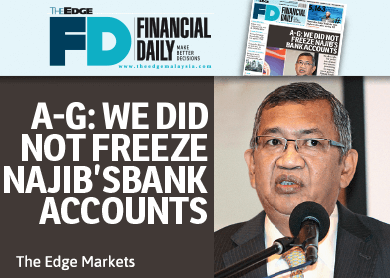 KUALA LUMPUR: Attorney general (A-G) Tan Sri Abdul Gani Patail yesterday dismissed claims that the special task force had frozen three bank accounts belonging to Prime Minister Datuk Seri Najib Razak in its probe into the alleged transfer of billions of ringgit to the premier's accounts.
In a statement, the A-G said the freeze order issued for the six bank accounts did not involve any accounts held by Najib.
The special task force, which was set up to investigate the alleged transfer of billions of ringgit into Najib's accounts, said in a statement on Tuesday that six bank accounts "of the parties suspected to be involved in the case" were issued a freeze order.
The order came after The Wall Street Journal (WSJ) reported last Friday that US$700 million (RM2.67 billion) was moved among government agencies, banks and entities linked to state strategic investment fund 1Malaysia Development Bhd (1MDB) before ending up in Najib's personal accounts in five separate deposits.
Najib had refuted the allegations and claimed it was a political ploy engineered by his opponents, including former prime minister Tun Dr Mahathir Mohamad. The WSJ, however, had insisted that their exposé was based on solid documentation.
Meanwhile, Abdul Gani in yesterday's statement also expressed strong concern about the leakage of documents pertaining to the ongoing criminal investigation and called for a full investigation into the matter.
He noted that these documents were disclosed in the WSJ article titled "Malaysia orders freeze of accounts tied to probe of alleged transfers to Prime Minister Najib" dated July 7, and said it was "crucial to preserve the integrity of the investigation as the public must not doubt the investigation".
The A-G said he would not hesitate to prosecute any person found to have leaked confidential investigation-related information as it is a criminal offence under Section 133 of the Financial Services Act 2013 and Section 145 of the Islamic Financial Services Act 2013.
He said his concern is also endorsed by Bank Negara Malaysia governor Tan Sri Dr Zeti Akhtar Aziz, Inspector-General of Police Tan Sri Khalid Abu Bakar and the chief commissioner of the Malaysian Anti-Corruption Commission Tan Sri Abu Kassim Mohamed.
Abdul Gani said the leakage "was not a question of whistle-blowing because the matter is already under investigation", and highlighted a further concern that the documents were allegedly leaked from within the investigation itself.
Further, the A-G also expressed concern about the allegations that linked him to a political agenda, saying that the reason behind the establishment of the inter-agency special task force was to ensure no abuse of the investigation process.
This article first appeared in The Edge Financial Daily, on July 9, 2015.