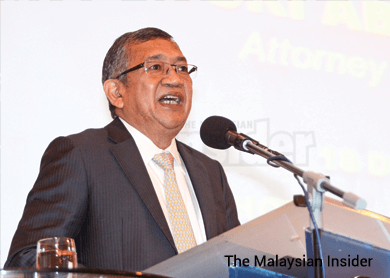 (July 16): There is no issue of Tan Sri Abdul Gani Patail influencing the ongoing probe into state investment firm1Malaysia Development Bhd (1MDB) and allegations that money from related entities were moved to the prime minister's accounts, the government's special task force said today.
Instead, the Attorney-General is only referred to for guidance and legal advice to ensure the investigation is done holistically and in accordance to the law, said three senior members of the special task force.
"In this regard, the Attorney-General is very sensitive towards his jurisdiction as prescribed by Article 145(3) of the Federal Constitution and Section 376 of the Criminal Procedure Code," they said in a statement today.
The statement was signed by Bank Negara Malaysia governor Tan Sri Zeti Akhtar Aziz, Inspector-General of Police Tan Sri Khalid Abu Bakar and the Malaysian Anti-Corruption Commission chief commissioner Tan Sri Abu Kassim Mohamed.
The Malaysian Insider had reported this morning that former attorney-general Tan Sri Abu Talib Othman had urged Gani to disassociate himself from the special task force, saying this would help enhance public perception and integrity into the probe.
Abu Talib's views were also shared by lawyers who said the top government lawyer should not be part of the investigation or else his office would not be seen as being independent.
Gani is the fourth member of the high-level which is investigating the alleged irregularities in 1MDB and claims of US$700 million (RM2.67) billion allegedly channelled into prime minister Datuk Seri Najib Razak's personal bank accounts.
The other three members said the investigation into these matters was being conducted by the MACC, police and Bank Negara according to their respective scopes.
"Discussions between agencies are done periodically for collective streamlining purposes to ensure the investigation process is smooth.
"This is a routine practice by enforcement agencies in any case. The legal guidance and advice in the 1MDB case are the same and in line with current practice," they said.
The special task force reiterated that it would conduct the probe properly, independently and transparently.
Gani on July 4 announced that the task force was investigating the claims made by The Wall Street Journal (WSJ) that huge sums of money were transferred into Najib's accounts at AmBank in Kuala Lumpur between 2013 and 2015.
Najib has come under tremendous pressure following the 1MDB fiasco and this has escalated with the WSJ expose.
The WSJ reported that US$681 million (RM2.6 billion) originating from Tanore Finance, a company in the British Virgin Islands, was deposited into Najib's accounts in two transactions on March 21 and 25 in 2013, ahead of the general election in May that year.
Another sum of US$11.1 million originating from Finance Ministry-owned SRC International Sdn Bhd was moved in two tranches between December 2014 and February this year.
The task force has also frozen six accounts in relation to its investigation. It also announced that Najib's two accounts at AmBank had already been closed.
Najib has denied taking money for personal gain, but has not commented directly on the fund transfers to his accounts. – The Malaysian Insider