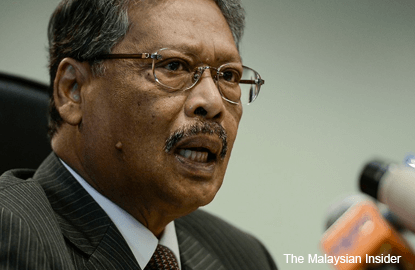 KUALA LUMPUR (Feb 3): Attorney-General (A-G) Tan Sri Mohamed Apandi Ali's decision not to frame charges against Prime Minister Datuk Seri Najib Razak for lack of "sufficient evidence" appears to be unsustainable in law, the Malaysian Bar says.
"The decision seems premature, lacking in facts, bereft of particulars, and founded on questionable or inadequate reasons," its president Steven Thiru said in a statement last night.
As such, he said, the advice of the Malaysian Anti-Corruption Commission's (MACC) two oversight panels to engage the A-G regarding his decision, was not surprising.
On Jan 26, Apandi declared that there was "insufficient evidence" to frame charges against the prime minister in relation to the RM2.6 billion donation he received and the RM42 million, which was transferred to his accounts from SRC International Sdn Bhd.
The A-G also instructed MACC to close the investigations.
MACC had referred Apandi's decision to two of its statutory oversight panels, the Operations Review Panel and the Special Panel.
Both panels reviewed the decision Jan 28 and advised MACC to engage with the A-G regarding his decision.
Steven said investigations would be incomplete, if Apandi refused to assist MACC under the Mutual Assistance in Criminal Matters Act 2002, enabling the investigators to gather evidence from overseas.
"This is necessary to ascertain the veracity of the evidence that MACC has already collated in Malaysia. Without this elementary scrutiny of the obtained evidence, the investigation would be incomplete."
He said there were many questions that arose such as who specifically made the donation of US$681 million (RM2.6 billion) to the prime minister between March 22, and April 10, 2013 and what was the purpose of the donation.
"If the purpose has not been identified, is it proper to conclude that no criminal offence has been committed?"
Steven added that Apandi said the prime minister had returned US$620 million (RM2.03 billion) of the purported donation in August 2013.
"This disclosure, made more than six months after the revelation of the transfer of funds into the prime minister's personal bank accounts, raises more troubling questions."
MACC opened investigations following reports in The Wall Street Journal and Sarawak Report in July last year, alleging that of the RM2.6 billion donation, RM42 million had originated from SRC International, a subsidiary of Najib's brainchild, 1Malaysia Development Berhad (1MDB).
Steven also asked if Bank Negara Malaysia and MACC were notified of the repatriation of the US$620 million and what happened to the balance of US$61 million that was not returned to the donor.
"If the manner in which the US$61 million was utilised by the prime minister has not been ascertained, how would the presumption of corrupt practice in Section 50 of the MACC Act 2009 be rebutted," Steven said.