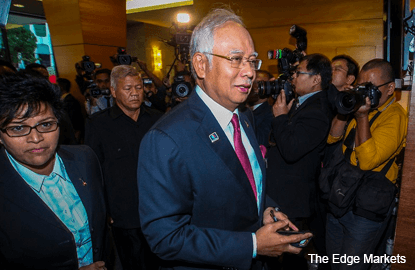 KUALA LUMPUR (Feb 4): Attorney-General (A-G) Tan Sri Mohamed Apandi Ali's decision not to frame charges against Datuk Seri Najib Razak of any criminal wrongdoing over alleged financial scandals has little impact over the prime minister's defamation suit against former MCA president Tun Dr Ling Liong Sik, lawyers said.
They said Ling, a former transport minister, needed only a lower standard of proof and the defence of justification to get the suit dismissed.
Lawyer Ang Hean Leng said Apandi's decision did not have much impact on Ling's defence in the civil case.
"The non-prosecution by the public prosecutor does not disprove what Ling is going to prove in the suit. The civil case is a different ball game altogether," he told The Malaysian Insider.
Ang said Ling needed only to show a substantial proof that money was deposited into the private bank accounts of the prime minister.
The lawyer said this in response to whether Ling's defence had become weak, after Apandi told a news conference last month that he was not framing charges against Najib, due to "insufficient evidence".
This was in relation to the RM2.6 billion donation and another RM42 million from the Finance Ministry-owned SRC International Sdn Bhd, a former subsidiary of troubled 1Malaysia Development Berhad (1MDB), in his private accounts.
Lawyer Ravi Nekko said the standard of prove in civil cases was lower compared to criminal cases.
It was on the balance of probability in civil cases, while beyond reasonable doubt in criminal prosecution, he said.
"Ling has a much lower burden to adduce evidence to get the suit thrown out."
He also did not rule out the possibility of Ling being awarded damages for the counter claim filed against Najib.
Lawyer S.N Nair said Ling would have been in a position of advantage, if a criminal court had found Najib guilty of an offence.
"Such findings could have greatly assisted him, but not in the present scenario. He has to adduce evidence to get the suit dismissed."
In October last year, Najib filed the suit against Ling for claiming he was unfit to lead Malaysia, following the revelation last July that money was deposited into his private bank accounts.
Najib said the RM2.6 billion contribution by a donor from the Middle East was a personal donation and Ling could not use it as a defence.
The Umno president said there was no issue of him violating the party constitution and its financial statements for 2013 and 2014, as the money was a personal donation.
Najib had repeatedly said the money was held in trust for Umno.
He had admitted receiving RM42 million, but denied that the money came from SRC International.
Najib said he had no knowledge that the money was channelled through two intermediaries — Gandingan Mentari Sdn Bhd and Ihsan Perdana Sdn Bhd — and it was for Ling to prove.