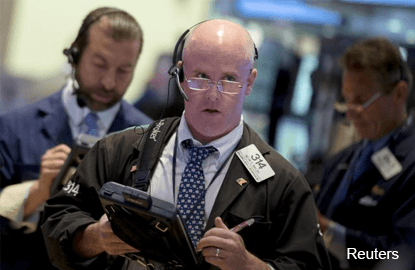 (March 27): US stock index futures hit six-week lows on Monday after President Donald Trump failed to push through his healthcare bill, raising concerns about his ability to deliver on his economic agenda.
A Congress controlled by Trump's Republican party on Friday pulled a bill to overhaul the Affordable Care Act or Obamacare, in a stunning setback for the President's first major legislative move since taking office.
Investors took up defensive positions as the so-called "Trumpflation trade" looked to unravel. The US dollar, which had found favor on the possibility of tax cuts and higher infrastructure spending, hit its lowest since Nov. 11, while prices of safe haven gold shot up to one-month highs.
Banks, which had outperformed in the post-election rally on bets of simpler regulations and higher inflation, were down more than 1% premarket on Monday.
Still, the drop in futures appeared to be kept in check on Trump's comment to turn his attention to getting "big tax cuts" through Congress.
Investors will look forward to comments from Chicago Federal Reserve President Charles Evans and his Dallas counterpart Robert Kaplan for clues on the timing of the next interest rate hike.
Fed Chair Janet Yellen is scheduled to speak at a conference on Tuesday in Washington.
Snap Inc was up 4.7% at US$23.80 in premarket trading on Monday after multiple brokerages began coverage on the owner of Snapchat after the blackout period for its IPO underwriters ended.
Amazon.com was off 0.96% at US$837.50 after Dubai's Emaar Malls made an US$800 million offer for online retailer Souq.com. Amazon has agreed in principle to buy Souq, according to sources.
Steel stocks, including AK Steel and United States Steel were down about 4%.
Futures snapshot at 7:02am ET:
Dow e-minis were down 123 points, or 0.6%, with 36,897 contracts changing hands.
S&P 500 e-minis were down 17.75 points, or 0.76%, with 202,246 contracts traded.
Nasdaq 100 e-minis were down 36.75 points, or 0.68%, on volume of 37,405 contracts.