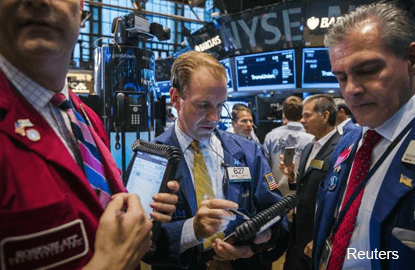 (March 14): US stock index futures were marginally lower on Tuesday ahead of the Federal Reserve's closely watched two-day meeting, where it is widely expected to raise interest rates.
Britain's parliament paved the way for Prime Minister Theresa May to launch divorce talks with the European Union, potentially adding a layer of uncertainty in the market.
An almost certain US rate hike lifted the US dollar by a third of a percent to 101.67.
Wall Street's major indexes have been trading in a tight range since the start of the month as investors prepared for higher rates following a slew of hawkish comments from top Fed officials.
Stocks ended flat on Monday, with the S&P 500 trading in its tightest range this year as the focus was firmly fixed on the Fed meeting.
The next big question for the market is whether the Fed could get on a more aggressive path to tightening monetary policy than previously expected as economic data shows signs of improvement, with a potential boost from President Donald Trump's proposed fiscal policies.
The Fed will release a statement at 2:00pm ET (1800 GMT) on Wednesday followed by a press conference by Fed Chair Janet Yellen.
Shares of Valeant plunged 13% to US$10.56 in heavy premarket trading after billionaire investor William Ackman said his hedge fund, Pershing Square Capital Management, sold its entire stake in the company.
DSW was up 3.4% at US$20.50 after the footwear and accessories maker reported quarterly profit that beat analysts' average estimate. Futures snapshot at 7:23am ET:
Dow e-minis were down 28 points, or 0.13%, with 8,775 contracts changing hands.
S&P 500 e-minis were down 4.25 points, or 0.18%, with 94,620 contracts traded.
Nasdaq 100 e-minis were down 7.5 points, or 0.14%, on volume of 4,353 contracts.