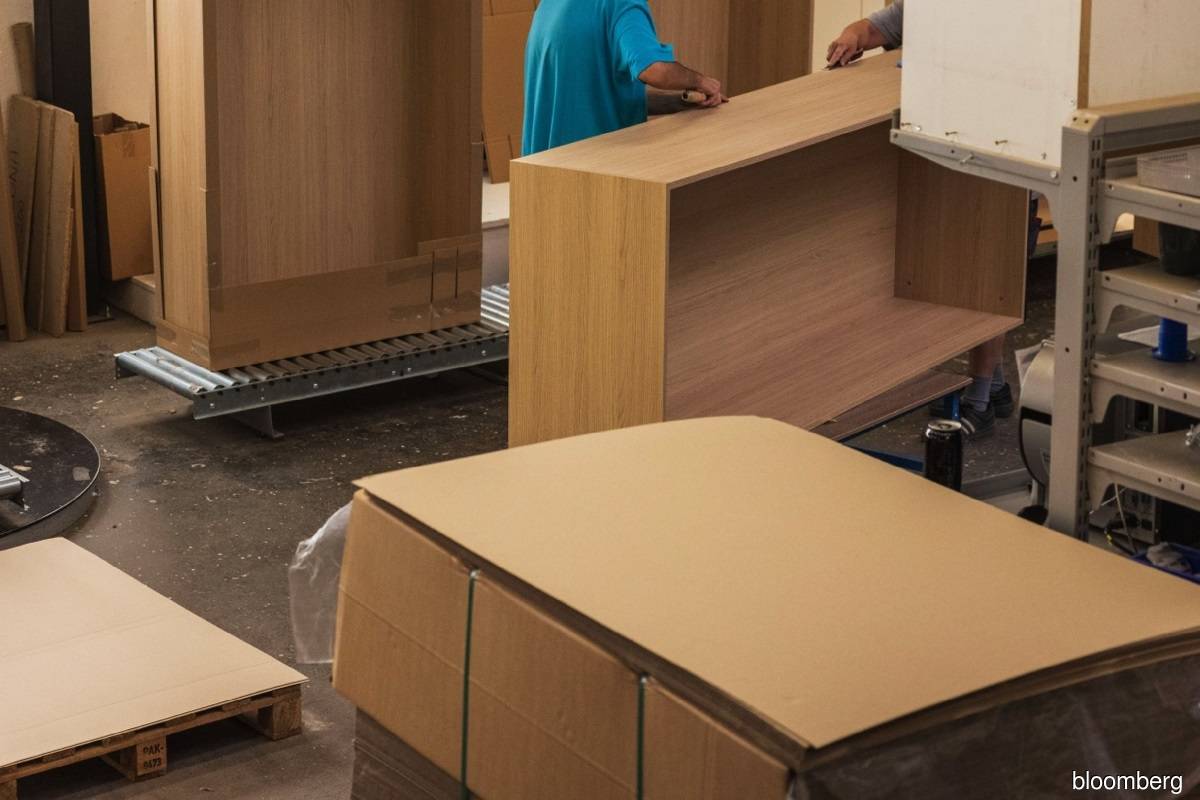 KUALA LUMPUR (July 6): While the Malaysian International Furniture Fair's (MIFF) return after a two-year pause can be seen as an avenue for players to source new customers and bolster their order books, local furniture players are facing margin compression against a backdrop of inflationary pressures, rising input costs, and slower demand.
Contrasting the rosy landscape painted by Malaysia External Trade Development Corp (MATRADE) deputy chief executive officer Abu Bakar Yusof in his opening speech at the event, furniture makers said rising raw material costs, freight costs, sluggish demand from key export markets and the minimum wage hike have eaten into their profit margins.
Several furniture makers have opted to raise prices to offset the rising input costs, while others have maintained prices in a bid to remain competitive in the global market.
"With the current order book that we have, we are not able to raise [our products'] prices. If we increase them, the price will not be competitive. We are not only competing within Malaysia, but also globally.
"We cannot simply raise our prices, so it kills our margin and we have to just keep thinking of other innovations to improve our margins," Comfy Factor Sdn Bhd general manager Derrick Chong told The Edge at MIFF on Wednesday.
Johor-based furniture manufacturer CoreWorld Sdn Bhd director Amy Gan said that in spite of the company's price increases on its products deterring certain overseas buyers, she noted that the price hikes are not something the company can compromise on.
Likewise, a spokesperson of Sweet Home Concept Sdn Bhd said the elevated raw material costs have driven the company to increase its prices to cushion its profit margin.
"[Freight and raw material costs] keep increasing, the quotation we get every week increases — it never goes down. I think it will keep increasing, and our margin is already quite low. So we just focus on our volume of sales," an Infurnex Resources Sdn Bhd spokesperson said.
Additionally, local exhibitors at MIFF said that the government's move to increase the minimum wage from RM1,200 to RM1,500 also weighed down margins.
"With the rise in the minimum salary, we have 500 to 600 workers [on minimum wage] and now we have to pay RM300 more per month [per worker] — this is going to be a 5% to 8% increase in [salary] costs. This is a huge impact for us, [as] it is just an added cost.
"The government wants us to go towards more automation and for some furniture makers [this can work], but honestly it [will not work] for all manufacturers. For us, we do upholstery, which requires workmanship, so it has to be a skilled worker. It is not something where we can invest RM500,000 in a new machine and save 10% [in costs], it [does] not work that way for us," Chong said.
Similarly, Sweet Home Concepts, CoreWorld, and 3 Day's Furniture Sdn Bhd also said that the rise in the minimum wage has resulted in an increase in their operating costs.
Besides margin pressures, the furniture manufacturers said customer demand in key export markets have declined recently, as consumers are seen to shift their spending towards day-to-day necessities, as well as travel and leisure.
"For example, we do a lot [of businesses] with the US market. With the reopening after the pandemic, people's spending has gone elsewhere — they are not buying furniture anymore. [Consumer's] spending has gone into other channels, so the demand [for furniture] is going down. It affects us a lot," Chong said.
Gan shared this sentiment and said that CoreWorld's orders during the Covid-19 pandemic were "okay", but began to slump following the reopening of borders earlier this year.
3 Day's Furniture marketing executive Christy To concurred and noted that it is "not possible" for demand for furniture to recover this year, and added that it may take more than a year for demand to recover.
In view of the continued increase in raw material prices and the low demand for furniture in key export markets, local furniture makers have a grim outlook on the furniture industry in 2022, foreseeing an extended challenging operating environment going forward.
Abu Bakar — in his keynote address during the opening ceremony of the trade show — said that from January to May 2022, Malaysia's export of furniture was valued at RM6.14 billion, an increase of 3.2% compared with the RM5.96 billion in the same five-month period a year prior.
"According to the Fortune Business Insight Report, the global furniture market revenue is forecast to grow from US$493.6 billion in 2021 to US$720.2 billion by 2028 at a compound annual growth rate of 5.5%.
"With rising demand from key markets, Malaysia's wood furniture industry has the potential to improve and penetrate new global markets," he said.
Read also:
MIFF returns after a two-year hiatus as global economies reopen