This article first appeared in Personal Wealth, The Edge Malaysia Weekly, on May 5, 2017 - May 11, 2017.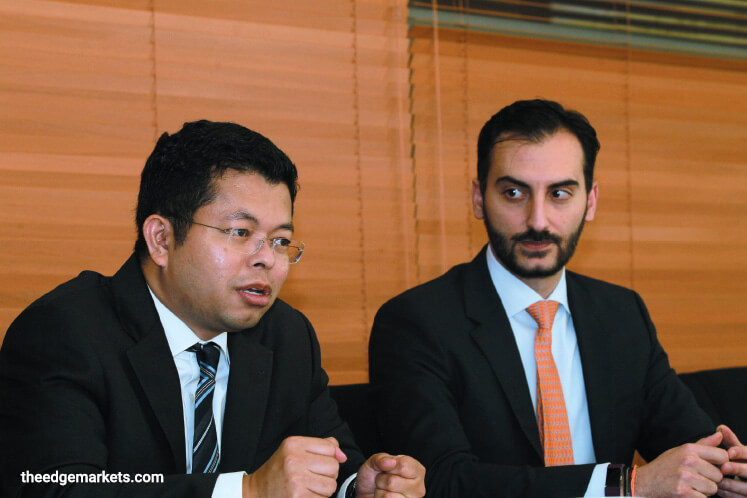 The Malaysian economy is expected to stabilise this year, with growth largely driven by private sector expenditure on consumption and investment, says BIMB Investment Management Bhd CEO Najmuddin Mohd Lutfi. 
After seeing negative growth last year, public investment could increase 1.4% this year, he says, adding that there may be some potential catalysts for the local stock market. "First, there could be a turnaround for the FBM KLCI and broader Malaysian corporate earnings growth after six quarters of disappointing results. 
"Second, there may be an upturn in capital expenditure at Petroliam Nasional Bhd, which could spark more oil and gas job bidding and tenders awarded. This could see sustainable earnings recovery for the local O&G sector." 
Moreover, investor sentiment towards equities has improved and foreign investors may return to emerging markets, says Najmuddin. These factors would bode well for the Malaysian stock market. 
Meanwhile, global equity markets are still trending upwards as much of the ripple effect from the "Trump tantrum" on the global financial markets subsided after US President Donald Trump's speech to Congress, says Najmuddin. "Global growth is on a firmer footing as investor appetite for emerging market equities returns due to improving macroeconomic factors. After two years of slowing growth, the global macroeconomic environment is looking hopeful [on the back of] firmer activity in the US, Trump's pro-growth policies, the emergence of the eurozone from deflation and greater stability in Japan and China." 
Najmuddin says its BIMB-Arabesque Malaysia Shariah-ESG Equity Fund offers investors exposure to both local and global equities. The fund allocates 70% of its net asset value (NAV) to Malaysian stocks and 30% to global stocks. 
"The global exposure will boost returns and lower the risk of being concentrated in a single country. Moreover, Malaysia does not have a sizeable shariah and ESG-compliant equity universe for the fund to invest in. We would like it to be a Malaysian ESG fund, but we also have the flexibility of investing 100% in global equities in extreme market conditions to protect the interests of our investors," he says.
The BIMB-Arabesque Malaysia Shariah-ESG Equity Fund is the second to be offered by BIMB in partnership with UK-based investment management firm Arabesque Asset Management Ltd. Like the BIMB-
Arabesque i Global Dividend Fund, it adheres to shariah as well as environmental, social and governance (ESG) and United Nations Global Compact (UNGC) principles.  
Gabriel Karageorgiou, partner and head of client services at Arabesque, says global exposure over a full market cycle may give the overall portfolio a boost due to foreign exchange fluctuations. This, coupled with diversification and minimal risk in the Malaysian stock market, would help the fund outperform. 
The BIMB-Arabesque Malaysia Shariah-ESG Equity Fund, just like the BIMB-Arabesque i Global Dividend Fund, is powered by Arabesque's artificial intelligence technology. It also has a similar screening process. 
"The investment process begins by screening 
Malaysian public-listed companies that comply with shariah, ESG and UNGC principles. The companies need to have a trading volume of more than RM400,000 in the past six months to be in our investible universe to ensure liquidity," says Najmuddin. 
"Companies that fit our criteria are screened further to determine their financial health. We look at their financial score, which examines their balance sheet and cash flow; growth score, which represents the company's earnings potential; and earnings pressure."
The next step is looking at the scores for ESG factors and forensic accounting, which scrutinises the accounting and governance risk, quality of accounting and how aggressive the accounting reporting is, among others. 
When it comes to asset allocation, the BIMB-
Arabesque Malaysia Shariah-ESG Equity Fund has a slightly different methodology from the BIMB-
Arabesque i Global Dividend Fund, which only allocates up to 1% of its NAV to a stock at any given time, says Karageorgiou. "For this methodology to work, we need a sizeable investible universe. But we do not have enough companies in Malaysia for us to confidently adopt the same methodology."
Thus, the BIMB-Arabesque Malaysia Shariah-ESG Equity Fund could have a higher allocation to a stock, he says. "There are about 80 companies in the fund's universe that have passed the first screening process, which means they all comply with the fund's criteria. Then, we score them according to factors such as financials, growth and sustainability. 
"Based on the scores, the weighting of each company varies. So, one company may end up with 5% of the NAV while another may only get 0.053%. This is just an example of how we do the allocation."
The weighting of the scores in the screening process is recalibrated on a monthly basis based on the best combination for the fund to perform better. For example, the financial score may have the heaviest impact on a company's weighting for a period of time. But a few years later, the growth score may replace it as the most important factor. 
"Our investment process includes learning from the past to ensure that we put all the factors together and form the best risk-adjusted investment portfolio. It gives investors as much exposure to the equity markets at a lower level of risk," says Karageorgiou. 
He adds that the fund currently has holdings in Nestlé (M) Bhd, Westports Holdings Bhd, Top Glove Corp Bhd, Kossan Rubber Industries Bhd and Petronas Dagangan Bhd.
Najmuddin says the fund is fully invested and rebalances its portfolio accordingly when the team conducts its monthly assessment. "We do not have convictions on a particular sector. The stock selection is all bottom-up. Our investment process takes into account what is happening in the markets. 
"It also makes sense now that when we assess a particular stock, we look at both the financial and ESG data as the latter is proven to have a strong correlation with sustainable financial performance." 
The minimum initial investment amount for the BIMB-Arabesque Malaysia Shariah-ESG Equity Fund is RM500, S$500, €500 or US$500. The target fund size is RM100 million over a one-year period. 
There is a sales charge of up to 5.5% and an annual management fee of 1.5%. However, if investors do not need any advice and prefer to buy into the fund themselves, they could use online channels such as Fundsupermart that have a lower sales charge, says Najmuddin.
"We are targeting investors from all walks of life. With the help of technology and ESG data, the fund looks to offer long-term sustainable returns for retail, sophisticated, high-net-worth or even institutional investors," he says. 
Karageorgiou believes that the fund has two appealing factors. "First, there has been a big shift towards and a huge demand for transparency. A lot of case studies have shown that corporate failures and challenges are due to corruption or problems related to corporate governance. 
"The fund is fully transparent. Investors know how it works and what happens when their money is deployed. All decisions that the fund makes can be justified as they are based on rules and not human emotions." 
The second factor is that the fund leverages financial technology to assess the different sets of data to make better financial decisions. This is not something human fund managers can offer. 
As ESG investing becomes popular, more players will launch funds that meet these criteria, says 
Najmuddin. This will help the asset class to flourish and is certainly the way forward.
However, he adds, it is important for ESG funds to have clarity on how to deliver sustainable performance. "We are coming from an investment point of view. When people say they are coming up with an ESG fund, it has to make sense from the financial performance aspect. 
"The ESG information will eventually lead to sustainable financial performance as it offers insights into the health and wealth of the company. That is the most important value-add of ESG." 
The biggest challenge in developing a Malaysia ESG fund, says Karageorgiou, is the quality and availability of ESG data in the country. But he expects this to improve significantly in the years to come. 
"More companies have realised the need to generate quality ESG data as more investment firms are requesting such data before deciding whether to invest in the company. The strong correlation between ESG factors and financial performance is encouraging companies to look into this," he says.