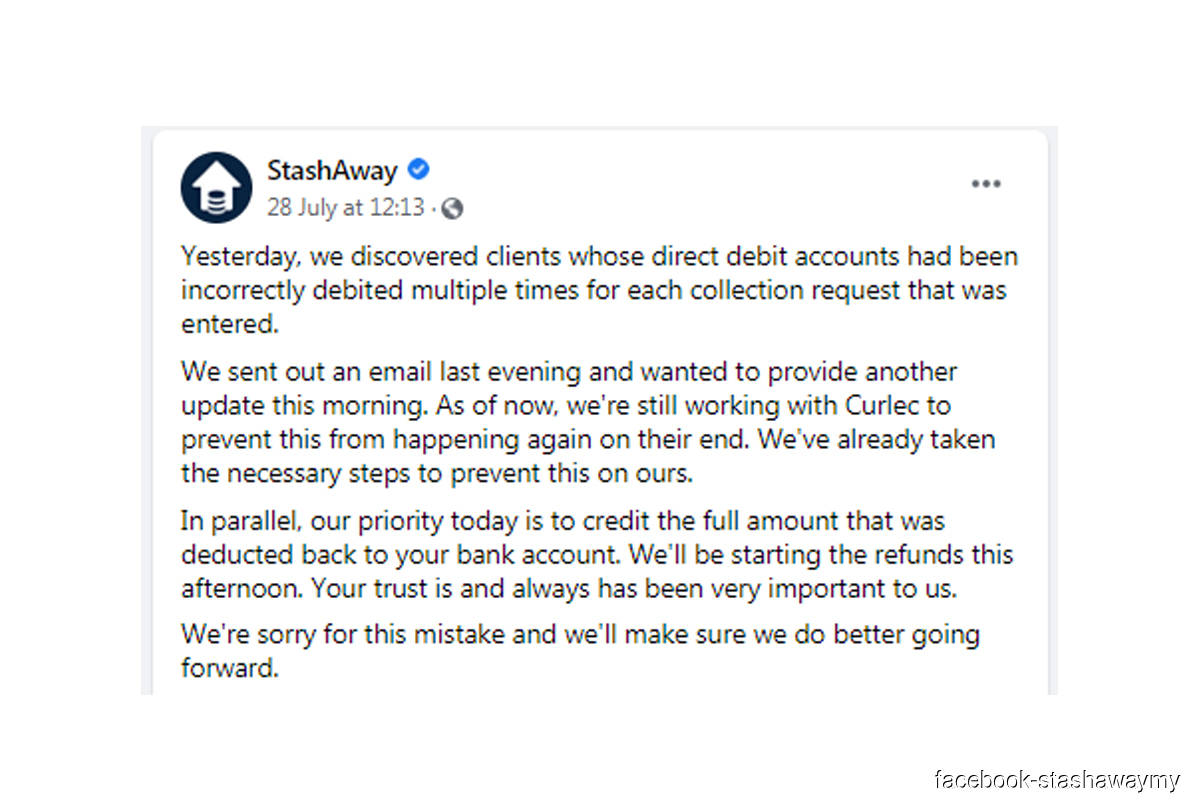 On July 27, a number of investors on robo-advisory platform StashAway Malaysia found that their bank accounts, which were linked to the platform's direct debit feature, had been incorrectly debited 26 or 27 times. This resulted in an uproar among the affected investors, some of whom sent complaints to the company and while others expressed their frustrations online.
A quick survey online and offline found that one affected investor had more than RM10,000 incorrectly deducted while another had about RM25,000 deducted from his account. Meanwhile, other investors tried to call their banks to stop the auto-debit function, which automatically draws funds from one's debit account based on standing orders. 
StashAway attributes the glitch to a technical issue. Its country manager Wong Wai Ken says the funds that were mistakenly debited had been returned to the customers' accounts by 3pm on July 28.
"Depending on the receiving bank, it may take some time for this to reflect in the customer's bank account. But it should be completed by 11pm tonight at the latest for all affected clients, except those who have requested that the money be sent to a different bank account," he tells Personal Wealth in an email reply.
The priority right now is to respond to clients and credit all the deductions back to their accounts, says Wong. "We will publish a detailed post-mortem in the next few days and in that analysis, we will explain the root cause and how we will avoid this situation from happening again in the future. As of now, all I can share is that the error seems to be related to an anomaly that appeared while transacting with Curlec."
During the post-mortem, the company will be evaluating its vendor arrangement with Curlec, a Malaysian fintech start-up that provides direct debit services. Wong is unable to disclose the exact number of people who were impacted, but says it was a small minority of its customer base.
When asked whether StashAway investors should stop using the direct debit function for the time being, he says that is not necessary. "We have taken the necessary steps on our end to prevent this from happening with any vendor again. For clients who do not prefer to use direct debit, they can still do an interbank giro or make a JomPAY transfer to us." 
In an email sent to affected investors on the night of July 27 sighted by The Edge, Wong addressed this error and said StashAway was working with Curlec and its collection bank to fix the issue. In the email, the company promised to credit the full amount back to the investors' bank accounts by 11pm on July 28 and to take steps to ensure that this will not happen again.
StashAway will also provide those affected with a voucher for six months' worth of management fees, which can be found in the promotions tab in the app. According to its website, the annual management fee for those who have invested RM50,000 on the platform is 0.8%, followed by 0.7% for amounts between RM50,000 and RM100,000. 
When asked whether StashAway will consider offering additional compensation, seeing as such an event will likely impact the company's reputation among customers, Wong says this is still being discussed internally. 
StashAway was the first robo-advisor to obtain a digital investment licence in Malaysia in 2018.