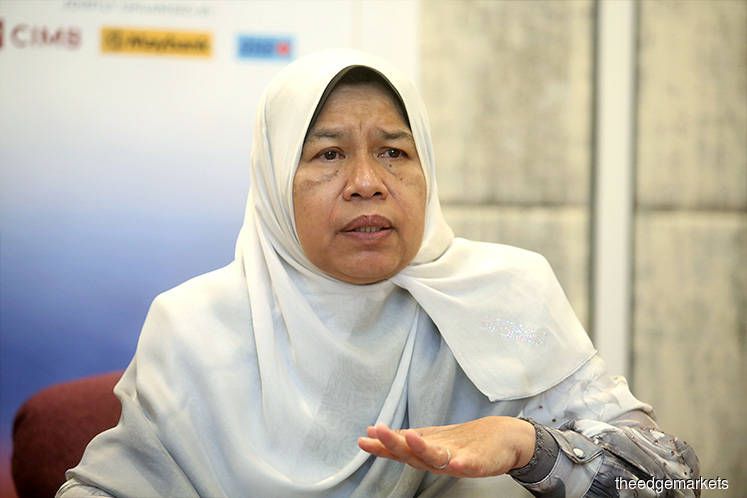 KUALA LUMPUR (Nov 19): Housing Minister Zuraidah Kamaruddin says the private-sector driven FundMyHome platform is an interesting option for first-time homebuyers as it will make it easier for them to buy a home.
Speaking at the Dewan Rakyat today, Zuraidah said the people who may benefit from the programme are individuals who can afford a house but do not have a regular income stream, as well as those without bank accounts — both of which could affect one's ability to obtain a mortgage.
"This is a method that will make it easier for them to purchase houses. It is applicable for unsold units and up-and-coming units as well," she said when presenting her wind-up speech on the Budget 2019.
The FundMyHome platform, which is developed by EdgeProp Sdn Bhd, requires a first-time homebuyer to pay a 20% deposit to own a 20% equity in the house he or she is buying, while the balance 80% will be raised from and owned by participating financial institutions or investors. After five years, the homeowner can choose to buy the remaining 80%, refinance the 20%, or opt out by selling the home and getting a share of the proceeds.
Zuraidah went on to say that FundMyHome "is a programme that provides equity to the purchasers". "The 20% deposit will still belong to the purchaser at the end of the first five years, unlike renting, whereby the money for your payment gets depleted," she said.
As example, Zuraidah said a homebuyer who pays a home mortgage for five years could lose all the money paid, as well as the home, if the person can no longer afford to continue paying that mortgage.
"When you can't afford to buy the house, you leave the property and lose your [money paid across five years]. In this case, if you want to pull out, you can get back your money [from the sale proceeds]," she said. "As a minister, I find this method very interesting. For them to acquire a house is now achievable," she added.
Meanwhile, Zuraidah said the government is in discussion with Bank Negara Malaysia (BNM) for a "top-up fund" programme, where it is proposed that loans for a 10% housing deposit be charged an interest rate of 2% for a 15-year period. 
Without referring further to FundMyHome, Zuraidah said the proposal will be coupled with the concept whereby 80% of the house price will be facilitated by financial institutions — leaving 10% to be paid by homebuyers.
Separately, Zuraidah touched on several initiatives to assist home-buyers, including a rent-to-own programme where a person may first rent a unit for five years, and at the end of the term, the individual may be able to purchase the unit, pending a review. Discussions, she said, are still ongoing with developers.