This article first appeared in Personal Wealth, The Edge Malaysia Weekly, on December 2, 2019 - December 08, 2019.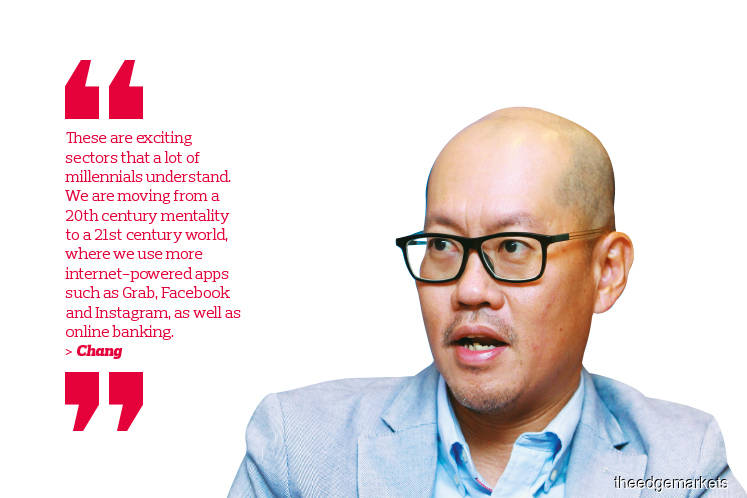 Millennials are said to be the wealthiest generation in history. The World Bank forecasts that the collective annual income of millennials will exceed US$4 trillion by 2030 while a UBS report estimates that this generation could be worth up to US$24 trillion by 2020. These factors have put a spotlight on the investable sectors and companies that target this age group.
Principal Asset Management Bhd chief investment officer Patrick Chang says there are a lot of industries with high exposure to millennials, the most prominent being the technology sector. "When we say technology, it is more consumer platform companies that millennials like and whose products and services they consume than chip companies."
Tech is a prominent sector because most millennials have grown up with computers or mobile phones and this generation embraces technology, he points out. With the popularity of e-commerce and social media apps over the past 10 to 15 years, companies such as Amazon, Facebook and Tencent Holdings Ltd have risen to prominence.
Investing in companies working to solve climate change issues, for example, is an emerging trend that millennials can identify with, says Chang. Garment manufacturer H&M is such a company.
According to H&M, 70% of a garment's climate impact arises during the manufacturing process itself. Making fibres, processing and dyeing materials and fabricating require a lot of energy that could have consequences on our environment, says Chang.
"So, H&M highlighted that it had made tough demands on its suppliers and that it will also help them switch from fossil-based to renewable energy sources such as wind and solar. It is currently implementing energy-efficiency programmes throughout its supply chain in cooperation with its business partners," he adds.
One of the ways retail investors can tap this growing trend is through the CIMB-Principal Millennial Equity Fund, which was launched on May 31 last year. According to its prospectus, the fund seeks to achieve capital appreciation over the medium to long term by investing in the equities of global companies impacted by the lifestyle and spending activities of the millennial generation. Its investment universe includes listed securities and initial public offerings.
The fund's benchmark is the Nasdaq Global Millennial Opportunity Index. It aims to provide exposure to companies in the Nasdaq Global Index that are considered to be driven by millennials.
Each stock in the Nasdaq Global Millennial Opportunity Index has a minimum market capitalisation of US$200 million and has to be qualitatively classified as having high or medium exposure to millennials. Principal then applies its investment process to consider which types of stocks in this universe are likely to outperform in the next 12 to 18 months, taking into consideration factors such as earnings momentum, valuations and quality of return on equity.
Chang points out that the CIMB-Principal Millennial Equity Fund is not a feeder fund. Principal has appointed its affiliate Principal Global Equities to sub-manage the fund. Its affiliate has full responsibility in constructing the millennials portfolio and trading the stocks in the fund.
According to the prospectus, market segments with the greatest exposure to millennials include consumer goods, e-commerce, social media, digital media and technology. "The whole idea here is that not only do baby boomers and Generation X get to participate in the fund but also millennials who understand these emerging global trends," says Chang.
The fund uses factor-based investing rather than the usual active management strategies, he adds. "We use a factor model based on quality, momentum and value to filter the companies. It is more quantitative in nature.
"By using the model, we are able to pick the best companies and then factor these. If the factor model churns out a company such as Adidas, we will invest in it. And if it selects Facebook, we will invest in Facebook. There is a science behind the model."
Chang foresees a lot of growth in high-tech companies. However, it is very important to separate those with quality growth from those with speculative growth, he says. "What we want to avoid is the WeWorks of this world. That is speculative growth. There are a number of tech companies out there funded by venture capitalists that do not have much cash flow."
According to the fund fact sheet dated Oct 31, the top three holdings of the CIMB-Principal Millennial Equity Fund are Adidas, H&M and Home Depot. This is a rather apt representation of the factor-based model because Adidas, for example, has been around for a long time and will continue to exist, says Chang.
"Will Adidas suddenly disappear? I don't think so. I have used the brand all my life and the company will probably continue to exist on the back of its ability to capture millennials' spending on sport apparel as well as its ability to generate a consistent and sustainable return on equity for its shareholders.
"A lot of the companies in the fund are long-term, quality growth ones. Despite what people say, whether it is a global recession or a slowdown in the US or China economy, we think that these trends are structural in nature. They will continue and investors need to be able to understand the long-term nature of these companies that will continue to exist over the next 20 to 30 years."
The CIMB-Principal Millennial Equity Fund is divided into the MYR class and USD class. The fund size is about RM146 million across both classes, says Chang.
Considering that the fund has been around for slightly more than a year, the size is decent, he adds. The initial minimum investment amount is RM1,000 or US$1,000, depending on the investment class.
Mitigating volatile market conditions
According to the fund fact sheet, the fund's cumulative performance for the year to Oct 31 was 22.34% for the MYR class. This was slightly lower than its benchmark's 25.99%. As for the USD class, the fund's cumulative performance stood at 20.8% versus its benchmark's 24.6%.
Although the fund is currently underperforming its benchmark, the gap is starting to narrow, says Chang. He adds that the figures are close to 20%, which is quite decent, considering that the fund has only been around for slightly more than a year.
"I do not know if we can forecast a return of 20% every year, but the fund is definitely the kind that sees high growth and high returns — mainly because a lot of it is driven by new-age companies and other emerging consumption companies," says Chang.
"You have to take a very long-term view. When you are managing a factor-based model, not all the factors will work in the different cycles. But if you take a longer-term view, they will. What have worked over the last three months are momentum and earnings. So, those are the kinds of factors that we are looking at."
Last year was a challenging one for global financial markets. Chang points out that quantitative models, such as factor-based investing, do not work in all seasons. But over the long term, they will add value to the fund's portfolio.
"It is not that the model is wrong. It is because the markets tend to be very short term in nature. We call this risk velocity. In an environment of [heightened] risk velocity, short-term news — in the media, on Twitter and from everyone else in the market — gets priced in very quickly. This causes a lot of volatility in the short term," he says.
He adds that in the short term of three to six months, investors may see some underperformance. "However, over the long term, our performance has always caught up. We were down earlier this year but today, we are almost on a par with the benchmark. So, we need to let the model do its job."
The fund has not been badly affected by the ongoing US-China trade war. In fact, investors need to move away from obsessing about the trade tensions, says Chang. Instead, they should think about longer-term trends such as how consumption will play out going forward, which is what the fund will look at. "With [the rise] of aspirational consumers, there is an increased focus on services, biotechnology and environmental companies," he adds.
Aspirational buyers are those who believe they have a responsibility to purchase products that are good for the environment and society.
Chang says Principal focuses on the multi-year theme of millennial demands and spending patterns. This generation strives for convenience and has an affinity for digitalisation, which results in the active use of apps. Travel services such as booking.com and trip.com and food delivery services like UK-based Just Eat are just some of the examples.
"Companies are also aware of the impact their businesses have on climate change — for example, H&M. So, companies that cater for the needs of millennials would be those that understand the best way to engage with and deliver services to them. And also, strike a balance between profitability and impact on the environment," says Chang.
Principal's focus is on companies with exposure to millennials. So, its investing universe includes tech and consumer discretionary names. "When we say quality, we apply that to the entire Millennial Index universe and not just the tech stocks in that universe. So, if quality exists in Adidas or H&M, we will overweight these instead of IBM or Microsoft," he says.
He adds that quality companies tend to do well in the late cycle. However, it is important to note that the fund confines itself to the Nasdaq Global Millennial Opportunity Index and not the broader MSCI World Index.
Gen X investing in the millennial future
Over the last year or so, Chang has noticed that those who invest in this fund are parents of millennials, who are investing for their children, not the millennials themselves. "At Principal, we are very big on long-term financial planning. These kinds of funds fit in very well with a lot of our customers, who are private banking clients but want to use some of their money to invest in themselves and their retirement as well as their children's long-term exposure to investments," he says.
Chang says a lot of high-net-worth individuals are trying to figure out how to not only pass on their inheritance but also teach their children to invest on a smaller scale, like in a millennial or technology fund. "These are exciting sectors that a lot of millennials understand. We are moving from a 20th century mentality to a 21st century world, where we use more internet-powered apps such as Grab, Facebook and Instagram, as well as online banking. Parents then start thinking about the future and realise that these are the companies they want to invest in for their future, instead of bricks-and-mortar businesses."
Potential investors of the CIMB-Principal Millennial Equity Fund need to understand that the focus is on the millennial generation and since the fund has global exposure, it comes with high risk, says Chang. "Our job is to construct a portfolio that manages those risks. We want to provide value for people who understand what millennials want."
He says this is in line with the fund's objective. There will be a continuous search for new or existing companies that have the potential to grow in the 21st century. He predicts that in the future, the fund will include more platform companies as it is a market that can be explored further.
"There are a lot of artificial intelligence (AI) companies that we have not invested in. That could be because the earnings quality may not be sustainable yet. But it could be in the future. [In the AI sector,] the ones that are emerging are robotics and biotech companies, or companies that will eventually be part and parcel of our lives," says Chang.
"So, if [technologies such as] 5G become more mainstream in the future, there is nothing to stop us from buying into 5G companies. These are the kinds of trends we are looking at because 5G will transform the way we do things every day. The fund will continue to look for good companies that fit that criteria."