This article first appeared in Personal Wealth, The Edge Malaysia Weekly, on May 18, 2020 - May 24, 2020.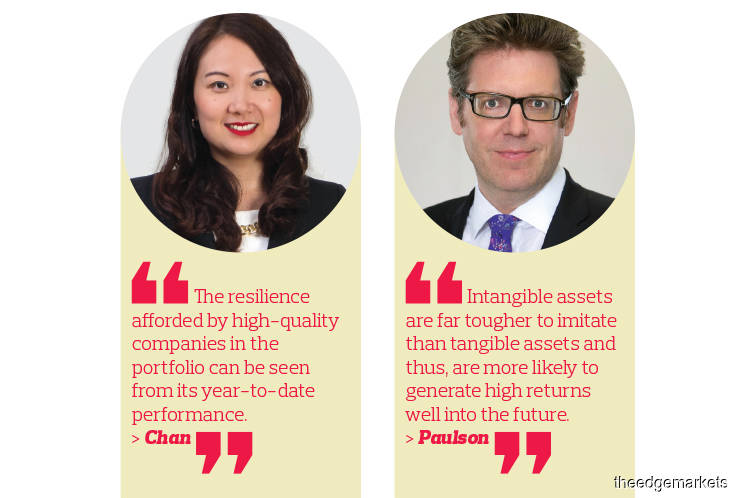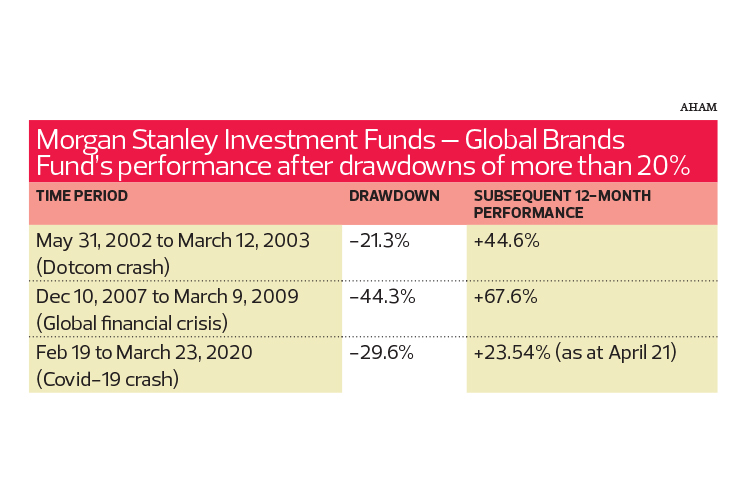 Strong global companies with dominant and durable intangible assets are expected to continue generating healthy returns for investors as they demonstrate greater resilience during tough times. These intangible assets include strong brand recognition, licensing agreements, customer loyalty patents and networks, copyrights and distribution networks, says Bruno Paulson, fund manager at Morgan Stanley Investment Management.
According to Paulson, intangible assets are utterly central when evaluating companies and only a few such as low-cost commodity producers can generate decent returns based on tangible assets alone.
"We look to invest in companies with sustainably high returns on capital and intangible assets. Brands or networks are really the only way to ensure this," he says.
"Intangible assets are far tougher to imitate than tangible assets and thus, are more likely to generate high returns well into the future. Mind you, other factors matter too, be it stability of sales growth, the quality of management or the state of the company's balance sheet."
Paulson is a fund manager for the firm's London-based international equity team. The team looks for companies with intangible assets to provide a combination of recurring revenue and pricing power as well as the ability to sustain high returns on operating capital. "One of the pluses these companies offer is resilience in tough times. The recurring revenue protects sales and the pricing power protects margins," he points out.
On March 2, Affin Hwang Asset Management Bhd (AHAM) launched the Affin Hwang World Series – Global Brands Fund, an open-end wholesale feeder fund that aims to achieve capital appreciation over the medium to long term. The fund feeds into the Morgan Stanley Investment Funds – Global Brands Fund (the target fund), which mainly invests in the stocks of high-quality companies that typically have dominant market positions, underpinned by hard-to-replicate intangible assets that can generate high returns on operating capital and strong free cash flows.
AHAM chief marketing and distribution officer Chan Ai Mei says those who invest in the Affin Hwang World Series – Global Brands Fund will be in a good position to capitalise on long-term opportunities in the light of the recent market correction. "With the recent correction, the fund offers an opportunity for investors to slowly nibble at the market at more attractive valuations. The resilience afforded by high-quality companies in the portfolio can be seen from its year-to-date (YTD) performance.
"As at April 21, the [Morgan Stanley] fund remained resilient despite the market volatility, with a YTD performance of -7.56 % compared with [its benchmark] the MSCI World Index, which registered a return of -17.61%."
To be considered for the target fund's portfolio, companies need to have high returns on operating capital and high gross margins to get through the team's quantitative screening, as well as strong intangible assets, says Paulson. "In the bottom-up analysis that follows the screening, we do not seek to assign a value to a brand, but rather focus on market share and A&P [advertising and promotion] data to understand the strength of the intangible asset. We focus on the fundamentals of revenue, gross margins, earnings and cash flow.
"The bottom-up analysis also seeks to understand the intangible assets that drive the high returns and take comfort that they will be sustainable against potential threats, including changes in fashion and technology, government and regulatory interventions and the impact of economic cycles. We look for plenty of recurring revenue and a record of steady growth."
The target fund also looks at companies with management teams that are not distracted from the long-term task of building their intangible assets by the temptation to meet short-term targets, says Paulson. He adds that cuts to A&P or R&D budgets, either in absolute terms or as a percentage of sales, can have long-term negative consequences to franchise strength and brand recognition. 
Paulson explains that the firm's insistence on companies with dominant intangible assets and robust recurrent free cash flows produces a very strong bias towards certain sectors and industries. Companies with high-quality franchise characteristics are typically those that produce branded consumer goods, healthcare services and IT software and services. It is for this reason that the three sectors make up about 85% of the target fund's portfolio.
The fund's top three holdings are Microsoft Corp, Philip Morris International Inc and Reckitt Benckiser Group plc. Combined, the three companies made up about a quarter of its portfolio as at March 31.
"Under [CEO] Satya Nadella, Microsoft has been transformed into a vibrant company at the front of key technological changes. [Its products] Office 365 and Azure mean that its commercial cloud revenue is more than US$50 billion," says Paulson, adding that Microsoft is largely free from the privacy, data and antitrust controversies affecting other leading tech players.
Meanwhile, Philip Morris has come out with a heat-not-burn nicotine product — IQOS — which has been rolled out in 52 markets and is showing encouraging signs of growth in Europe and Russia. It has rapidly gained market share in Japan and South Korea, where it was initially marketed. The company also has a robust nicotine combustibles business in emerging markets, says Paulson.
"IQOS and combustibles combine to compound profits at better than mid-single-digit levels. Its goal of a smoke-free future makes it less of a regulatory target than others. It has also not been implicated in the ongoing e-vapour youth epidemic in the US. Attractively valued, Philip Morris has about 100% cash conversion and pays a very healthy dividend."
Reckitt Benckiser focuses on a concentrated portfolio of consumer power-brands, typically with leading or second positions in their respective markets. Emerging markets represent about 40% of sales, with India and China being its two largest markets, says Paulson.
"A&P spend at 13% of sales is well above its US peers. Pricing actions have also been no different from its peers and gross margins are higher than its peers due to the product mix. The business is emerging from, but had been held back by, extensive internal change over the past two years.
"Under its new leadership, better execution and improved direction of marketing spend offer an opportunity not reflected in the valuation, given the 15% discount to its global peers. Looking at the company's portfolio, it could be an unlikely beneficiary of the Covid-19 crisis."
Paulson says the target fund will avoid sectors such as banks, utilities, telecommunications, mining and energy as these provide relatively low returns and are cyclical price takers, which means these companies have less control over the pricing of their products in the market.
"We insist on resilient franchises supported by intangible assets and avoid investing in industries that face continuous obsolescence or technology risk such as computer hardware, semiconductors and communications equipment. This is a result of our philosophy rather than a comment on short-term prospects," he says.
"Within our investment universe, we emphasise the brands consumers choose, the software and services businesses need and the networks people trust. We have a bias towards companies we believe to be more resilient to disruption, better at innovation, protected by intangible assets and possess recurring revenue and pricing power."
Chan is optimistic about the outlook for the fund over the next 12 months, despite the threat of a recession brought on by the measures to contain the Covid-19 pandemic. She points out that the target fund has experienced a drawdown of more than 20% only three times. However, this was followed by a strong rebound in the subsequent 12 months.
"While major economies, led by the US, have announced several stimulus/relief packages to stimulate their economies and provide liquidity, we do not expect such measures to fuel a full recovery in the market — at least until we see Covid-19 infection rates start to decline," says Chan.
"The target fund continues to demonstrate true-to-label and disciplined execution, especially in the volatile market conditions that we have seen over the past few weeks. We remain confident that it will continue to perform in the long run, as shown by its track record since its inception in October 2000."