This article first appeared in The Edge Financial Daily, on August 30, 2018.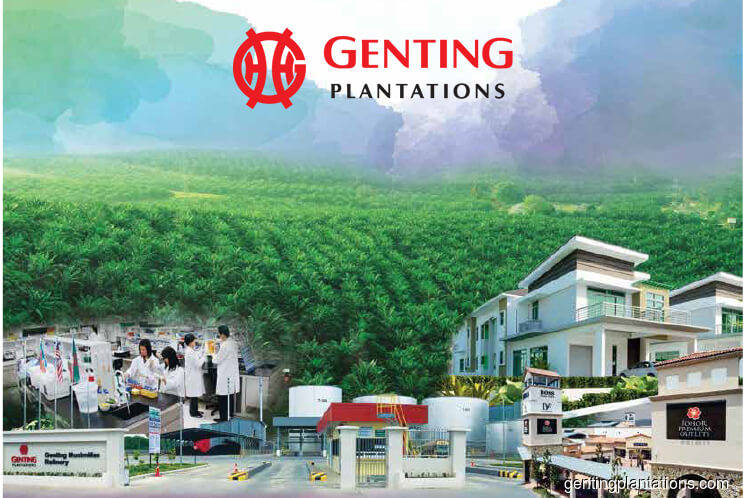 Genting Plantations Bhd
(Aug 29, RM9.44)
Maintain outperform with a lower target price of RM11.15: Genting Plantations Bhd posted core earnings of RM110 million for the first half ended June 30, 2018 (1HFY18), down 28% year-on-year (y-o-y), after stripping out a net foreign exchange loss of RM3.2 million and net surplus of RM14.3 million arising from disposal of land to the government.
The weaker-than-expected results, making up only 35.7% and 32% of our and consensus expectations respectively, were due to unusual cropping patterns in Malaysia as a result of high rainfall from December to January, which affected fruit formation.
Weaker second quarter of FY18 (2QFY18) sales of RM402.6 million were mainly due to lower sales from upstream plantation (-16.6%), property (-11.8%) and downstream manufacturing (-1%). The average crude palm oil (CPO) price dropped 15% y-o-y to RM2,291 per tonne, while fresh fruit bunch (FFB) production climbed 4.8% y-o-y to 479,000 tonnes as strong FFB production in Indonesia (+19% y-o-y) was partly offset by unusually weak FFB production in Malaysia (-19% y-o-y).
Malaysian plantation sales tumbled 59% y-o-y to RM166.3 million, while Indonesian plantation sales were marginally higher at RM122 million. Downstream manufacturing sales were marginally lower at RM194 million. Property sales fell 12% y-o-y to RM25.3 million.
The decline in earnings was due to plantation (-31.7%), property (-28.1%) and biotechnology losses, while downstream earnings jumped 70.4% y-o-y to RM4.6 million. Despite higher FFB production during the quarter, the impact was outpaced by a steep decline in CPO selling prices. Plantation earnings dipped 31.7% y-o-y to RM97.2 million as Malaysian operations tumbled 44% y-o-y to RM56.9 million, while Indonesian operations stayed at RM40.3 million. Property earnings fell 28% y-o-y to RM4.1 million. The biotechnology segment registered a bigger loss of RM3.3 million, due to higher research and development spending. The earnings contribution from joint-venture entities rose 38.6% y-o-y to RM38.6 million, driven by higher rental sales of Genting Highland Premium Outlets.
The cost of production for 1HFY18 stood at RM1,800 per tonne (Malaysia: RM1,500 per tonne; Indonesia: RM2,100 per tonne). Management targets an FFB production growth of 15% for the full year (Malaysia: down 2% to 4%; Indonesia: up over 30%). Unbilled property sales stood at RM49 million, while the third phase of Genting Highlands Premium Outlets, which will increase the retail space by 45,000 sq ft to 315,000 sq ft, is scheduled to open by end-2018. RM140 million capital expenditure was spent in 1HFY18, versus RM200 million in 1HFY17, as new planting activities were relatively smaller in size. The biodiesel utilisation rate currently stands at 30%, while refining capacity is running at 40% and management targets to achieve 60%.
A first dividend per share of 4.8 sen was declared for 2QFY18. Consequently, we have fine-tuned our FFB growth assumption, down from 19.8% y-o-y to 15.8% y-o-y after imputing a 4% decline in Malaysian FFB production growth for FY18, while our FY18 to FY19 earnings forecasts have been cut by 4% to 6%. — PublicInvest Research, Aug 29