This article first appeared in The Edge Financial Daily, on February 15, 2019.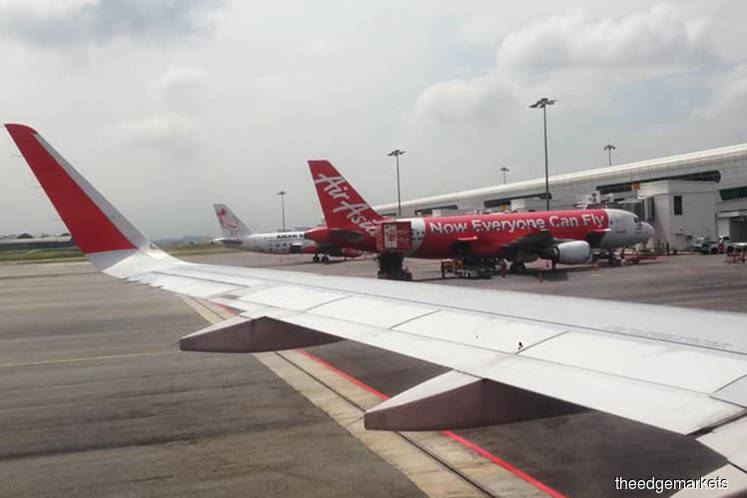 AirAsia Group Bhd
(Feb 14, RM3.09)
Maintain reduce with a target price (TP) of RM1.82: We have lowered our jet fuel price assumptions from US$90/barrel to US$75/barrel for FY19F (forecast) and from US$95/barrel to US$85/barrel for FY20F following significant global overproduction in 2018 and relatively modest efforts by the Opec and its non-Opec partners to reduce production in 1H19F. We expect oil prices to move higher year-on-year in FY20F because of the slowdown in expected US crude oil production growth and the higher demand for middle distillates expected to emerge from the implementation of IMO 2020 rules. Hence, we view the current low oil prices as a temporary reprieve for airlines like AirAsia.
 
AirAsia Group Bhd took advantage of the domestic Malaysian capacity reductions by MAS and Malindo in 2018 by growing rapidly, taking market share and raising yields. However, the rationalisation is over and MAS and Malindo may now be adding back domestic seat capacity, probably to take advantage of lower jet fuel prices. Hence, the period of easy market share gains and yield increase for AirAsia in domestic aviation may be over.
The government will impose a new departure levy for all outbound travellers by air starting June 1 2019F while Malaysia Airports Holdings Bhd will likely be given permission by the Malaysian Aviation Commission to raise the aeronautical tariffs by at least 16% from July 1 2019F. Asean passenger service charge (PSC) may be raised by 74% or RM26/pax while the non-Asean PSC may be hiked by 71% or RM52/pax, in our view. Low-cost carriers with price-sensitive customers may struggle to pass on these rate increases in full without hurting demand and if AirAsia subsidises these rate hikes, earnings may be lower than expected.
The sale and leaseback (S&LB) of 79 aircraft to BBAM Aircraft Leasing and Management yielded excess cash proceeds of 84 sen/share but only 40 sen was paid as special dividend per share (DPS) on Dec 28, 2018, with the difference held as a working capital buffer and probably to reward staff. Applying a similar "50% rule" for the 39 sen/share excess cash from the Castlelake S&LB transaction involving 29 planes, we arrive at our estimated special DPS of 19 sen.
This is added to our RM1.63/share valuation of AirAsia Group's core airline business, based on CY20F P/E of 10 times, to derive a new TP of RM1.82. Downside catalysts include higher airport charges, resumption of domestic capacity additions by MAS and Malindo and potentially higher jet fuel prices in 2020F.
Upside risks include sustained weakness in oil prices due to a lack of discipline by Opec producers. — CGSCIMB Research, Feb 13