This article first appeared in The Edge Financial Daily, on March 25, 2019.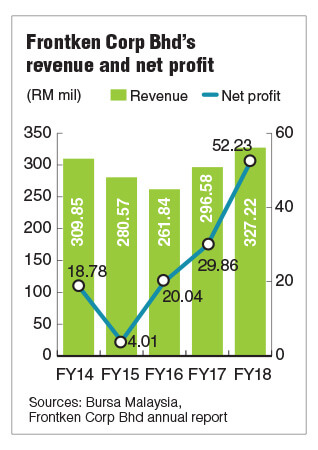 KUALA LUMPUR: Frontken Corp Bhd may have consistently seen explosive profit growth in the past few years, but its chairman and chief executive officer (CEO) Nicholas Ng believes there is still space for growth in all markets where it operates.
In an interview with The Edge Financial Daily, Ng said the group is seeing more opportunities in the oil and gas (O&G) sector, especially with more activities in Pengerang, Johor where the Petronas Refinery and Petrochemical Integrated Development (Rapid) project is being developed.
"We wish to have a presence there [in Pengerang]. Our services will be needed later as we have received customers' requests, so we are obviously exploring that as well. Since the second half of last year, we started seeing more activities in the O&G sector, and the momentum seems to be carrying through. If it (the sector) continues with its current momentum, it will be a good year for us," he added.
Brent crude oil price has gained more than 30% this year due to Opec and its partners' output reductions, as well as supply disruptions in Venezuela and Iran helping to counter a growing American shale production. As of last Friday, Brent was trading at US$67.03 (RM272.14) a barrel. A year ago, the price plunged to a US$50 low; in 2017, it hovered around the US$44 level at one point.
Listed on Bursa Malaysia in 2006, Frontken principally provides specialised services such as precision cleaning, refurbishment and coating to the semiconductor industry. This business segment contributed nearly 80% to the group's top line last year, and the balance by its non-semiconductor business, mainly in providing engineering services to the O&G industry. The group's key markets are Taiwan, Singapore and Malaysia.
Ng said despite concerns of the overall semiconductor market's slowdown, the group is still poised for growth this year. He said all indicators so far point towards further growth with rising demand for all things electronics, evident in a continued investments among customers, a growing capital expenditure (capex) in wafer fabrication equipment, and customers guiding for a high single-digit growth.
According to the Semiconductor Industry Association, worldwide sales of semiconductors in January 2019 marked a year-on-year sales decline for the first time since July 2016. Sales in January 2019 fell to US$35.5 billion — down 5.7% compared with US$37.6 billion in January 2018, and 7.2% compared with US$38.2 billion in December 2018.
"In terms of outlook, based on visibility provided by our customers, we believe there will still be growth this year, but its level may not be as high as before due to a high-base effect.
"Just like most companies, it will be difficult trying and maintaining high percentage growths [every year]. But I'd like to think we are far away from the big number; our core earnings suggest a lot more space remains for growth," Ng said.
Since the financial year ended Dec 31, 2015 (FY15), Frontken has been reporting consistently impressive earnings growth, notching record earnings annually. For FY18, Frontken saw a 75% net profit surge to RM52.26 million, from RM29.86 million in FY17. Revenue grew 10.3% to RM327.22 million, from RM296.58 million.
The group has been achieving an aggressive bottom-line growth thanks to its continuous investments in research and development (R&D), which Ng said is a crucial cost-saving measure.
"Through R&D, we can innovate for more efficient ways of cleaning the same parts, without compromising on quality. Newer technologies from customers' innovations also mean more complicated equipment and processes requiring our cleaning expertise."
Ng said besides continuous innovation, the group plans to strengthen its foothold in the Chinese market where it sees huge opportunities, although the execution aspect may not be immediate.
This probably involves setting up new facilities, instead of servicing China-based clients from its existing Taiwan and Singapore facilities.
"When the timing is right, I believe we will have something in China. It is a big market, and it is growing. But we are taking more of a wait-and-see approach, given the ongoing trade tensions between the US and China," said Ng, also Frontken's largest shareholder with a 28.4% stake held through direct and indirect interests.
Ng added that the group will take some time to identify a strategic location for the new facility to be closer to most major wafer fabrication equipment sprawled across the country — this makes logistics sense since clients send their parts to Frontken daily.
For this year, Frontken has earmarked a capex of up to RM10 million. Ng said by 2020, the group should be able to cater to its customers' wafer fabrication process node of up to five nanometer.
On its impressive share price skyrocketing 120% over a year making Frontken a billion ringgit company now, Ng said its management gives little focus on this matter. The stock, settling 1.5 sen higher at 96.5 sen last Friday, had on March 8 hit a record-high closing of 99.2 sen.
"What we're focusing on is trying our best to deliver good earnings, and it is really up to investors out there to think how much our company is worth.
"We are now trying to pay dividends consistently. If we are able to continue performing well, and with our healthy cash position, we are looking to return more to shareholders in future."
The net-cash group, which started paying dividends to shareholders in FY17 after a five-year hiatus, said its strong balance sheet positions the group better for acquisition opportunities. Frontken is The Edge Financial Daily's top pick for the first half of 2019.
Maybank IB Research rated Frontken a "buy" stock, with a target price of RM1.04. In its March 15 report, the research firm said it expects Frontken's strong earnings growth to sustain over three years, backed by work orders for its key customers' leading-edge technology in Singapore and Taiwan.
"We have forecast Frontken to chalk up a robust three-year (FY18 to FY21 estimate) earnings compound annual growth rate of 23%. Our target price of RM1.04 is based on an unchanged 18.8 times FY19 price-earnings ratio, one standard deviation above its five-year forward average of 12.5 times," Maybank IB Research analyst Mohd Hafiz Hassan wrote.