This article first appeared in Digital Edge, The Edge Malaysia Weekly, on January 11, 2021 - January 17, 2021.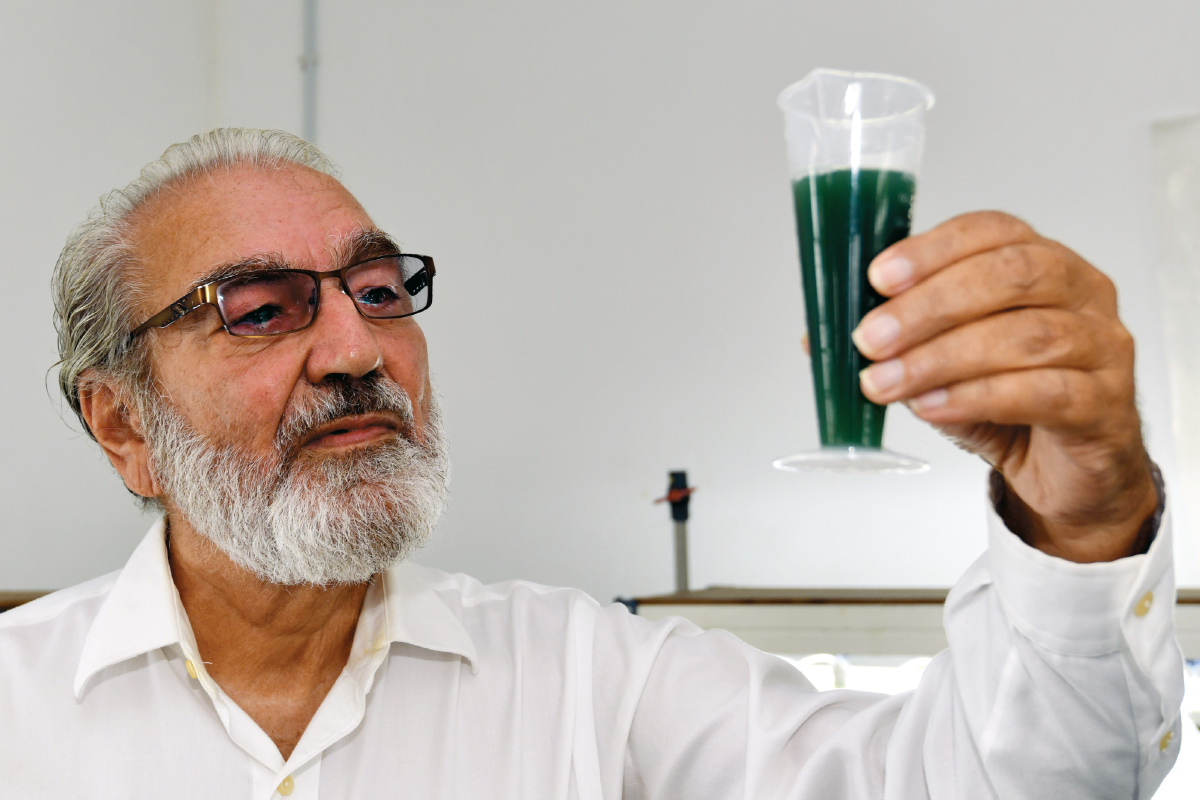 Jagjit Singh Kaurah was a young boy in the 1950s when he noticed something about a number of his classmates. "I could tell that a lot of the students were unable to follow the class. They were listless, inattentive and simply could not understand the concepts that were being taught," he tells Digital Edge.
But it had nothing to do with the students being lazy or incompetent, he hastens to add. Many years later, he came to realise that these students were not getting enough nutrition in their diets.
"They lacked one or more of the 45 essential compounds that the body needs to thrive. As a result, these students demonstrated weakened critical thinking skills and struggled with education for years through no fault of their own," says Jagjit.
Then, in the 1960s and 1970s, manufacturing companies recognising this widespread problem began to fortify their products with various nutrients, he says. "Whether voluntarily or by legal mandate, companies started adding Vitamins A and D into milk, for example."
These compounds are crucial for the growth and development of healthy bones in children. Later on, companies started adding Vitamins B1 and B12, among others, which are essential to brain function.
"Today, many of our foods have these nutritional additives, which is why there are far fewer children in school who struggle to learn. When we understood just how important it was for us to eat the right stuff, and fortified our diets accordingly, our children began to reap the benefits," says Jagjit.
He believes his start-up, Josens Projects Sdn Bhd, is on track to significantly build on the dietary gains made by his professional forebears. Now in his sixties, Jagjit — a mathematician and chemical engineer by training — says microalgae is the next great frontier in food technology.
"That microalgae is considered quite a superfood is not a surprise. People have known about the benefits of consuming microalgae for decades now," he adds.
He has developed an early product called All-45 Essentials, which is essentially dried and powdered microalgae. Checks by Digital Edge show that the product has a presence on at least one local e-commerce platform.
At this early stage, Jagjit is testing the retail consumer market and is developing a series of microalgae-based, fast-moving consumer goods (FMCG) products. He eventually hopes to break into the e-commerce market with a dedicated retail portal and sell from there.
To this end, Josens is currently developing a range of microalgae-infused products such as meal bars, protein powders and chocolate products. But Jagjit has much bigger plans for the product.
The building blocks of food
"The retail market is a great way to build awareness of our brand. But this is secondary to my long-term plans. I am anticipating that as the company matures, the majority of my business will eventually come from the business-to-business (B2B) space," says Jagjit.
Like the pioneering food companies of the 1960s, he is convinced that his cultivation technology and understanding of the fundamental properties of microalgae will allow him to partner with brands and fortify a whole host of foods. He believes he can do this using in-house techniques that are more efficient and cost-effective than those that currently exist in the market.
"Not only have we developed techniques to economically cultivate microalgae, we are able to synthesise all 45 essential compounds that the body needs to survive, using nothing but microalgae, hence the name of our early product," says Jagjit.
The body typically requires 47 essential compounds — the other two being water and oxygen — with the other 45 being naturally occurring vitamins, minerals, amino acids and essential oils that the body is incapable of producing. For these 45 compounds, the body requires an external source, he explains.
Where industries have long struggled have been in making microalgae production economically viable. But Jagjit says he has successfully cracked the code and has patented the technology.
Industrial microalgae cultivation was long thought to be economically unsustainable — a misconception that was all but crystalised in a damning report released by the US government in the mid-1990s. "Former US president Jimmy Carter, in an attempt to diversify his country's economy, commissioned The Aquatic Species Program in the 1970s. The programme provided funding to universities to study the benefits of microalgae for a host of applications," he explains.
"The programme came to a close in the mid-1990s. And then in 1998, a summary report was released, which determined that it was all but impossible to economically cultivate microalgae."
The report found raceway ponds to be the most "efficient" method of cultivating microalgae. This was an unfortunate finding, according to Jagjit, because raceway ponds were known at that point to be still an inefficient method of cultivation. Quite simply, the report put paid to much of, if not all, the interest in microalgae production from that point on.
Having spent much of his life in a number of industries, Jagjit had resolved that the second half of his life would be dedicated to giving back to the planet. After successful stints in industrial chemistry and, later, oil and gas, he managed to get his hands on the so-called "microalgae bible" in the 1990s, as the landmark US report is sometimes referred to, and set about trying to prove it wrong.
Got milk?
The problem with the raceway system is that it is exposed to the open air and, therefore, inevitably contaminates the microalgae. As useful as it is, microalgae requires very specific conditions to live. Even under the relatively controlled conditions of a raceway pond system, experts have only been able to cultivate about 12 different types of microalgae, with varying levels of purity.
"This is a tragedy because there are hundreds of thousands of microalgae species out there. Being able to produce 12 types of microalgae does not even count as a drop in the ocean. It is the single biggest source of genetic diversity on earth, which means with the right technology, you can synthesise just about anything from the right kind of microalgae," says Jagjit.
"We have pioneered an entirely closed system of microalgae cultivation, and we are able to do so cheaply and build up to industrial scale. Our closed system is already comfortably more efficient than the raceway pond system. Thus, we have the ability to cultivate any number of microalgae species."
The Josens production facility is in Negeri Sembilan.
This closed system allows a much more tightly controlled environment for microalgae to grow in. This means the microalgae does not run the risk of being cross-contaminated with other microalgae that may be in the atmosphere. The system is also free of other types of contaminants.
"Ordinarily, this is a very expensive process, but we have managed to make it economically viable for the first time," he says.
The implications are staggering, according to Jagjit. "We can literally produce milk using microalgae. It has all the benefits of regular cow's milk, but more than that, we are able to remove lactose, which is a compound in milk that a lot of people are allergic to," he says.
"We can also fortify the milk with any number of essential nutrients — also synthesised using microalgae. Imagine the sheer scale of land and resources that ordinarily go into the production of a glass of milk. We are in a position to reverse all that."
Ordinarily, this would be impossible to do with microalgae, Jagjit explains.
One big problem with the raceway pond system is that the inevitable contamination produces a distinct taste to the harvested microalgae. This makes it unsuitable for mixing with food.
However, with the closed system, the microalgae that Josens cultivates is entirely tasteless and, therefore, perfectly suited to being added to just about any food item in the market, according to Jagjit. The microalgae can be cultivated to have specific nutritional values that a brand may require, after which it can be mixed into the product without ever affecting the taste," he says.
Josens completed a successful equity crowdfunding (ECF) campaign in late August 2020. The campaign, which was hosted on ECF platform Ata Plus, ended up raising more than 300% of Jagjit's initial target of RM300,000.
"We went with the ECF campaign for three specific reasons. First, the Malaysian government provided a dollar-matching incentive, which is to say that for every RM2 we raised, it would pitch in RM1," he says.
"Second, the ECF campaign gave us a lot of exposure to the market and consumers, which I thought was a great marketing opportunity. Finally, the ECF platform conducts its own due diligence which, to my mind, added a further layer of assurance to our value proposition to investors."
With just under a RM1 million raised, the company is looking to ramp up production and expand capacity significantly in anticipation of growing interest in the B2B market. "We want to quadruple production as quickly as possible. And as soon as the Covid-19 pandemic has been brought under control, we want to reach out to local and international manufacturers," says Jagjit.