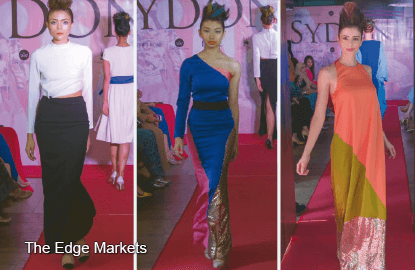 French-inspired fashion label, Sydonie, the brainchild of model-turned-designer, Marie Sydonie, had a double celebration late last month, with a fashion show followed by a pop-up boutique afterwards. An Afternoon with Sydonie celebrated the brand's third anniversary as well as the launch of its flagship online store, sydoniemonamie.com.
Targeting women between 25 and 45 years, the clothing line comprises of two main categories and customers can choose from the ready-to-wear (RTW) and deluxe line. The former strives to give customers the satisfaction of high-end clothing at an accessible price through a selection of clothes that represent the label with a balance between young dynamism and appreciation towards quality. The deluxe line on the other hand, is priced slightly higher than its RTW counterpart and caters to socialites and black-tie event goers.
"Every collection will have my signature Parisian touch with an adaption of all the countries I have travelled to and all the cultures and traditions I have witnessed over the years — from Asia to America, from conservative to tribal, from city to beach, I want to cover all areas as I go," explains Marie Sydonie, who is also the creative director.
The designer also believes in creating something beautiful for everyone with her interpretation of urban Parisian fashion while taking local intricacies into consideration, for instance, choosing fabric that would complement the designs and still suit the local climate.
The pieces that adorned the models strutting down the runway that stretched all the way to the al fresco area of Cuisine Gourmet by Nathalie showcased an eclectic play of colours and designs. Among the common themes were the incorporation of glitter in addition to cut-out designs and fun colour combos — orange and green, pastel blue, yellow and pink or hot pink and royal blue, just to name a few.
The brand has a wide range of designs that considers the needs and requirements of a varying clientele, while injecting French flavour that the designer is so accustomed with. One of the main highlights is a business casual wardrobe and attires that promise to carry the wearer effortlessly from work during the day to an evening out. As for the pieces that were showcased at the runway, there seemed to be a primary focus on casual, cocktail or evening wear. 
There were some fun and fresh pieces like the multi-hued maxi dress — orange and green with a splash of glitter, all in one outfit. Other pieces that made their way down the runway that afternoon were a playful top and shorts combo as well as a cheongsam-inspired mini dress.    
Apart from these, the assortment of evening wear in bold colours like deep red, hot pink and royal blue may find favour in fans of avant-garde inspired fashion, owing to the dramatic layered patterns on the shoulders and long full skirts.  
There are also a number of pieces in basic colours of black and white, a few of which can be found in the fall/winter 2015 collection. This collection is said to have drawn inspiration from David Lachapelle's pop surrealism and focuses on the liberalisation and empowerment of women who recognise the power of fashion and are discerning towards quality. One example is the monochrome themed dress made up of a white long sleeve top that connect to the long, high slit skirt in black in an interesting knot detail above the waist that slightly bares some flesh near the waistline.
All in all, Sydonie aims to make women feel and look beautiful in the wide variety of designs that it offers. This philosophy, coupled with a promise that nothing is priced over RM1,000, certainly reflect the brand's ideals on stylish affordability without compromising on the quality of the apparels. 
---
Both the RTW and Deluxe fashion line can be viewed and purchased at the brand's newly launched online store www.sydoniemonamie.com, www.gemfive.com.my or at Catalogued KL at Bangi Sentral
This article first appeared in The Edge Financial Daily, on July 8, 2015.