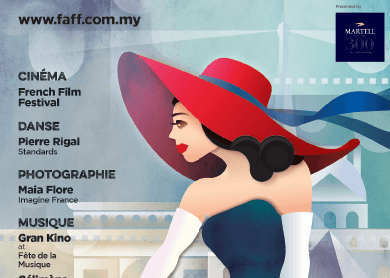 The annual Art & Film fest is back — bigger and better — this year
THE much anticipated French Art & Film Festival is back once again for its annual celebration of arts and culture by celebrating all things French. Bring out your inner Francophile as the festival, which begins tomorrow, has plenty of exciting events in store. Attendees will be able to look forward to participating in film screenings, music and dance performances by French artists and sampling authentic French cuisine as well. Here's what to expect at the festival.
Film
French Film Festival
May 14 to 31
GSC Pavilion Kuala Lumpur
GSC Midvalley Mega Mall
GSC 1 Utama
www.gsc.com.my
Contemporary French cinema is once again being celebrated in Malaysia with 15 movie screenings this month. This year's list of films range from hilarious comedies, fantasy, animated movies to documentaries. With the 68th edition of the Cannes Film Festival opening in France, timing could not be more right to screen these films. All films will be screened in French with English subtitles. For the full movie schedule please visit www.faff.com.my.
Dance
Standards — Pierre Rigal
May 14 (8.30pm)
Tunku Abdul Rahman Hall, MaTiC
109 Jalan Ampang, Kuala Lumpur
RM53
[email protected]
Catch this exuberant and playful display of dance choreographed by Pierre Rigal. This hip-hop dance experience features eight dancers who explore the meaning of identity while performing on a stage bathed in blue, white and red symbolising the French flag. Through the performance, Pierre Rigal creates a colourful display of diversity.
Music

Cinemix with DVJ Oof
May 29 (11pm)
Pisco Bar, Jalan Mesui,
Off Jalan Nagasari, Kuala Lumpur
RM20 (cover charge)
"DVJ" Oof fuses together the art of DJ-ing with video in this pioneering performance at Pisco Bar. This fresh take on the senses will see this multimedia DJ play music from famous French soundtracks from the 1960s while nostalgic imagery from notable French movies appears on the screen.

An Evening with Céliméne Daudet
June 16 (8.30pm)
DFP
Petronas Twin Towers, KLCC
RM40
[email protected]
Prepare yourself for an entertaining evening courtesy of accomplished pianist Céliméne Daudet. Born into a mixture of French and Haitian cultures, she trained in her hometown Aix-en-Provence and then at the National Superior Conservatory of Music of Paris and Lyon. She has performed on many international stages including the Carnegie Hall of New York. For her first performance in Malaysia, she will present a piano recital by Debussy and a Mozart concerto accompanied by the Malaysian Philharmonic Orchestra.
Fete de la Musique
June 6
Laundry Bar, The Curve
Mutiara Damansara, PJ
www.faff.com.my
This year's live music event will be headlined by the band Gran Kino. The quartet have been travelling the world for the past five years with the goal of breaking the medium of language through music. Describing their style as "unclassifiable", Gran Kino bring to the stage a diverse and international sound.
Food and Drink
Bonjour France
A Taste of France
May 8 to 20
Isetan Food Hall, Suria KLCC
Over the course of two weeks, the food hall of Isetan Suria KLCC will be dedicated to promoting French gastronomy. The event is a collaboration between Isetan department store, Malaysian importer ITCO Niaga and Business France Malaysia — an agency that is dedicated to the international development of French companies. Visitors will have the chance to sample food prepared by Le Cordon Bleu and take part in Champagne and
Cognac tasting sessions hosted by Pernod Ricard. Guests will also have the chance to watch cultural performances selected by Alliance Francaise de Kuala Lumpur.
Le Marche Francais (French Market)
June 13 (4pm to 9pm)
Alliance Francaise de Kuala Lumpur
Lorong Gurney, KL.
This market will be offering up a delectable spread of French cuisine and drink. The market is co-organised by the CCIFM (Malaysian-French Chamber of Commerce and Industry) which aims to promote culinary delights and lifestyle products to visitors. The market will include wine, coffee, baked goods and traditional French dishes. There will also be a garage sale run by expatriates selling pre-loved goods. Visitors will also have the chance to catch a freestyle circus performance on the Alliance Francaise grounds.
Cognac and Champagne
Tastings with Martell
May 21(7.30pm) — Elegantology Gallery & Restaurant, Publika Kuala Lumpur
May 26(7.30pm) — Novotel Hotel
May 28(7.30pm) — Pullman Bangsar, Kuala Lumpur
RM70
[email protected]
Learn the art of Cognac and Champagne pairing from a professional. The tastings which are hosted by Cognac house Martell will be teaching guests how to pair their drinks with Malaysian cuisine. Don't miss the chance to celebrate Martell's 300th anniversary and discover the history behind the drinks. Guests will have the chance to enjoy delicious drinks and food as well as meet new people.  
Visual Art

Imagine France
May 14 to 24
White Box Publika, Kuala Lumpur
Free Admission
Imagine France features the work of young photographer Maia Flore who photographed various heritage sites during a 66 day tour of France during the summer of 2013. The exhibition will have 25 of Flore's works on display with photographs including Chateau de Versailles, Palais de Papes in Avignon and Pont du Gard.  Her photographic style is described as "seeking coincidences between her imagination and what is real".
This article first appeared in The Edge Financial Daily, on May 13, 2015.