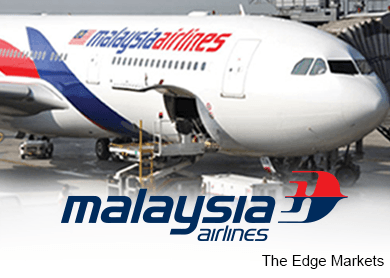 KUALA LUMPUR: As Malaysia Airline System Bhd's restructuring exercise gains momentum, speculation is rife on the next course of action the national carrier will take — for instance, which division to shut down.
The loss-making MASkargo Sdn Bhd is one. US-based Leeham News reported that MAS is considering options that include putting up its entire fleet of six freighters for sale as part of its restructuring plans, effectively leaving the airline with no freight operations. In response to the report, MAS commented that it is "premature" speculation.
Still, the speculation raises the question as to whether it is a sensible move to stop the dedicated freight service. Furthermore, has the national carrier gone overboard with its streamlining exercise, including axing 6,000 jobs, in order to slash overheads?
Looking at the red ink in the financial accounts, shutting down the loss-making cargo business seems to make commercial sense.
Some quarters believe the beleaguered national carrier is fighting for survival now. To stop the looming losses, cost cutting and hiving off non-performing assets are the apparent options.  
Maybank Investment Bank Bhd aviation analyst Mohshin Aziz noted that the air cargo market is volatile.
"It (MAS) can test the market by selling the cargo business," he said, noting that the business has been a drag on the airline's earnings for the past few years.
Mohshin reckoned that a good candidate to take over MAS' cargo assets is DRB-Hicom Bhd, which is a major shareholder of Pos Malaysia Bhd, Konsortium Logistik Bhd and KL Airport Services Sdn Bhd.
MASKargo owns warehouses, including distribution centres, which fits DRB-Hicom's logistics operations, he said.
According to filings with the Companies Commission of Malaysia, MASKargo has been in the red since the financial year ended December 2011 (FY11). But its net loss narrowed from RM23.67 million in FY11 to RM17.92 million in FY13 despite revenue falling from RM2.05 billion to RM1.9 billion during the same period.
MASkargo has a fleet of two Boeing 747-400Fs and four A330-200Fs. In FY12, it contributed about 14% of MAS' total revenue.
But some believe, besides financial numbers, MAS should take into consideration the non-financial benefit of retaining the freight service.  
Asked to comment by The Edge Financial Daily, former MASkargo managing director Datuk Ong Jyh Jong, who turned around the cargo division between January 2001 and August 2007, pointed out that launching a dedicated freight business is a "conscious move".
"Once you commit [to start a freight service], it is not just about the freighters, but investments in warehousing facilities, distribution centres, cargo hubs and the people. Thus, when they (MAS) make a decision, they must have thought it through," he said.
"There are winners and losers out there [in the air cargo business] ... but much depends on whether it is properly run [for the airline to do well]."
He opines the air cargo business is relevant to airlines.
Ong foresees that MAS may see its cargo volume in the belly space of its passenger aircraft drop by as much as one-third, should it stop a dedicated freight service.
"There is a relationship between [operating] freighters and passenger aircraft. Freighters (all-cargo aircraft) help improve the belly-hold load factor of passenger planes by carrying odd-sized, large cargo that the latter can't," he told The Edge Financial Daily.
Ong also said a dedicated freight service helps to strengthen an airline's network, by deploying freighters to destinations where its passenger aircraft don't fly.
He cited MAS' trade lanes between Asia and Europe/North America/Africa on which the airline's passenger aircraft don't operate and where its freighters can come into play to provide connectivity.
Endau Analytics analyst Shukor Yusof said the talk that MAS may consider selling its cargo division did not come as a surprise.
Back in December 2011, there was already similar plan to dispose of its ancillary units, including MASkargo, when Ahmad Jauhari Yahya took over as group chief executive officer of MAS, but the plan was later ditched.
"This is an airline that has a track record of selling assets in times of trouble, including its headquarters in Kuala Lumpur as well as other properties. MAS is also recently reported to be considering selling its wide-body [passenger] aircraft," said Shukor.
"Flogging planes and assets and cutting jobs are a cop-out for MAS," he said, noting that MAS is "bereft of ideas and a management that understands the aviation business".
But the aviation analyst points out that MASkargo's freight throughput at the Kuala Lumpur International Airport in Sepang had risen 11.5% to 154,000 tonnes in the first quarter of 2015, raising the question of the timing of the disposal, if it materialises.
While a freighter sell-off would not have a huge impact on MAS, Shukor said it will indirectly affect Malaysian exporters and MAS' credibility as an airline.
Airfreight Forwarders Association of Malaysia (Afam) chairman Walter Culas is of the view that MASkargo still has the potential to make a profit for MAS "if properly managed by the right people".
"That's because all inbound freight charges are always paid upfront and the cash flow is never tied up in the business. My point of view is that it is not feasible to shut down its cargo business, but it makes more sense to integrate the cargo business into the new company, Malaysia Airlines Bhd," he said.
"We have been in discussions with MASkargo on a regular basis to discuss the day-to-day operations, but selling off its business has never been a subject matter," Culas said.
This article first appeared in The Edge Financial Daily, on May 18, 2015.