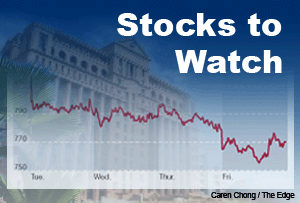 (Stocks To Watch)
KUALA LUMPUR (Sept 11): Based on news flow and corporate announcements today, the stocks that may be in focus tomorrow (Sept 12) could include the following: Freight Management Holdings Bhd, Tomei Consolidated Bhd, Iris Corporation Bhd, Kejuruteraan Samudra Timur Bhd, YTL Corp Bhd, TA Global Bhd and Tek Seng Holdings Bhd.
Freight Management Holdings Bhd told Bursa Malaysia today that its wholly-owned subsidiary, FM Global Logistics (M) Sdn Bhd, had received a notice from Suruhanjaya Pengangkutan Awam (SPAD), that the latter intends to suspend FM Global's haulage license with effect from Sept 24 this year.
Freight Management said its board is trying to contact the relevant officers of SPAD for further information and clarification, while assessing the implications and/or impact of the notice on the company.
The company's stock closed unchanged at RM1.72 today, which translates to a market capitalisation of RM170.8 million.
Meanwhile, Jewelry retailer Tomei Consolidated Bhd is diversifying into cosmetic care, as it has secured the exclusive rights to distribute Korean skincare brands, The History of Whoo and belif, in Malaysia.
In a filing to Bursa today, Tomei said it has formed a new wholly-owned subsidiary, Flawless Skin Care Sdn Bhd, with the latter having signed distributorship agreements with Korea's LG Household & Healthcare Ltd (LG H&H).
Tomei was last traded at 63 sen, translating to a market capitalisation of RM86.6 million.
Over at Iris Corporation Bhd, the technology outfit has entered into a deal to develop a 303.76 ha satellite township in Papua New Guinea, to house students and academic institutions at a cost to be determined later.
For the venture, Iris said its subsidiary, Iris Land (PNG) Ltd (ILPNG), has signed a Memorandum of Agreement with The Central Provincial Government of Free Mail Bag, Konedobu NCD, PNG (CPG), as well as its local partner, Jayacorp Holdings Ltd, to establish a new business entity, with each party holding an equity interests of 51%, 23% and 26% respectively.
Iris dropped 3.57% to close at 40.5 sen today, translating to a market capitalisation of RM826.3 million.
Kejuruteraan Samudra Timur Bhd (KSTB) announced that its wholly-owned unit, Samudra Timur Sdn Bhd (STSB), had on Aug 26 formed a joint venture in Myanmar, to tap on the country's oil and gas projects.
STSB holds a 49% stake in the JV company, Bholat Samudra Timur Oil Services Company Ltd, while its local partner, Bholat General Services Co Ltd, holds the remaining equity.
The principal activities of Bholat Samudra are to provide inspection services for oilfields, technical consultancy and so on.
KTSB climbed 2% to close at 51 sen yesterday, translating to a market capitalisation of RM72.9 million.
Meanwhile, the Economic Times of India had reported today that YTL Corp Bhd is in talks with India's Hyderabad-based NSL Group, to acquire up to 49% stake in the latter's thermal power business.
Quoting a source with direct knowledge on the proposed deal, The Economic Times reported that talks between YTL and NSL were already at the advanced stage.
YTL ended 0.61% higher at RM1.65, after it rose to an intraday high of RM1.68. Its market capitalisation stood at RM17.1 billion.
Over to TA Global Bhd, the developer says it is open to acquiring more hotels, after the firm received overwhelming shareholders' approval today, to buy The Trump International Hotel in Vancouver, Canada.
"If there is opportunity, and the price and terms are right, we are open to it," said executive director Kimmy Khoo Poh Kim, after TA Global's EGM.
TA Global dropped 1.32% to close at 37.5 sen today, with its market capitalisation at RM1.92 billion.
Meanwhile, Tek Seng Holdings Bhd said it has been slapped with an unusual market activity (UMA) query by Bursa Malaysia today, as its stock has more-than-doubled since the begining of August.
At the same time, the company has announced that its 86.1% owned-subsidiary, TS Solartech Sdn Bhd, has entered into a memorandum of understanding (MoU) with Solartech Energy Corp (SEC), for the purpose of a 'strategic alliance'.
SEC, a Taiwan-listed company, has proposed to invest RM100 million in TS Solartech.
Tek Seng ended 7.54% higher at 84.5 sen today, with a market capitalisation of RM202.8 million.