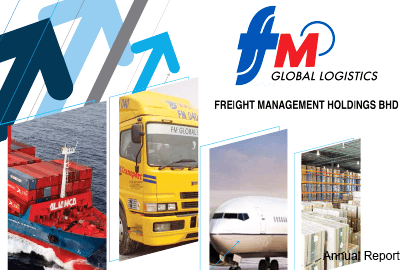 KUALA LUMPUR (March 31): Freight Management Holdings Bhd is looking to enter the e-commerce business, specifically by providing a distribution platform for merchants, complete with marketing support and warehousing and logistics services.
In a filing with Bursa Malaysia today, the freight services provider said it had entered into a shareholders' agreement with Hubwire Sdn Bhd, the owner of Hubwire Arc System — an omnicommerce retail management system application for retailers to streamline their offline and online sales channels and inventories by integrating them into a single intuitive system.
Freight Management will end up owning 65% of the business, which will be parked under FM Hubwire Sdn Bhd, after injecting RM650,000 into the company. Hubwire meanwhile will hold 25% of the company's shares, after transferring its e-commerce business into the company, and payment by way of capitalisation of debt of RM250,000.
The deal also includes Hubwire chief executive officer Yeo Hock Choon, who will have a 3% stake in FM Hubwire; Hubwire head of business operations Teoh Beng Keat, who will have a 2% stake; and Willip Liew, a shareholder of Hubwire, who will have a 5% stake.
"(Freight Management) and Hubwire have agreed to combine their resources to perform the business of providing an e-commerce distribution platform for merchants to list their products for sale to end-consumers, bundled with marketing support, inventory management, customer service management, warehousing and logistics services, with or without the Hubwire Arc System," said Freight Management.
The deal will allow the company to enter the e-commerce business, said Freight Management. But until at least the financial year ending June 30, 2017 (FY17), it expects no material impact from this business to its earnings and net assets.
Freight Management shares rose six sen or 4.69% today to close at RM1.34, bringing its market capitalisation to RM233.05 million.