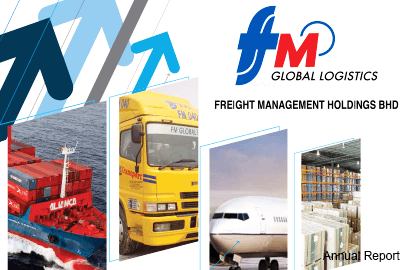 PORT KLANG: Freight Management Holdings Bhd, which is expected to report lower full-year earnings this week, continues to be on a lookout for strategic investments and joint ventures both locally and in the region to grow its business, said its managing director Chew Chong Keat.
"Now going into our 11th year as a listed entity, we are always on the lookout for acquisition opportunities. But it is a matter of finding the right fit," he told the digitaledge DAILY in an interview last week.
"We will remain focused as a freight service provider. As such, a potential company for takeover must be related to freight activities," said Chew, who is a substantial shareholder of Freight Management, with a 20.402% holding as at June 23, 2015.
"It could be in other forms of trade (besides sea and air freight forwarding) because customers' requirements today are different from when I started in this industry 25 to 27 years ago. Today, when you talk to a potential customer, they want you to handle everything, so that they can concentrate on their core business. So, we have to provide total logistics services," he explained.
As at March 31, 2015, Freight Management's cash and cash equivalents stood at RM30.19 million.
However, Chew said the weakening of the ringgit is putting a dampener on its acquisition trail as it makes acquisitions overseas more expensive for the group.
The ringgit fell to a fresh 17-year low last Friday, dropping nearly 1% to 4.1780 per US dollar, its weakest since Aug 31, 1998, according to Reuters.
Chew also said the group is open to acquisition of private firms or a merger with a public-listed company as long as its business and people are a "good fit to ours". He cited the group's acquisition of a 20% stake in Kuala Lumpur-based Hubwire Sdn Bhd, a multichannel retail technology and solutions provider, for RM1.6 million in July.
"Although it is a small investment, it is the people that we invest in. We think that with these people [at Hubwire], we can move forward [in the e-commerce industry]. They have the know-how and drive," Chew noted.
Chew is bullish on prospects for Malaysia's e-commerce market, noting that e-commerce currently represents less than 1% of total retail sales, compared with about 8% to 10% in advanced economies. "When Malaysia's e-commerce (retail sales) picks up, there will be demand for logistics requirements. Although at this moment, this business (e-commerce) is very small compared with our overall revenue, we should target to move into this area in a much stronger way," he said.
This week, Freight Management is due to release its results for the fourth quarter ended June 30, 2015 (4QFY15) and full FY15.
Chew warned that the home-grown multimodal freight service provider is likely to post a decline in net profit for both periods, mainly due to higher borrowing costs and depreciation charges, as well as a disruption of its air freight division due to a restructuring of operations.
The group saw its net profit fall 13.7% to RM4.32 million for 3QFY15 from RM5.01 million for 3QFY14, despite revenue rising 5.2% to RM101.68 million from RM96.63 million a year ago. For the nine-month period ended March 31, 2015 (9MFY15), its net profit fell 13.8% to RM13.66 million from RM15.84 million for 9MFY14. Revenue for 9MFY15, however, rose 4.3% to RM312.17 million from RM299.4 million.
Nevertheless, Chew sees its financial performance for FY15 as more of a blip, with net profit growth rebounding in FY16 and returning to a growth trajectory of 10% to 15% amid challenging market conditions. He said the sea freight division would continue to drive the group's growth, which accounted for over 60% of the group's gross profit for FY15. The rest were derived from its air freight, rail freight, land freight, tug and barge, third-party logistics and warehousing, customs brokerage and haulage businesses.
Chew noted that sea freight activity mainly trades in US dollar. As such, the current rising-US dollar environment will be favourable for Freight Management when it comes to its export freight volume, partly offset by weaker revenue in imports.
While mindful of the challenging external operating environment given the slow global economic growth and stiff competition within the logistics industry, Freight Management will be less impacted by economic challenges due to its asset-light strategy and wide range of logistics business segments.
"Also, the bulk of our customers are small and medium enterprises spread out across various industries, such as industrial and consumer electrical products, pharmaceutical and automotive parts," said Chew.In terms of dividends, Chew said although the group does not have a fixed dividend policy, it has been consistently paying dividends of about 30% of net profits. It declared a first interim dividend of 1.5 sen for FY15.
Year to date, Freight Management's share price has fallen some 16.7%, underperforming the FBM KLCI's 10.6% decline. The stock was untraded last Friday. It last closed at RM1.40 last Wednesday, with a market capitalisation of RM242.2 million.
Chew said he is not overly concerned about the decline in its share price, as he believes the share price will trend up in line with the group's financial performance.
On its valuation, Chew said compared with its peers globally, established freight companies averagely trade at a price-earnings ratio (PER) of 20 times.
In a report dated May 18, Kenanga Research said Freight Management is trading at a one-year forward PER of 12.3 times, compared with other Bursa Malaysia-listed logistics companies, such as Tasco Bhd and Century Logistics Holdings Bhd, which are trading at PER of 11.9 times and 10.1 times, respectively. Swiss-based Panalpina Welttransport Holding AG, US-based Expeditors International of Washington Inc and Kerry Logistics Network Ltd, meanwhile, are trading at PER of 27.4 times, 21.5 times, and 17.8 times, respectively.
This article first appeared in digitaledge Daily, on August 24, 2015.