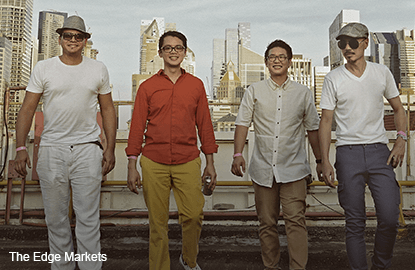 QILIN Group is not your typical musical ensemble. In fact, a visit to their YouTube channel and a listen to their selection of songs from various live performances, proves to be a curious and mildly jarring introduction to the Singapore-based four-man band. Made up of founder and violinist Kailin Yong, pianist Tan Wei Xiang, drummer Pablo Calzado and bass player Felix Phang, Qilin's sound is as broad as — and a result of — the diverse musical backgrounds each member comes from.
"We all came from 'traditions' — from jazz, classical, world music, rock, pop … we came from very structured backgrounds [musically]," says frontman and founder, Yong, who is a classically trained violinist himself.
To give an idea, Qilin performed a piece entitled Dondang Sayang Alegria, an interpretation of the traditional Peranakan ballad, during their previous gig in No Black Tie in Kuala Lumpur. At another show, they performed Feng Shou (harvest), a folksy composition with an oriental influence.  But Yong declines to peg their music as just Asian or oriental style. "It has that element, but it's not the only sound," he points out.
He explains that the overlapping disciplines and styles in which the members originally play in creates "a little bit of everything" in their music, from the influence of Tan's steep background in jazz, to Phang's own perspective on the genre as a Berklee graduate in jazz composition, Cuban-born Calzado's skilful rhythms and Yong's love for world music. The result is a modern interpretation of ethnic sounds infused into jazz elements.
However, the frontman is not concerned about being defined, citing the group's ethos to be explorative but free. "All we do is play music and interact with each other, have fun … we trust each other to be companions on this wild, crazy musical journey. It's very invigorating when you have four people who just flow together. It's an ensemble that will keep evolving," observes Yong.
Formed in 2013 when he first returned to Singapore after spending over 20 years in Europe and the United States, Qilin was birthed out of a desire by Yong and Tan, who is arguably Singapore's top jazz pianist — the two met at a jam session and became good friends — to create an ensemble that breaches the confines of musical boundaries.
"It's not just music for the sake of music, it is for me a language, a bridge building device; it connects," expresses Yong of what he wants to achieve. He has certainly gathered a wide breadth of musical vocabulary, training at the Musikhochschule Wien (University of Music and Performing Arts, Vienna) and then spending years as a busker in San Francisco to support himself when a professional job offer fell through.
Coming from a typically academic-driven childhood in Singapore, the musician excelled in his studies but says that he knew he found his voice when he discovered music, one that his education alone could not fill. "I've always been focused on expressing through music," adds Yong, who won the National Music Competition at just age 13 in 1985, earning him multiple scholarship offers from international music academies.
After fulfilling his parents' wishes that he complete his secondary school, followed by a stint in the compulsory military service, Yong pursued his passion and never looked back. Until now that is.
"I travelled to different parts of the world, and just take in all the sights, sounds and scents of the place. The way people talk, even the accents of the language, and the smell of the food," he recounts. "But there's a little bit of regret that I didn't spend much time tapping into our culture while growing up."
Returning home to Singapore armed with a sense of freedom he cultivated from his years of improvising as a street performer, that exuberant spirit of non-conformism and fluidity permeates the compositions he writes for and with the group.
And as Qilin comes to town to play their third gig at No Black Tie this Saturday, there will be a stronger sense of rootedness and perhaps even familiarity in their new music. "I have written a few more tunes, a lot of it now influenced by the wonderful sights and sounds of Southeast Asia," says Yong. The audience can also expect new dynamics within the band as young drummer Anson Koh subs for Calzado for the weekend.
Yong acknowledges that it might be a cliché, but is emphatic that there is a strong intent to send a message of harmony and inclusiveness with the group's music. He cites the recent 50th Singapore National Day celebrations, where the group performed. "We want to be a binding force … It was everyday Singaporean folks, but I think people resonated really well with our music, and a lot of it is inherently a reflection of the multiculturalism of this region.
"I think it has that relevance … Sometimes you hear a new sound, but it doesn't make sense. But for us, we're making music with a strong consciousness of where we come from," adds Yong, "It's a sound nobody has heard before, but it is accessible. It makes sense ..."
---
Catch the Qilin Group in action at 9pm, Sept 19 at No Black Tie, 17 Jalan Mesui, Kuala Lumpur. There will be a cover charge of RM50. Visit www.noblacktie.com.my and www.facebook.com/qilingroup for more details.
This article first appeared in digitaledge Daily, on September 14, 2015.