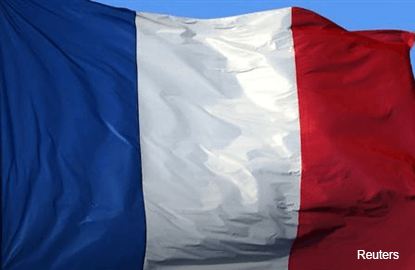 PARIS (Feb 28): If financial markets are a guide, France is facing a perilous period of turbulence and uncertainty as the presidential election nears. But the underlying economy is telling a different story.
While France's bond yields have spiked and its stocks have trailed the rest of the euro zone, as investors run scared of political risk, the country's economic prospects are actually looking up.
French business confidence, consumer confidence and job creation are surging, while earnings expectations for big French companies are also improving.
Whoever wins May's election — whether it be conservative Francois Fillon, far-right leader Marine Le Pen or centrist Emmanuel Macron — will start their five-year term with hiring at a decade high and the sluggish economy finally strengthening.
Ironically they may have predecessor Francois Hollande to thank, as his business-friendly reforms could be bearing fruit at last — too late for the man whose failure to turn the economy around helped make him the most unpopular president in modern French history and pushed him towards the political exit.
For some large international investors, any risk aversion to France offers buying opportunities for stocks underpinned by robust fundamentals.
"When markets apply a blanket negative response to an issue like France, we can come in and benefit our shareholders," said Steve Caruthers, an investment specialist in Los Angeles with Capital Group Companies Inc, which manages US$1.4 trillion.
"We have lots of companies within France that we have high conviction in today. They offer attractive valuations, certainly, compared to a lot of their US competitors," said Caruthers, whose firm holds stakes in Airbus, spirits maker Pernod Ricard and luxury group LVMH.
POLITICAL RISK
Other bond and stock market investors fear the global populist revolt that propelled Brexit and Donald Trump could sweep Le Pen to power.
A scandal over Fillon's payments of state money to family members has left the election with no clear favourite. Though polls put Le Pen in the lead to win the Apr. 23 first round of the two-round election, either Fillon or Macron are seen easily beating her in a May 7 runoff.
She has however narrowed the gap with her rivals in second-round voting intention surveys, a development which last week drove the premium that investors demand to hold French over German debt to highs not seen since late 2012.
"Le Pen's campaign is gaining traction and we can't ignore that, even though her victory is hardly anybody's main scenario," said Hideo Shimomura, chief fund manager at Tokyo-based Mitsubishi UFJ Kokusai Asset Management.
Japanese investors, traditionally big buyers of French debt, have been net sellers in recent months, according to official data.
Some funds say this is more about Japanese investors staying home as long-term yields rise there. Shimomura said that many Japanese institutional investors could also not buy ahead of their book-closing at the end of March.
Meanwhile, French bond futures — used to hedge risk and trade market swings — have seen record interest this month, while some equity investors have been looking for hedges against volatility around the election in put and call options.
French stocks have also become the least preferred by portfolio managers in Europe, according to Bank of America Merrill Lynch's monthly survey.
France's CAC-40 blue-chip index is largely flat since the start of this year, while the Stoxx Europe index of euro zone shares has gained 2%.
This is despite improving earnings expectations for French companies; the number of analysts upgrading their earnings expectations for the country's firms is now higher than the number downgrading for the first time since mid-2015, according to Thomson Reuters I/B/E/S.
Morgan Stanley put the probability of a Le Pen presidency at no more than 15%, in a research note on Thursday, saying markets were overestimating the likelihood.
REAL ECONOMY
While markets stress about the election, business leaders appear largely unfazed, judging by the latest monthly purchasing managers surveys, which came in at a near six-year high.
The surveys have exceeded expectations and, at least for the service sector, have surpassed levels seen in the stronger German economy on firming domestic demand.
Even the long-struggling industrial sector is picking up, with morale rising more than expected this month, according to a monthly survey from the INSEE statistics agency.
Official data this month also showed the economy created jobs in the fourth quarter at the fastest pace in a decade thanks to the services sector, which is by far the biggest sector in France.
The trend looks set to continue with the Labour Ministry reporting job vacancies running at a five-year high and employers planning on hiring a record 216,500 managerial level workers this year, according to the APEC association that represents them.
The recovering economy could be down to Hollande's reforms over the past five years, which included a payroll tax credit scheme to boost firms profitability and looser labour market rules to encourage hiring, and are likely to benefit his successor.
"Whatever party is elected, these measures will keep having a positive impact on (economic) activity," said economist Arthur Jurus at Switzerland's Mirabaud Asset Management.