This article first appeared in The Edge Financial Daily, on January 29, 2018.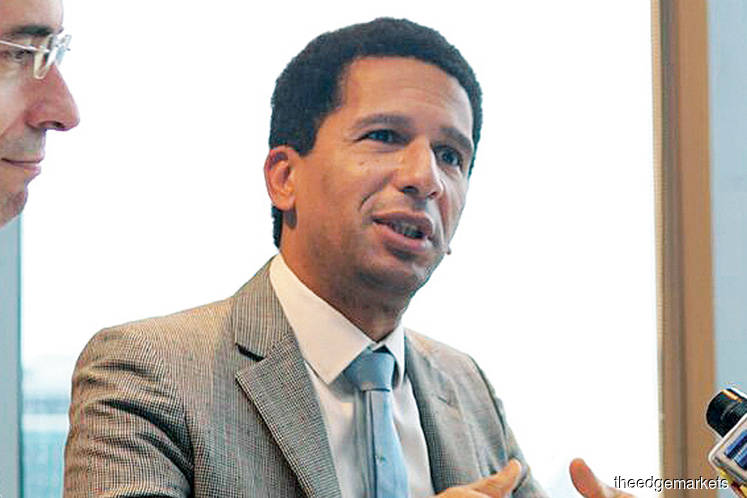 KUALA LUMPUR: France is against any discriminatory measure that singles out any agriculture commodity, French Ambassador for Environment Xavier Sticker said, adding that it will voice this out in upcoming negotiations by the European Union (EU) following the European Parliament's recent vote to ban the use of palm oil in biodiesel after 2020.
Sticker said trade is a component of the EU, therefore any decision on trade would be made by all three components — the European Commission, the European Council and the European Parliament.
"The recent development that caught the attention recently was an expression of the European Parliament for the dialogue that will take place later this year, and that would lead to the establishment of a joint position that would have to be agreed by the three institutions of the EU," he said in an interview last week.
Sticker was on a three-day visit to Malaysia with a 10-man delegation comprising officers from the French Foreign Affairs and Agriculture, the French Agricultural Research for Development (Cirad), and French Business Alliance for Sustainable Palm Oil.
"As far as France is concerned, there must be no discriminatory step singling out a commodity like palm oil, and it goes without saying — there is no question for France to set up any taxation that would single out palm oil on a national basis," he added.
Refusing to enter into the intricacies of the European Parliament's decision, he said at this stage, France is keen to fulfil the EU's climate commitment, which is to reduce carbon emissions by 2030.
"When it comes to that current cap figure of 7% of renewable energy (RE) from the first generation of biofuels, we have no difficulty maintaining it. What matters is that we raise the level of the second generation [using biomass] of biofuel.
"Here, the prospect of cooperation with Malaysia [is] to make sure the biomass that is currently not used become an additional asset to the country and a boon to the planet as effluents from palm oil plantations can be recycled and used for the production of energy that would mean more resources for the country and less emissions," he said.
On Jan 17, 429 European lawmakers voted to amend a draft law on RE for zero use of palm oil in biofuels from 2021. Bloomberg reported that the lawmakers also approved a provision to limit the support to biofuels made from good crops to national consumption levels in 2017 and not higher than 7% of all transport fuels.
The final regulation would be enacted following negotiations and debates between representatives from all three institutions by this year.
Malaysia, the world's second-biggest palm oil producer after Indonesia, has criticised the EU's move to ban palm oil from biofuels, calling it a form of "crop apartheid".
Plantation Industries and Commodities Minister Datuk Seri Mah Siew Keong reportedly called the move a "black day for free trade" and that discrimination of palm oil was a "very unfair trade practice".
"To me, it is not about the environment; it is trade protectionism," he said a day after the vote, adding that Malaysia would boycott European products if the law were to come into place.
Asked if the recent French visit was a knee-jerk reaction to Malaysia's warning, Sticker maintained it was not triggered by the repercussion but one that is entrenched in a bilateral basis.
"Trade is the responsibility of the EU. Our visit is grounded in the willingness on this issue, irrespective of the latest development in the EU, and to work in a partnership because we are aware that palm oil and deforestation are complex issues and we don't have to dodge the complexity of the matter.
"We want to embrace the complexity rather than go to what looks like an easy solution but it wouldn't be effective, and we plan for the medium-term and long-term prospects. We want to put up a collective strategy to work on our environment footprint," he said.
Last week, the EU Ambassador to Malaysia Maria Castillo Fernandez said the vote is a step in a complex legislative procedure and "does not constitute a final decision by the EU".
She said work would continue towards eliminating discrimination among biofuels as proposed by the European Commission and supported by the council of ministers, and it will engage the Malaysian authorities throughout this process. "The EU remains open to Malaysian palm oil and is its second-largest market."
In 2017, the EU was the second largest importing destination for palm oil after India with 1.99 million tonnes, down 3.3% from 2.06 million tonnes in 2016, according to data by the Malaysian Palm Oil Board (MPOB).
France imported 629 tonnes of palm oil last year, which rose 107.6% from 303 tonnes in 2016.
Overall exports to France from Malaysia in 2016 amounted to €2.1 billion, while Malaysia imported €1.5 billion of goods from France.
Palm oil imports into the EU in 2016 amounted to €4 billion including Indonesia (€1.9 billion), Malaysia (€1.1billion) and Papua New Guinea (€334 million), while imports into France accounted for €255 million in 2016 or 6% of total European imports.
Sticker said the French economy uses palm oil in agro-food, chemicals, cosmetic uses and biofuels, where he estimated 60% of palm oil imports are utilised for technical and industrial purposes (especially biofuels) and 40% for the production of food.
He is aware of the importance of palm oil and its contribution to Malaysia's gross domestic product (GDP) and economic development.
"I am aware that we are visiting Malaysia at a time when this issue is topical. It is an opportunity for me to express and recall what the position of France is. We met with MPOB, Malaysian Palm Oil Council and the Malaysia-France Joint Committee on Palm Oil to help them understand our views and identify areas to work together," he said.
Noting that palm oil has sustained bad press in Europe over the years with the ongoing "no palm oil" label campaign, Sticker said the initiative stemmed from private firms that respond to consumers' demand on knowing what they buy.
"I think by working hard and increasing sustainability, and by making sure that certification is generalised, the Malaysian government is taking its share of that effort.
"It has to apply to the individuals because ultimately it is neither the Malaysian or French government that is on the market. We are trading nations, but trading nations rely on the private sector, and the private sector — owners of plantations or [those who] operate them — has to pay attention to the reality of the market," he added.