This article first appeared in The Edge Malaysia Weekly, on January 6, 2020 - January 12, 2020.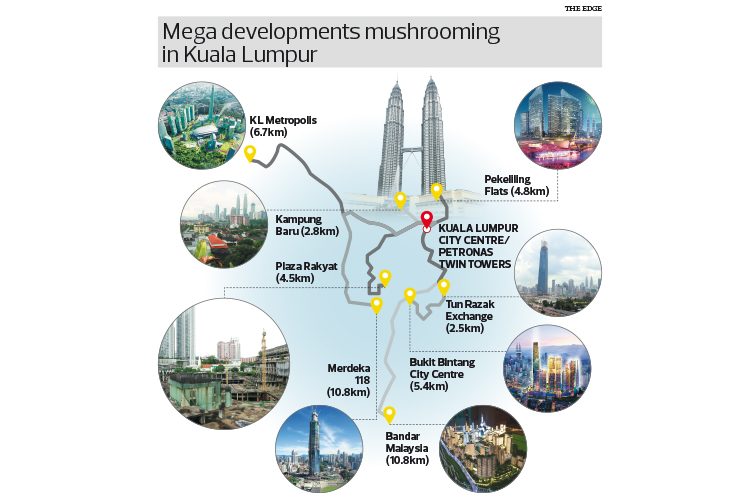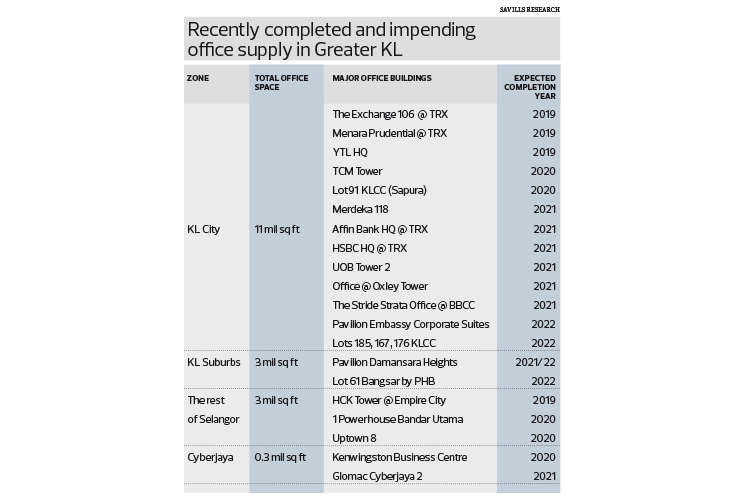 WHILE construction of The Exchange 106 in Kuala Lumpur has been completed — taking over the crown as the country's tallest building from the Petronas Twin Towers — and Permodalan Nasional Bhd's Merdeka 118 is slated to be completed in 2021, Plaza Rakyat in Jalan Pudu remains an eyesore.
Construction of Plaza Rakyat — which was expected to be a major landmark — began more than 20 years ago but was abandoned during the Asian financial crisis. Profit Consortium Sdn Bhd won the tender from Kuala Lumpur City Hall to redevelop the site for RM740 million in October 2015 but little progress seems to have been made so far.
When asked, Federal Territories Minister Khalid Abdul Samad says, "Wait and see. As of now, they (Profit Consortium) have paid a few tens of millions (to City Hall). The alternative is to leave the project as is, as no one else has made an offer [to acquire it]."
Proposed during an era when transit-oriented developments were a new concept here, Plaza Rakyat was to become the first project to be integrated with a light rail transit (LRT) station, apart from the Kuala Lumpur City Centre (KLCC) development.
However, the project was only 30% completed when the developer, Plaza Rakyat Sdn Bhd, faced financial difficulties in 1997.
In the meantime, other developments were built — among them KLCC, KL Sentral and MidValley City — with integrated transport facilities such as LRT and KTM Komuter stations..
The massive TRX development will also have a Klang Valley Mass Rapid Transit (KVMRT) interchange station, while Bandar Malaysia will house the terminus for the Kuala Lumpur–Singapore High Speed Rail (HSR) line, and be served by two KVMRT stations.
While all parties are hoping that Profit Consortium will be able to resurrect Plaza Rakyat for the benefit of the unit owners as well as the surrounding community, there are signs that its original promoter is exiting the company.
Profit Consortium was initially a joint venture between Debao Property Development Ltd's wholly-owned subsidiary Pavillion Treasures Land and Development Sdn Bhd and Gabungan Tiasa Sdn Bhd. Pavillion Treasures had an 82% stake in the company, with the Malaysian partner holding the rest.
However, a check with the Companies Commission of Malaysia shows that Gabungan Tiasa is no longer a shareholder of Profit Consortium. As at Dec 12, 2019, the shareholders were Pavillion Treasures with 19% and Starlight Glory Sdn Bhd with 81%.
Starlight Glory is wholly owned by Brilliant Light Global Ltd. It is not known who is behind the company, but its registered address is the same as that of legal firm CK Law & Company, with Law Chun Keat listed as a director of Starlight Glory.
Debao's filings with Singapore Exchange Securities Trading Ltd (SGX-ST) also do not provide a clear picture of the ownership changes in Profit Consortium.
On April 29, 2019, the China-based property developer announced that Pavillion Treasures had entered into a sales and purchase agreement (SPA) with Guangzhou Xu Zhuo Enterprise Management Co Ltd for the disposal of a 43% stake in Profit Consortium for RMB4 million.
The disposal was completed on April 30, 2019, despite not being presented to Debao's shareholders for approval. SGX-ST directed Debao to seek shareholder ratification for the deal, according to an announcement on Nov 26.
On July 25, 2019, Debao announced that Pavillion Treasures had entered into an SPA with Perfect Praise Investments Ltd for the disposal of a 19% stake in Profit Consortium for RMB2 million. SGX-ST also directed Debao to get shareholder approval for this deal.
This is because Debao paid RM66.5 million for the subscription of the total 62% stake in Profit Consortium it was selling, and extended a loan worth RM106.5 million to the company. Taken together, the disposals would result in a significant loss of about RMB105 million for Debao.
Debao's executive director and CEO Zhong Yuzhao said in a statement on Dec 4, 2019, that the disposal of its stake in Profit Consortium would enable the group to collect the RM106.5 million. He said RMB20 million could be collected immediately after completion of the share transfers.
Neither Guangzhou Xu Zhuo nor Perfect Praise appear as shareholders of Profit Consortium, according to Companies Commission data. Pavillion Treasures is now only a minority partner with a 19% stake.
So, who is spearheading the redevelopment of Plaza Rakyat? Is it Starlight Glory?
The market for office space has changed drastically since the groundbreaking of Plaza Rakyat. Kuala Lumpur is now facing an oversupply of office space.
The Exchange 106 added 2.65 million sq ft of office space in the city, which totalled 92.6 million sq ft as at the end of the third quarter last year. The availability rate of purpose-built offices was 23%, higher than the 20.8% at the end of the second quarter last year, according to data by the National Property Information Centre.
With more large-scale premium offices to be built over the next three years, where does Plaza Rakyat stand in the grand scheme of things?
Over the next three years, an estimated 14 million sq ft of office space will come onto the market. This does not include four million sq ft of office space coming on stream in Greater KL, such as in Petaling Jaya and Cyberjaya.
In the Asian Cities Report 2H2019, Savills Research says the impending supply will continue to pressure the office rental market, with vacancy rates expected to rise. The lack of demand will put further pressure on the current competitive rental market, it adds.
Asked by The Edge whether there is concern the planned mega developments will worsen the oversupply, Khalid says, "I think the question of office oversupply is a problem that needs to be handled when the application for a development is being processed, not after agreements have been signed or commitments have been made and money spent.
"As you are aware, the projects mentioned had been approved a lot earlier and the problem of filling up the office space will be left to the owners as to how they will then navigate the market."
Indeed, the owners will have to come up with better solutions to improve the marketability of their properties. In the Asian Cities Report, Savills Research says investments in asset enhancement will be able to make older office buildings remain relevant in today's market.
The developer of Plaza Rakyat will have a big task on its hands as the project has not only been abandoned for two decades but must also ensure its marketability as a commercial centre for businesses in the city.