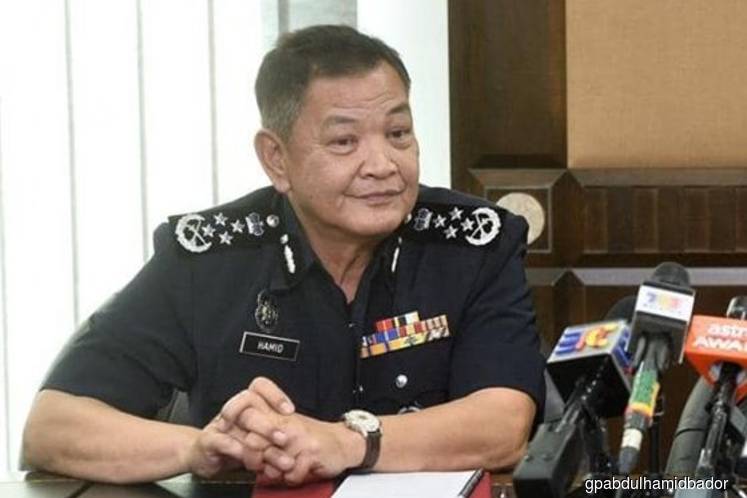 KUALA LUMPUR (May 13): Four members of the Daesh terror group who were allegedly planning to carry out attacks and high-profile murders in the country were nabbed in Terengganu and the Klang Valley last week, police said today.
Inspector-General of Police Datuk Seri Abdul Hamid Bador said the four men had been planning the murders to seek justice for the death of fireman Muhammad Adib Mohd Kassim, who was seriously injured during the Sri Maha Mariamman temple riots in USJ 25, Subang Jaya last year and died in hospital later.
The suspects confessed that they were part of a Daesh wolf pack cell and had been preparing to launch attacks in the country on the first week of Ramadan in revenge for Muhammad Adib's death, Abdul Hamid said.
"This same cell has been planning to murder high-profile personalities they accuse of not championing Islam or for insulting the religion.
"On top of this, they have also been planning large-scale attacks on Christian, Hindu and Buddhist places of worship as well as entertainment centres in the Klang Valley," he told a press conference in Bukit Aman here.
Abdul Hamid said the first suspect arrested was a 34-year-old local, a construction worker who was also the cell leader.
"He was the mastermind for the planned attacks on places of worship and entertainment centres in the Klang Valley.
"We also seized a CZ9 mm pistol with 15 bullets and six improvised explosive devices (IED), each measuring about 18 cm long," he said.
Abdul Hamid said the firearm and the IEDs, acquired from a neighbouring country, were meant to be used during the attacks on the places of worship and entertainment centres.  
The second suspect arrested was a Rohingya man who carries a United Nations High Commissioner for Refugees (UNHCR) card.
The 20-year-old waiter confessed to being a member of the cell and also a supporter of insurgent group the Arakan Rohingya Salvation Army (ARSA).
"This suspect was also planning an attack on the Myanmar Embassy in Kuala Lumpur and joining jihad activities in Myanmar's troubled western Rakhine State," he said.
The third suspect nabbed was a 49-year-old Indonesian man who worked at a zinc factory.
"He also confessed to being part of the Daesh wolf pack and was planning to fight for them in Syria while the fourth man arrested was a Rohingya aged 25, who worked in construction.
"We are trying to locate three more suspected (Daesh) members believed to be involved in the plans to attack non-Muslim places of worship," he said.
Police are looking for two local men — Syazani Mahzan and Muhamad Nuurul Amin Azizan — both 27 with last known addresses listed as No 35, Taman Bedong, 08100 Bedong, Kedah and No 55 of the same housing area respectively — to help in investigations.
They are also seeking an Indonesian national, identified as construction worker Fatir Tir, whose last known address is No 13, Jalan Toman 9, 42700 Banting, Selangor.
Members of the public with information on these three individuals are urged to contact investigating officer ASP S Manivanan from the Bukit Aman Special Branch at 017-3278435 or the nearest police station.  
Abdul Hamid said anyone who withholds information on these individuals, or conspire with or protects them can be charged under Section 130M, 130K and 130L of the Penal Code, which provides for a jail sentence of between seven and 30 years upon conviction.