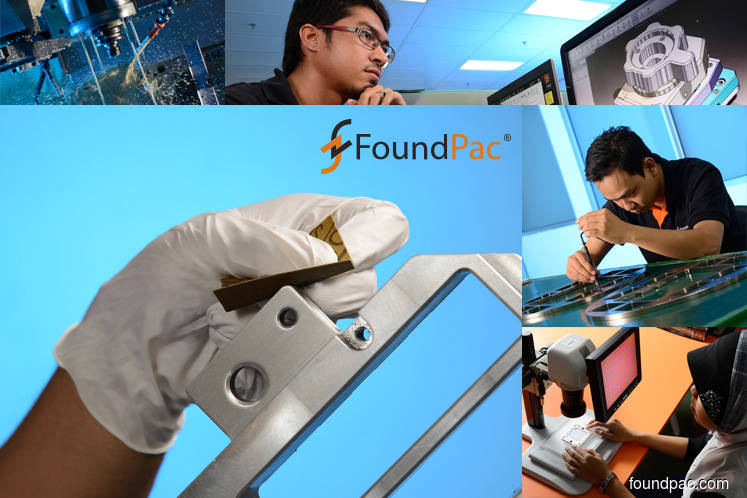 KUALA LUMPUR (Nov 21): Foundpac Group Bhd's first quarter net profit rose 3.9% to RM2.33 million, from RM2.24 million a year earlier, on higher revenue and interest income, which was however offset by higher distribution expenses and foreign exchange loss.
Earnings per share fell to 0.65 sen from 0.68 sen, the precision engineering parts supplier said in its financial statement for the quarter ended Sept 30, 2017.
The group said its quarterly revenue grew 15.1% to RM9.4 million, from RM8.16 million previously, mainly due to an increase in sales in the Asia region.
Export sales continued to be the main contributor to revenue, accounting for RM6.42 million or 68.3% of total revenue. However, there was a decline in its export sales by RM1.37 million or 17.6% compared to the previous corresponding quarter mainly due to lower revenue from its customers in the United States.
Foundpac said it continues to uphold its core and long-term strategy to focus on business expansion and diversification, product development as well as business process optimisation through lean implementation across all operations in the organisations.
"Based on the uptrend market outlook of the semiconductor industry and electronics industry, coupled with our group competitive strengths, as well as our commitment towards the future plans and strategies of our group, the board and management is positive about our prospects for the financial year ending June 30, 2018," it added.
Foundpac's share price fell 0.67% to 74.5 sen, with about 573,700 shares changing hands, giving it a market capitalisation of RM273.8 million. At current level, the stock is trading at a trailing P/E of 25.3 times.