This article first appeared in The Edge Malaysia Weekly, on October 19, 2020 - October 25, 2020.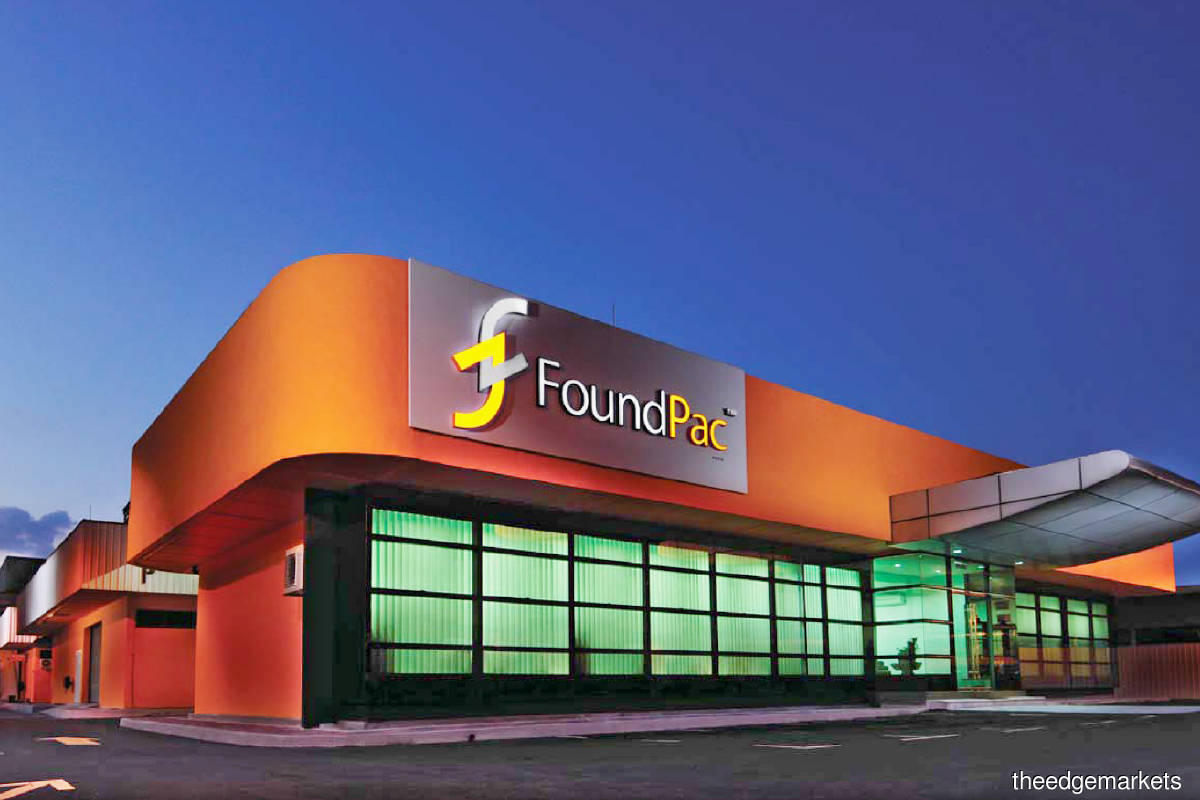 WHEN Penang-based precision engineering firm FoundPac Group Bhd bought a 75% stake in laser stencil maker Dynamic Stencil Sdn Bhd for RM16.5 million in 2017, investors did not react positively to the acquisition.
From the day the acquisition was first announced on Bursa Malaysia to the day it was completed, the stock tumbled 21%, from its unadjusted price of 91.5 sen on Sept 25, 2017 to 72 sen on Nov 24, 2017.
Three years on, it looks like FoundPac has proved the sceptics wrong, as the acquisition of Dynamic Stencil is starting to bear fruit. In fact, rumours have been rife since late last year that the group is planning for a spin-off listing of its fairly profitable laser stencil business.
The counter has risen more than 130% over the past 12 months, closing at RM1.01 last Wednesday to give it a market capitalisation of RM547.7 million.  
FoundPac CEO and executive director Ong Choon Heng has confirmed the potential listing of Dynamic Stencil.
"It is actually in the pipeline. When the opportunity comes, we will take it," he tells The Edge in an interview in Penang.
Ong, however, is quick to stress that plans for the initial public offering (IPO) of Dynamic Stencil are still in the early stage, as FoundPac is still exploring all the options available and, more importantly, the right timing.
"For the IPO, we do not limit our options to Bursa Malaysia, as we may consider other stock exchanges as well. If other markets can offer us a better valuation, why not?" he asks.
Ong further says that FoundPac, which was listed on the Main Market in December 2016, has experience in doing the groundwork for an IPO and hence, it could guide Dynamic Stencil in going for a listing.
"It is not going to be a huge IPO, though. Just to give you an idea, if we do it in Malaysia, it is likely to be on the ACE Market, not Main Market," he says.
The timing is crucial, adds Ong, as a successful IPO would depend on market conditions and investor sentiment. As a result, FoundPac has not set a specific time frame for the spin-off listing.
"I really can't tell whether it will materialise this year, which is obviously a little bit too soon, or next year. But definitely, we are looking at it," he reiterates.
Ong highlights that Dynamic Stencil is still being run by its 47-year-old founder and CEO Lim Seng Chiew, who brings with him over two decades of experience in the stencil manufacturing business.
"On a personal level, I think it would be a wonderful achievement for Lim to be able to list the company he founded. That is quite a story, considering that he studied only up to Form 5," he says.
After completing his secondary education at Chung Hwa Confucian High School in Penang, Lim found a job at Acumen Stencil House in 1996. He left to join Photo Stencil in 2000 and eventually, set up Dynamic Stencil in 2014.
Deriving synergies
Before the acquisition of Dynamic Stencil, FoundPac had been focusing on designing and manufacturing high-performance test sockets and stiffeners. Its clients include large multinational semiconductor manufacturers, outsourced semiconductor assembly and test companies (OSATs) and printed circuit board (PCB) design houses.
FoundPac, which is 39.75%-owned by its non-independent non-executive director Lee Chun Wah, generated a net profit of RM16.06 million on revenue of RM51.05 million in the financial year ended June 30, 2020 (FY2020).
Meanwhile, Dynamic Stencil, which made a net profit of RM4 million on revenue of RM12 million, contributed almost a quarter of FoundPac's top and bottom lines in FY2020.
Ong points out that a lot of potential synergies could be derived from the two companies.
"For instance, if FoundPac's existing customers from the high-performance test socket and stiffener segments are looking for stencils, we can supply them via Dynamic Stencil. From their perspective, why go to two separate suppliers when one supplier can do both?" he explains.
Ong, 44, was appointed to the board of FoundPac as executive director and chief financial officer in 2016, before he was redesignated to his current position in February last year.
Ong recalls that before Dynamic Stencil was acquired by FoundPac, its owner Lim tried to approach prospective clients and partners from Germany and the US, but response had been poor.
But when Dynamic Stencil became part of the FoundPac Group, these prospective clients and partners realised that the company is backed by a listed parent, and from then on, they were willing to even come to Malaysia for business meetings.
"FoundPac gives Dynamic Stencil a stronger profile. We could open doors for them and also help them negotiate for better terms," says Ong.
On average, Dynamic Stencil sells 800 to 900 pieces of laser stencils every month. The purpose of a surface mount technology (SMT) stencil is to transfer solder paste to a bare circuit board. A stainless steel foil is laser-cut to create an aperture for every surface mount device (SMD) on the board.
"When you want to assemble the PCB, you need a laser stencil, which is a thin sheet of material, to guide you. You need the stencil to mark where you want to apply the solder paste to assemble the components," says Ong.
Once the stencil is properly aligned on top of the board, solder paste is applied over the aperture. When the stainless steel foil is separated from the board, the solder paste will remain, ready for placement of the SMD. This process, as opposed to hand soldering, ensures consistency and saves time.
It is learnt that in Malaysia, there are only about 10 local stencil houses, including two to three in Johor, another two to three in the central region and about five in Penang.
Managing lead time
While Dynamic Stencil has ambitious plans to expand its overseas markets, the company is still finding ways to overcome certain obstacles, the main one being the short lead time.
"We have sent some of our products to our customers from the US that are doing PCBs. They like our products, because we provide good quality at a competitive price. To them, the cost is not high, and to us, the margin is not bad," says Ong.
"But unfortunately, the main issue here is the short lead time. Once the customers place the orders, they expect us to deliver within one to two days. They usually need the products urgently. It is industry practice. Imagine if they place the order today, it might take about three days for us to ship to the US. We lose out to our competitors in that aspect," he says.
Ong adds that this is the norm in the industry and cannot be changed. "Like it or not, they are the customers, so we, as supplier, need to suit their convenience, not the other way around."
On a positive note, he points out that this is exactly why Dynamic Stencil could get to enjoy a rather attractive profit margin.
"They don't mind paying us the money because, to them, their cost is minimal," he says.
Ong acknowledges that if the overseas clients could plan ahead and place their orders earlier, the market potential for Dynamic Stencil will be huge.
To address the short lead time, he says, one possible solution is to set up operations in the US, so that Dynamic Stencil could provide direct support to its clients.
"But there are many factors to take into consideration. The key thing here is to make sure that if we go to the US, [the venture] must be successful. Today, with the pandemic, there are still a lot of uncertainties," says Ong.
Meanwhile, FoundPac experienced a decline in profit in its FY2017 and FY2018, mainly owing to the impact of the Broadcom merger.
Recall that Broadcom Ltd was its single largest customer. But following its merger with Avago Technologies Ltd in 2016, Broadcom reduced its purchasing activities, which affected FoundPac's sales.
Since then, FoundPac has been diversifying and expanding its customer base. As a result, the group saw an improvement in its financial performance in FY2019 and FY2020.
It is also worth noting that FoundPac's precision engineering businesses — high-performance test sockets and stiffeners — are not affected by the Covid-19 pandemic.
"We supply a lot of these products to our customers for their research and development (R&D) activities. These R&D activities do not stop, not even during the lockdown period. Surprisingly, our customers have been chasing us for the supply of goods," Ong notes.