This article first appeared in City & Country, The Edge Malaysia Weekly, on December 21, 2020 - December 27, 2020.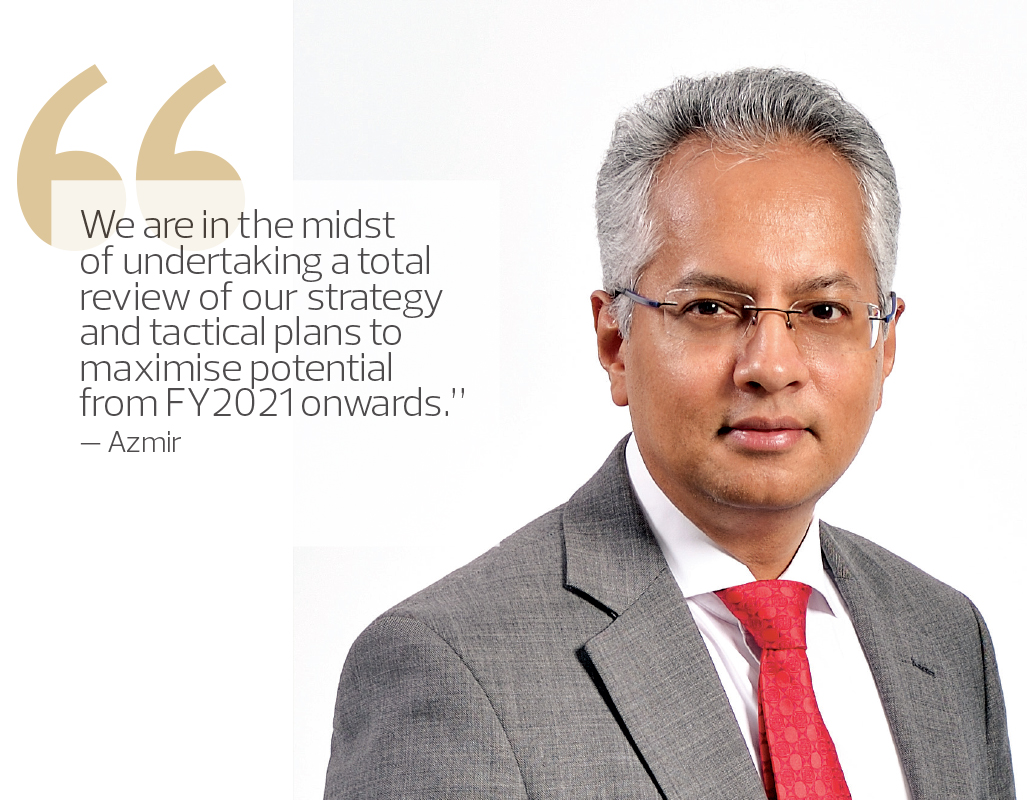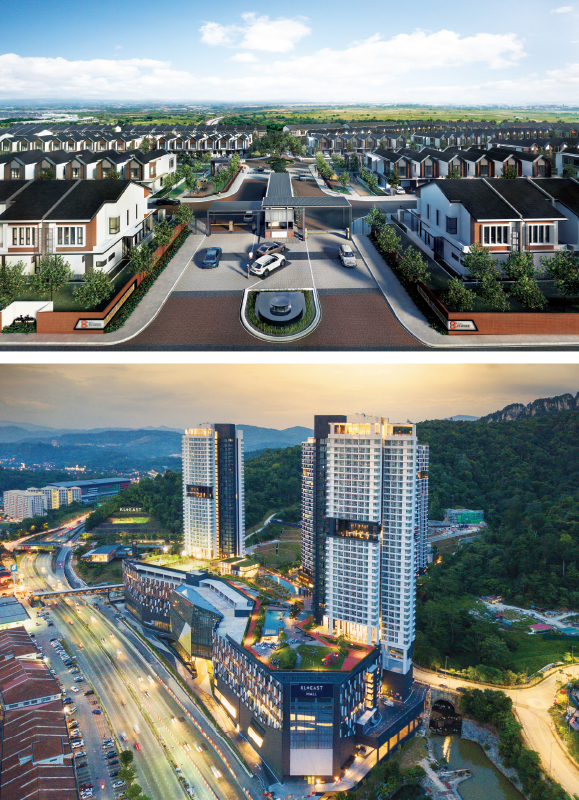 Top: An artist's impression of Ilham Residences Above: KL East Mall, SDP's first wholly owned mall, has a net lettable area of 384,210 sq ft

An artist's impression of Elmina Green Three ... Its online preview attracted homebuyers from all over the world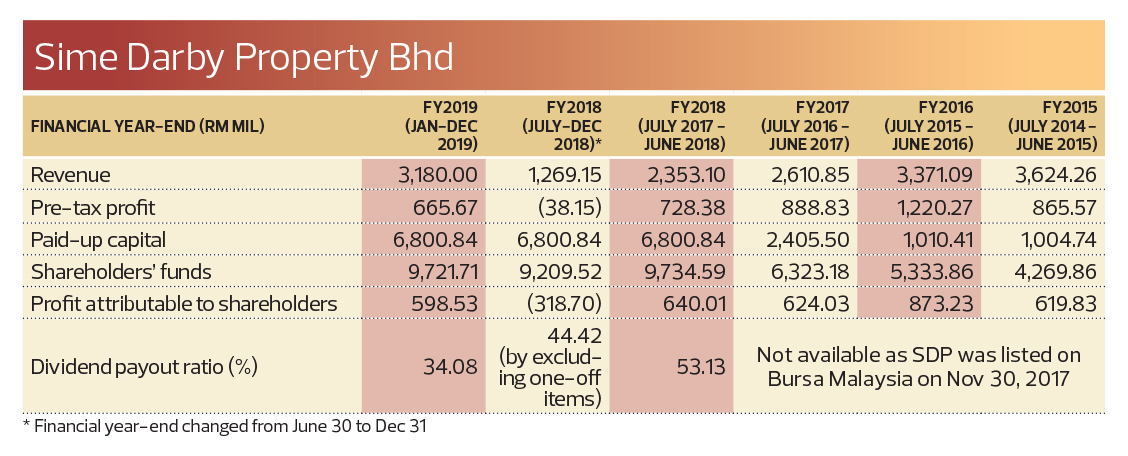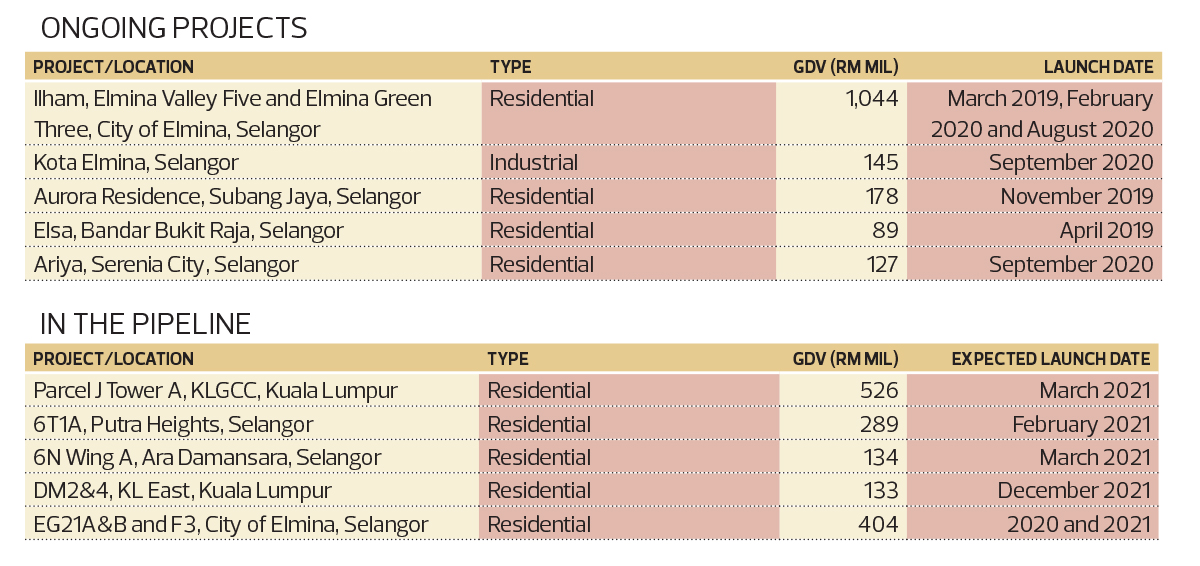 Azmir receiving the award from The Edge Media Group publisher and group CEO Datuk Ho Kay Tat
No. 2 | Sime Darby Property Bhd
 
2020
2019
Overall
2
8
Quantitative
2
13
Qualitative
2
3
Sime Darby Property Bhd (SDP) has shown resilience in uncertain times over the years and has emerged stronger. For its financial year 2019 (FY2019) ended Dec 31, the developer returned to the black with a net profit of RM598.53 million. It achieved RM3.1 billion worth of sales, exceeding its RM2.3 billion target by 35%.
Based on its total sales of RM1.3 billion for 9MFY2020, SDP appears to be on track to achieve its revised sales target of RM1.4 billion for this year. While the Covid-19 pandemic is proving to be a challenge that the modern world has never faced before, the company is already taking steps to ensure it will stay on its feet.
In an email interview, group managing director Datuk Azmir Merican shares with City & Country the developer's strategies, which include a review of its capital spending and recalibrating its cost base, diversifying its income streams and enhancing the complementary business segments of property investment.
City & Country: How have the past 12 months been for SDP?
Datuk Azmir Merican: In a nutshell, it has been a year like no other, and I believe that's how it has been for many of us in the property development industry. I was brought in during the peak of the first wave of the pandemic in April when the Movement Control Order (MCO) was being enforced. We had to take hard temporary measures to ensure the safety of our employees and customers. These included the suspension of on-site development work and closure of our sales galleries as well as our mall, convention centre and golf courses.
We utilised digital platforms to improve working efficiency and communication with stakeholders, limited physical meetings as much as possible and adhered to strict guidelines when sales galleries and construction sites were reopened. We rolled out comprehensive health and safety SOPs (standard operating procedures) for the well-being of not only our employees and intermediaries but also for the communities — 24 active townships nationwide — that we are responsible for.
We also went full force on our digital marketing efforts that were already in place prior to the MCO, harnessing all our digital sales channels from email and social media updates to keep our stakeholders informed as well as providing full online guided sales experience to prospective buyers on our website. All that hard work paid off as we managed to bring in RM680 million in bookings during the MCO period.
We have run nine campaigns altogether year to date. Our Spotlight 8 campaign has done really well this year, recording RM1.5 billion in bookings, surpassing the RM1.1 billion achieved in 2019. Be that as it may, we are cautiously optimistic about the outlook going forward as the signs of recovery since the easing of the MCO in mid-May has been tempered by the third wave of infections. Our sales galleries remain open and construction work for projects are ongoing while adhering to strict SOPs.
What initiatives or changes has SDP made to sustain the business this year, particularly during the MCO and Conditional MCO periods?
Apart from the aforementioned, we also shifted our focus to ensure that our product launches are specifically tailored to meet the current demand. Leveraging the low interest rate environment, we have introduced attractive sales campaigns to clear unsold inventories, especially our high-rise segment, such as the Special Deals and Your Instalments On Us campaigns that rode on the government's six-month moratorium on loan repayments.
Given the ramifications of the pandemic on our business, we have also implemented tighter financial management controls and processes to mitigate the profit-and-loss impact on our businesses. In that regard, we have undertaken a review of our capital spending and recalibrated our cost base to ensure the optimisation of our direct and overhead costs. Most recently, we announced the RM4.5 billion Sustainable Sukuk Musharakah Programme to ensure sufficiency of funding lines.
What are your strategies to grow the business in 2021 and beyond?
We are in the midst of undertaking a total review of our strategy and tactical plans to maximise potential from FY2021 onwards. In the meantime, we have earmarked a number of initiatives to move us forward during this period of review. Among them is the strengthening of our core property development business through the delivery of the right products at the right pricing to meet market demands. Our new products such as Elmina Green Three Phase 1 in the City of Elmina, which was promoted under the recent Spotlight 8 Year 2020 campaign, saw all units open for pre-launch sales snapped up within 15 minutes of the online preview.
Another key priority is to foster the resilience of our business through the diversification of our income streams to generate more recurring income. This will be primarily driven by our industrial and logistics development business. This has been identified as the group's new engine of growth.
SDP marked a milestone in the Malaysia Vision Valley 2.0 (MVV 2.0) development with the groundbreaking of XME Business Park Nilai Impian in February. The business park, strategically located at the gateway of Negeri Sembilan, will be the pioneer of managed industrial development in MVV 2.0 and set the standard for industrial parks in Negeri Sembilan. Since its launch in December 2019, interest has been pouring in from various industries, from logistics and warehousing to food and beverage (central kitchens), engineering and metal fabrication.
The group's complementary business segments under property investment, of which the retail segment takes centre stage, and the leisure segment will be further enhanced to support the recurring income strategy. We are mindful of the vulnerabilities of these segments to the pandemic. We will also be looking at our sizeable undeveloped landbank to ensure a sustainable pipeline of developments in prime locations and the monetisation of non-core land to support the overall income-generation strategy.
How will you mitigate the risks brought on by the pandemic?
First and foremost, businesses are only successful with the support of stakeholders and the dedication of employees. Having said that, we have taken all the necessary precautions and activated strict guidelines at our offices, construction sites and sales galleries to ensure that employees can continue discharging their duties while being in a safe environment.
We are vigilantly monitoring and mitigating the financial impact of Covid-19 and the MCO and its variations on operations. Thus, we will continue to maintain financial discipline and deploy effective financial management, which includes cash flow and inventory management as well as cost reduction, particularly where overheads are concerned.
In a time of disruption, there is a need for property developers like us to realign and find ways to improve our efficiency while enhancing the customer experience in the buying process.
You have talked about being more 'aggressive' in the remainder of 2020 to achieve the sales target of RM1.4 billion. Can you share with us your plans to hit this target?
In 9MFY2020, we achieved a total sales of RM1.3 billion, indicating that we are on track to exceed our revised annual sales target of RM1.4 billion. With RM1.1 billion worth of bookings in place as at Oct 31, our next step is to convert these bookings into sales and with that, we are confident we are on track to hit our sales target.
Other notable achievements that I would like to highlight include the piloting of online virtual reality show units and interactive digital displays at sales galleries for Serenia Ariya 2-storey link homes in Serenia City. Serenia Ariya saw a 100% take-up rate upon its launch in August. Our online preview for the 2-storey link homes of Elmina Green Three also attracted homebuyers from all over the world such as Hong Kong, Singapore, Brunei and the UK.
We will also put in place a sustainable launch plan with priority on mid-range and affordable products at the right locations.
I understand there are plans to enhance Sime Darby's complementary business segments in the coming year. Can you tell us more about this?
Yes, we intend to enhance the complementary business segments of our property investment division, particularly retail as well as the leisure business segment. We have in place Melawati Mall, in partnership with CapitaLand, with a net lettable area of 614,520 sq ft and an occupancy rate of 84.1% as at Sept 30.
We also have KL East Mall, our first wholly owned mall with a net lettable area of 384,210 sq ft, which we expect to open by end-2020. As for the leisure business segment, we have the award-winning Tournament Players Club Kuala Lumpur, a 36-hole golf club in the KLGCC area that we are promoting as a lifestyle destination beyond golfing.
Apart from this, we intend to diversify and increase our revenue contribution from the industrial and logistics segments, which currently stands at 12.3% (RM87.9 million) for the first half of FY2020. Our revenue contribution currently comes from our existing product segment of platform-ready industrial lots and sale of ready-built facilities such as in the City of Elmina, which includes Elmina Business Park, Bandar Bukit Raja, Serenia City and XME Business Park in Nilai. We aim to complement the existing product suite to include long-term built-to-lease (BTL) facilities, either ready-built warehouses or built-to-suit facilities, which will be a source of recurring income.
In your opinion, what needs to be done to spur the recovery of the economy and property market?
The property market was subdued even before the coronavirus. To this end, the government's introduction of a multi-pronged strategy is vital to the economy and property market and it has benefited various stakeholders. With initiatives such as the Home Ownership Campaign (HOC) 2020, which runs until May 31, 2021, our sales campaigns are made more attractive to returning homebuyers and first-time homebuyers. The HOC is further spurred by low interest rates, with the overnight policy rate continuing to be at the historically low level of 1.75%.
The government also announced further incentives in the recent Budget 2021 that will stimulate the property and construction sectors such as stamp duty exemptions and affordable housing policies for the property market, tax incentives for the industrial segment and implementation of public transport infrastructure projects. In August, the government passed the Covid-19 Relief Bill 2020, which will alleviate the challenges faced by property developers in the delivery of vacant possession and calculation of liquidated damages.
We are confident that the active steps taken by the government and the incentives offered will continue to stimulate the property market and, in turn, advance the country's economy.